This week, we take a look at Le Creuset cookware, an elegant and high-quality brand from France. In this post, you will find a Dutch oven review and a Le Creuset nonstick cookware review, among other Le Creuset products. We hope you enjoy our Le Creuset cookware reviews.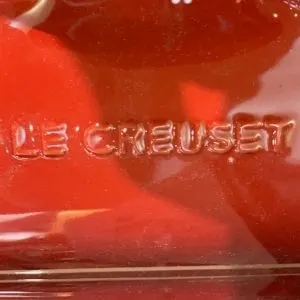 Le Creuset Cookware Reviews
Le Creuset Tri-Ply Stainless Steel Cookware Set Review
What's included:
8″ nonstick fry pan
10″ fry pan
12″ nonstick fry pan
2 qt. saucepan with lid
4 qt. saucepan with lid
3.5 qt. saucier with lid and stainless steel knob
9 qt. stockpot with deep colander insert and lid
Pros:
Excellent heat distribution and conductivity.
Very durable.
The set offers various pieces for different kinds of cooking and recipes.
The fully sealed dripless precision pour rim helps keep the kitchen clean.
Laser-etched capacity markings on the interior.
Cons:
A variety of pieces that you might not end up using a lot.
Food tends to stick on stainless steel cookware.
Overall Le Creuset Tri-Ply Stainless Steel Cookware Set Review
This is a beautiful, elegant, and durable set that includes various pieces. Tri-ply cookware is made with three layers: an aluminum core and two layers of stainless steel on the exterior.
This set will equip you for all kinds of cooking. The nonstick frying pans are great for delicate foods such as eggs, pancakes, or fish, while the stainless steel fry pan is excellent for searing and browning meats.  Because there is a nonstick coating, you must avoid using metal utensils on these pans every time.
In addition to two saucepans, the set also includes a saucier. A saucier is slightly different from a regular saucepan: it has rounded sides and is almost shaped like a large bowl. It's a handy piece of cookware for making custards, sauces, and gravies since it allows for very easy stirring.
This Le Creuset set offers a sophisticated and modern look. In addition, stainless steel cookware is durable and resistant. The pans have large ergonomic handles, which keep your hands safe.
Click here to buy this cookware set. 
Le Creuset Square Skillet Grill Pan Review
This is a 10 and ¼ inch square skillet made of enameled cast iron.
Pros:
Very durable.
Raw cast iron pans retain heat well.
Square shape offers a bit of extra room for cooking.
Works on any stovetop, in the oven, or under a broiler.
Stylish design with vibrant colors.
Limited lifetime warranty.
Cons:
Cast iron pans are good at retaining heat, but they aren't very good at conducting it. The pan will heat unevenly if the stovetop burner is smaller than the pan itself.
It's heavy.
The handles become very hot. However, good oven mitts or a simple kitchen towel will solve this.
Overall Le Creuset Square Skillet Grill Pan Review
If you don't have an outdoor grill but love the idea of grilling meats and vegetables, this Le Creuset grill pan will provide excellent results. Even those who do have an outdoor grill will find it handy during the cold winter months.
The design is beautiful and comes in various vibrant colors such as flame, cobalt, or cherry. The pan has an extra helper handle, which is useful because cast iron products are heavy. It has 4.5 out of 5 stars on Amazon.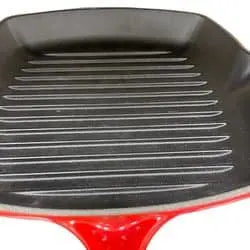 Le Creuset Nonstick Fry Pan Review
This is an 8-inch shallow fry pan made of a hard-anodized aluminum core with a stainless steel handle. It's a very high-quality pan that is easy to use and clean, thanks to the non-stick surface.
Pros:
Nonstick interior and exterior, which is PFOA free.
Hard-anodized aluminum has excellent heat conductivity.
Stainless steel handle, which stays cool.
Durable and resistant.
Stainless steel rivets.
Well priced.
It can be used on any cooktop (gas, electric, glass-ceramic, or induction).
Oven-safe up to 500ºF.
Cons:
More expensive than regular aluminum pans.
Heavy.
Overall Le Creuset Nonstick Fry Pan Review
These nonstick pans are great for cooking things like eggs, pancakes, grilled cheese, and fish. It heats up quickly and evenly, and the nonstick coating makes it easy to clean.
Hard-anodized aluminum is an aluminum that has undergone a process that hardens it, making it more durable, resistant to corrosion, and heat conductive. It's a little more money than a standard aluminum pan, but it will perform better and last longer.
Le Creuset Wok Review
Pros:
Suitable for all cooktops: gas, electric, glass-ceramic, and induction.
Perfect for stir-fries.
Large size for cooking
Two large and comfortable handles.
Beautiful design and color.
Limited lifetime warranty.
Cons:
Heavy.
Some reviewers believe carbon steel is the best type of wok.
Overall Le Creuset Wok Review
A beautiful enameled cast iron wok with a glass lid and two handles. The wok measures 14 and ¼ inches. Although a significant investment, this is a durable and beautiful wok, perfect for sauteing and frying your favorite foods. Since a cast iron pot retains heat very well, your delicious stir-fries will stay warm for longer.
This massive-sized wok also comes with a glass lid, perfect for checking on food while cooking. The glass lid is designed to keep heat and moisture inside, preventing the juices from evaporating and increasing flavor. It is a great price for the quality that you get.
Le Creuset Cast Iron Skillet Review
Pros:
Excellent heat retention.
Durable.
Easy to clean.
Extra helper handle.
Limited lifetime warranty.
Cons:
Higher priced than regular cast iron skillets.
It takes some time to heat.
Overall Le Creuset Cast Iron Skillet Review
This is a high-quality enameled cast iron skillet, measuring 11 and ¾ inches in diameter. This is a high-end and durable skillet for cooking all kinds of recipes and foods. It retains heat very well and can be used with all stovetops.
The enamel over the skillet's surface looks great and makes it more convenient than a raw cast iron pan. You won't have to season it regularly for maintenance, as the enamel coating creates a nonstick surface. But remember, the enamel surface isn't as effective as a special nonstick fry pan.
Related: Enameled Cast Iron vs Cast Iron
Click here to buy this skillet. 
Le Creuset Dutch Oven Review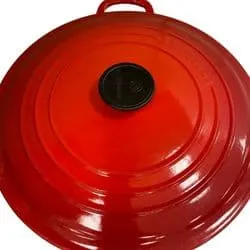 Pros:
Excellent heat conduction and retention.
Very durable.
White interior for better monitoring of food.
Large handles with a comfortable grip.
Beautiful design and a variety of colors.
Limited lifetime warranty.
Cons:
Heavier than regular dutch ovens.
Slow heating. The cast-iron walls are thick, so it might take a few minutes to heat up.
Overall Le Creuset Dutch Oven Review
This is a timeless, beautiful 7.25 qt—enameled cast iron Dutch Oven. The Dutch oven is the signature piece by Le Creuset. A dutch oven is one of the most versatile pieces of cookware you can own. You can do almost anything, from braising to baking bread. Well taken care of, it can last for generations.
The Le Creuset Dutch oven is also an excellent piece of cookware for preparing broths, stews, soups, or gravies. Its heavy lid prevents juices and vapor from escaping, keeping it in the pot and maximizing flavor. In general, a dutch oven is designed to retain heat and moisture so flavors can develop.
The Dutch oven has 4.8 out of 5 stars on Amazon.
Le Creuset Stock Pot Review

Pros:
Perfect for broths or soups.
Large side handles for a secure grip.
Compatible with all cooktops (gas, electric, ceramic, or induction).
Topped with a stainless steel rim to prevent chips and cracks.
Cons:
Heavy.
It might take up a lot of space.
Overall Le Creuset 16 Qt Stockpot Review
A 16 qt. carbon steel stockpot with a porcelain-enamel finish has many uses. People who enjoy cooking and making stock, broth, or soup will have a blast with this stockpot. The lid is designed to lock moisture inside so that soups will come out extra tasty. The interior of the pot is white, which is useful to keep an eye on your food.
Click here to buy this stockpot. 
About Le Creuset
History
Le Creuset is a premium French brand of cookware with almost 100 years of experience. They are well known for their high-end cast iron cookware, especially for their cast-iron Dutch ovens.
The story of Le Creuset goes back to 1925. The company was started by Armand Desaegher, a casting expert, and Octave Aubecq, an enameling expert. Together, they perfected a glazing process to coat cast iron, making their pieces both resistant and stylish. They built their first foundry in Fresnoy-le-Grand, a small town in northern France.
Initially, the company became known for their Dutch ovens, but over the years, they expanded into many different types of cookware, such as nonstick frying pans and cast iron grills.
What makes it good?
All the cast iron Le Creuset cookware is made at the company's foundry in France. The company follows rigorous quality standards. About 30% of the Dutch ovens produced are rejected.
Every cast iron piece goes through a series of inspections during the production process, and in total, over a dozen craftsmen are involved. In the end, the result is very high-quality cookware.
Why is it so expensive?
The brand has many years of experience and is praised by chefs and cooks for its high-performing cookware. Bare cast iron cookware isn't usually very expensive. However, it's the enamel finish of Le Creuset that makes it unique and bumps up the price.
The craftsmanship, quality, and reputation of Le Creuset are the reason for the higher price.
Benefits of using Le Creuset cookware
Le Creuset cookware stands out for its exceptional performance in the kitchen, durability, and beautiful design.
Cast iron cookware can be used for a wide range of cooking styles and recipes. It's excellent at retaining heat, so it will cook food evenly and keep it warm for longer. Overall, cast iron pieces are some of the most durable in the market.
The design is both practical and beautiful. Le Creuset's cast-iron cookware comes in over twenty vibrant colors.
The Le Creuset cast iron cookware is covered with three layers of enamel, making it more convenient than bare cast iron cookware. The enamel overcoat has three advantages:
It prevents the risk of rusting. You can soak it in water to take off bits of food.
It's non-reactive. The enamel coating prevents the metal from reacting with acidic foods.
You don't have to season it. Bare cast iron cookware must be seasoned regularly to create a nonstick surface. However, the enamel coating on Le Creuset cookware works as a nonstick surface, and it will be much easier to clean.
An added benefit is that all enameled cast iron pieces by Le Creuset have a limited lifetime warranty.
How Does Le Creuset Compare to Other Cookware?
Le Creuset vs. Lodge:
Lodge vs. Le Creuset: Which is better? Both brands make enameled cast iron cookware, but Lodge has much more affordable options. Many reviewers praise Le Creuset's for its superior performance and durability when comparing both Dutch ovens. There's a significant difference in their weight – Le Creuset's Dutch oven weighs less.  Learn more about them in our Lodge cast iron review.
Le Creuset vs. All-Clad:
All Clad or Le Creuset? Both brands are high-end cookware brands, but they specialize in different things. Le Creuset gets a lot of praise for its Dutch Ovens and iron cast cookware, whereas All-clad specializes in stainless steel. Learn more about them in our All-Clad review.
Le Creuset vs. Staub:
Staud is the primary rival of Le Creuset. They are both French, have good reviews, and perform well. Staub is slightly less expensive, but Le Creuset offers a broader range of colors. However, a few people online seemed to really like the colors offered by Staub.
Le Creuset vs. Viking Cookware:
Viking Cookware is an American company that specializes in stainless steel cookware. They sell various sets, offering Tri-Ply and 5-ply stainless steel cookware. Read more about them in our Viking pots and pans review.
Le Creuset vs. 360 Cookware:
Le Creuset is much more recognized as a brand than 360 Cookware. But 360 makes good quality cookware, and it's a company from the USA, with a mission to produce high-quality American-made cookware. As we mentioned in our 360 Cookware review, they specialize in stainless steel, so if you are set on this kind of cookware, it might be a good option.
Le Creuset vs. Copper Chef:
Copper Chef is a company that makes copper cookware, although they don't offer an extensive selection. Their signature product is a nonstick copper pan. Their cookware is affordable, but many reviewers say the nonstick surface wears off quickly, and in many cases, the pans don't last more than a year.  Read more about them in our Copper Chef Review.
Le Creuset vs. Mauviel:
Mauviel is also a well-established French brand of cookware. Their copper cookware is quite famous in the industry. Copper cookware is stunning and a great addition to any kitchen.
Le Creuset Cookware FAQ
Where is Le Creuset made?
Le Creuset Dutch ovens and other iron cast pieces are made in the brand's foundry in Fresnoy-le-Grand, France.
The stainless steel pieces are made in other countries, including Portugal, China, and the United States.
What is Le Creuset's warranty?
Le Creuset has a limited lifetime warranty.
Can Le Creuset go in an oven?
Yes, most of the Le Creuset Cookware can go in the oven up to 500ºF, but be careful with the lids and knobs because they can't go as high.
Is Le Creuset dishwasher safe?
Whether you can put your Le Creuset in the dishwasher depends on the cookware. However, all the enameled cast iron cookware by Le Creuset can go in the dishwasher.
Is Le Creuset cookware good?
Le Creuset cookware is made from excellent raw materials and has very high manufacturing standards. They are an excellent cookware manufacturer.
What colors do Le Creuset cookware come in?
Le Creuset cookware comes in over twenty beautiful and vibrant colors.
Is high-end cast iron cookware worth it?
I would say it's definitely worth it because of its durability. But perhaps it's not necessary if you don't cook a lot or enjoy it.
Why should you buy Le Creuset cookware?
Le Creuset cookware is well-made, beautifully designed in a homely kind of way, durable, and versatile. The enameled cast iron pieces will also add a stylish and beautiful touch to your kitchen.
Is Le Creuset cookware worth it?
Yes, Le Creuset produces very high-quality cookware, both stylish and durable. For someone who enjoys cooking and wants an excellent and durable pan, grill, or Dutch oven, it makes sense to invest in Le Creuset cookware.
Final thoughts about Le Creuset cookware
After reading a lot about Le Creuset, I think it is definitely worth it. The brand is a bit expensive, but the idea is that you are buying a piece of cookware that works exceptionally well and will last for decades.
The designs are beautiful and colorful, adding a nice touch to the kitchen. And most of the cast iron pieces have a limited lifetime warranty, which is a big plus as well.
Click here to shop their cookware. 
Written by Miguel Horth
Searching for cookware? Here are some more brand reviews: