With over 100 years of experience, Demeyere Cookware has established itself as a global benchmark for high-quality stainless steel cookware that delivers professional performance. Whether you are in the market for the best stainless steel cookware or just reading up for the future, this Demeyere Cookware Review will dive into the company, its products, and even some of its competitors. Hopefully, by the end of the Demeyere Pan Reviews and frequently asked questions, you will know if Demeyere is the right brand for you to buy.
Demeyere Cookware Reviews
Our Top Pick!
Set includes:
2-quart Saucepan with Lid
3-quart Saute Pan with Lid
3.5-quart Saucier with Lid
4-quart Saucepan with Lid
5.5-quart Dutch Oven with Lid
8-quart Stock Pot with Lid
9.5 and 11-inch Skillet
Features:
Durable 5-ply clad construction
Quick and even heating
Superior base stability
Stay-cool welded handles
Stove, oven, and broiler safe up to 500°F
Limited lifetime warranty
Dishwasher safe
Demeyere makes several lines of high-quality cookware. Below we review their most popular pieces. 
Demeyere Alu Pro Non-Stick Review
Pros:
Compatible with all stovetops, including Induction 
Heat conduction 
Duraglide Titanium non-stick coating, which is scratch-resistant, making this durable cookware
Dishwasher safe
Oven safe to 446F
Cons:
Some users found it heavy for a non-stick pan
No "all-in-one" set available  
Overall Demeyere Alu Pro Non-Stick Review
As far as I can tell, Demeyere does not have a set for AluPro, their nonstick line, and everything seems to be sold separately. However, they offer a good variety of frying pans, saucepans, stew pots, woks, and more, depending on your Kitchen's nonstick needs. 
AluPro is Demeyere's breakout into non-stick cookware. Each piece is constructed of durable cold-forged aluminum and coated with a 5-layer Ti-X coating. Its aluminum body heats up quickly and evenly. The non-stick coating consists of three layers of non-stick coating, a Plasma Primer, and a protective layer, which allows for an impressive food release, metal-utensil usage, and overall superior non-stick performance.
Its lightweight body and stay-cool handle ensure comfort while cooking. I, personally, appreciated the flared rims, which conveniently allowed for drip-free pouring. Demeyere is already known for its stainless steel cookware, so it was no surprise that AluPro pots and pans were high-performing and expertly designed. I would recommend this line to anyone looking to add one or more non-stick pieces to their kitchen. It is the attention to detail that makes this an excellent option for your everyday use.
Click here to buy this cookware  
Demeyere Industry Review: 9 Piece Set
What's Included:
9.5-inch Fry Pan
11-inch Fry Pan
2-quart Covered Saucepan
4-quart Covered Saucepan
3-quart Covered Sauté Pan
8-quart Covered Stock Pot 
Pros:
Suitable for all cooking surfaces including Induction
Oven and broiler safe up to 500F
Superior heat conduction and retention
Dishwasher safe
Stay-cool, stainless steel handles are welded on
Cons:
Food can stick – needs oil or butter 
Heavy and not all pans included a "helper handle."
Overall Demeyere Industry 5 Pots and Pans Set Review
Demeyere's Industry 5 series was designed to deliver professional quality cooking in any kitchen. In this 10-piece set, each piece boasts a 5-ply construction with flat-base stability that ensures quick heating, no hotspots, and impressive heat retention. It also has ergonomic handles and features dripless pouring rims, which enhance the overall cooking experience.
The cookware is also treated with their Silvinox surface treatment to ensure that it looks new over the years. Silveinox also helps the stainless steel to be resistant to fingerprints, harsh detergents, and acidic foods. This set includes everything you might need in a well-stocked kitchen. It was expertly designed for beauty and high-performance results. Overall, I was impressed by Demeyere's Industry product line. You can tell that these pieces were designed for professional performance and durability. If you are looking for a stainless steel cookware set that delivers on durability, exquisite design, and excellent performance, then this set is the one for you. With a 4.9 out of 5 stars rating, it seems like many kitchens love these pots and pans. You can read their reviews here.
Click here to buy this cookware  
Demeyere John Pawson Review:
What's Included:
5.5-quart Saucepot with lid
9.4-inch Fry Pan
Pros:
Induction compatible 
Dishwasher safe
Oven and broiler safe up to 500F
Exceptional heat distribution and retention
Minimalistic but versatile set 
Cons:
Handles are wide – potentially bothersome
Smaller set – might need more than just these 2 pans.
Click here to buy this cookware  
Overall Demeyere John Pawson 3-piece Cookware Set Review
John Pawson, a minimalist architect, designed this product line to combine Demeyere's exceptional performance with a simple yet exquisite design. This set includes only the bare essentials for any professional or home chef. Its 7-layer construction delivers superior heat distribution and retention, while the Silvinox treatment ensures that it is easy to clean and resists fingerprints. Both the pan and the pot have stay-cool, stainless steel handles welded to them, which gives it a modern look while providing stability and comfort.
If you are looking for a minimalistic set that includes everything you need, then the John Pawson set is perfect. This is an exquisite set that delivers on Demeyere's guarantee of exceptional performance in everyday cooking. I loved that it only comes with what you need rather than including extras that might not be used. Currently, Demeyere's John Pawson 3-piece set has a high 4.9 rating, which you can read on their website here.
Click here for the latest price  
Demeyere Resto Review: Mini Saute Pan Set 4-Piece
What's Included:
Four 4.7-inch Mini Saute Pans
Pros:
Compatible with all stovetops, including induction
Set of four 
Dishwasher safe
Oven safe
Versatile, mini pans
Cons:
The sides of the pan are thin
No lids
Click here to buy this cookware  
Overall Demeyere Resto 4-Piece Mini Saute Pan Set Review
These mini saute pans are a practical and versatile addition to any kitchen. It is perfect if you want to cook and serve a mini dessert, like a pizookie, or a small dish, like a frittata. The pans are constructed of stainless steel with a 3-ply base that delivers exceptional cooking performance and adheres to Demeyere's strict quality standards.
If you cook many individual or mini-meals or desserts, this is a perfect set for you, especially if you would like to serve in the pan. These are cute but functional pans, and I would love to try out some new recipes. It has a 4.7 rating on its website here and a 4.0 rating on Amazon's website here.
Click here for the latest price  
Demeyere Atlantis Review: 9 Piece Set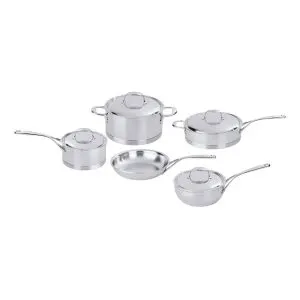 What's Included:
2.3-quart Saucepan with lid
3.5-quart Saucier with lid
5-quart Saute Pan with lid
8.9-quart Dutch Oven with lid
11-inch Prline Fry Pan
Pros:
Oven and broiler safe up to 500F
Dishwasher safe
Compatible on all cooking surfaces 
TriplInduc is efficient on induction
Excellent heat conduction 
Cons:
It doesn't have a helper handle on every piece
Heavy
Click here to buy this cookware  
Overall Demeyere Atlantis 9-Piece Set Review
Similar to the Industry line, Atlantis is known for delivering exceptional results and having a beautiful design. For its construction, Altantis varies dependent upon the type. Its fry pans and conical saute pans are constructed with a 7-PlyMaterial all the way to the edge, which ensures that heat spreads quickly and evenly throughout the entire cooking surface. For the straight-sided pans, the construction consists of a 7-layer base which ensures impressive heat conduction. All pieces have the Silvinox surface treatment, stay-cool, welded handles, and dripless pouring rims. These features give the pots and pans the everyday convenience and attention to detail that Demeyere is known for. 
Atlantis cookware is absolutely gorgeous. I loved the design and performance that you get from each piece. The 9-piece set included everything you might need in the kitchen. I would recommend this to you if you are looking for the best quality stainless steel cookware. With a 5.0 out of 5.0 stars rating, it is clear that professional, and home chefs love this Atlantis set. You can read more here.
Click here for the latest price  
Demeyere Resto 4-pc Stainless Steel Stovetop Smoker Set Review
 What's Included: 
Frypan
Smoking chamber
Streaming grid
Lid 
Pros:
Oven safe up to 600F
Works on all stovetops, including induction
Handles are welded on 
Dishwasher safe
It can also be used as a steamer
Cons:
Instructions were about how to clean and not get burned – doesn't explain how to use 
No temperature gauge for food monitoring 
Click here to buy this cookware  
Overall Demeyere Resto 4-Piece Stovetop Smoker Set Review
Demeyere Resto's 4-piece stovetop Smoker set is perfect for getting that smoky flavor at home. Typical of Demeyere, this smoker is constructed of high-quality 18/10 stainless steel with welded-on handles. It is compatible with all stovetops and oven safe up to 600F. Plus, it is conveniently dishwasher safe.
If you enjoy the taste of smoked food, then this stovetop smoker is perfect for you to smoke meat, poultry, fish, and vegetables right from your kitchen. I liked this set and what it can do for you, but I would recommend researching how to use it properly before purchasing. Some reviewers could not quickly figure it out, and others ruined food and/or the smoker while trying it out. Don't let that scare you away, though! It is a great addition to any kitchen once you know how to use it. This 4-piece smoker set has a 4.6 rating on its website and a 4.1-star rating on Amazon.
Click here for the latest price  
Demeyere Pans Review
Demeyere also makes some of the best stainless steel cookware. Here are their most popular individual pots and pans reviewed so you can make the best buying decision. 
Demeyere Wok Review
Pros:
Dishwasher safe 
Oven safe up to 500F
Induction compatible 
Stay-cool welded handles 
Great size for 1-4 servings
Superior heat conductivity
Cons:
Oil must cover the entire pan, or food sticks to the sides
No lid
Overall Demeyere Industry Wok Review
This is a 5- quart stainless steel wok from the Demeyere Industry cookware line. Its flat bottom design provides a stable base while still allowing traditional wok cooking.
This 5-quart wok is perfect for cooking up delicious stir-fry dishes. It features 5-ply construction and aluminum core that provides superior heat conduction and distribution throughout the entire pan. Its flared sides allow for traditional stir-fry techniques, while the flat bottom ensures stability. If you enjoy stir-frying, this Industry stainless steel wok will bring professional, high-performance quality to your kitchen.
Demeyere Saucier Review
Pros:
Dishwasher safe 
Oven and broiler safe up to 500F
Tight-fitting lids 
Ergonomic, stay-cool handles
Induction compatible 
Even heat distribution
Cons:
Overall Demeyere 3.5-quart Saucier Review
A 3.5-quart covered stainless steel saucer from the Demeyere 5-plus line. Its tight-fitting lid allows for energy-efficient cooking by redistributing the heat throughout the pan. 
This saucier is perfect for searing, frying, etc., because of the five-layer construction that helps it to heat up quickly, evenly and be an excellent conductor of heat. Its ergonomic stay-cool handles provide comfort to everyday cooking. If you are in search of a high-performing saute pan, then this is the one for you.
Click here to buy this pan now  
Demeyere Roasting Pan Review
Pros:
Dishwasher safe 
Oven safe up to 500F
Stay-cool welded handles
Suitable for all stovetops
5-ply construction – durability
Cons:
Overall Demeyere Industry Roasting Pan Review
This is a Demeyere Industry stainless steel roasting pan that is 15.7×13.3-inches. Designed to meet the needs of the busiest kitchens, it is a premium pan that delivers superior heat conductivity and overall cooking performance.
This roasting pan is a must-have for any kitchen. It has high stainless steel handles that allow easy moving without strain or losing the food. It has high sides which prevent juices from leaking and ensures your food stays moist. Its grate allows the meat to sit above the pan and drain any liquids or fat. It is a must-have for anyone that loves cooking a roast.
Demeyere Frying Pan Reviews
Description:
This 11-inch stainless steel fry pan from Demeyere's Atlantis line includes a helper handle for easy maneuvering. It also maintains its silvery finish because of the patented Silvinox surface treatment. 
Pros:
Dishwasher safe 
Oven safe up to 500F
Stay-cool handles are welded on for easy maneuverability 
Rolled rims for dripless pouring
Excellent heat conductivity and retention 
Cons:
Heavy
It can be difficult to clean 
Overall Demeyere Proline Frying Pan Review
This frying pan is the perfect size for an everyday fry pan with the bonus of featuring all the conveniences that Demeyere is known for. Its rolled rims ensure dripless pouring, while the stay-cool, welded handles allow for easy maneuverability. This pan even includes a helper handle (on the 11-inch model), which quite a few users had missed having on other Demeyere pans. There are two options a 9.4 inch and an 11-inch model. If you are looking for a new everyday pan, I would recommend this one for its versatility and performance. 
Click here to buy this cookware  
About Demeyere Cookware 
History of Demeyere Cookware
In 1908, Demeyere got its start as a small family-run business that manufactured biscuit tins. Over the years, they grew and expanded their metalwork, finally venturing into household products in 1921. Throughout the years, the company, and specifically the family, focused on innovation and change. Demeyere started to become the global benchmark they are today when they began focusing on induction cooking and cookware back in 1975.
This continued with four generations of the Demeyere: always focusing on innovation, growth, and change. In 2008, ZWILLING J. A. Henckel took over the Demeyere business operations but ensured that Demeyere would retain its identity and focus. Over 100 years in the business, and Demeyere continues to be a global benchmark for high-end cookware made of stainless steel that is induction-compatible cookware. 
You may have noticed these pots in pans in Hell's Kitchen as they routinely are used and show up as gifts for the chefs on the show.
✅   After reviewing all of the Demeyere Cookware this is the one that we would buy based on all of its qualities.
What is the Demeyere product lineup?
Demeyere has a few cookware lines, each bringing professional performance to your kitchen. Below are some of the best-known ones and a brief description of each: 
Atlantis
The premium line from Demeyere, the Atlantis, boasts exceptional performance and a beautiful design. Each piece's 7-ply construction allows for amazing heat distribution and retention. 
AluPro
Demeyere's Alu Pro cookware are Aluminum non-stick pots and pans that use a revolutionary design with a cold-forged layer of aluminum and TriplInduc technology. 
Industry 5
Demeyere Industry pots and pans are designed to meet restaurant standards. This line has superior 5-ply construction cookware that meets the needs of both seasoned chefs and new cooks. 
John Pawson
This cookware line was designed by the minimalist architect John Pawson (1), with the idea that the kitchen is the center. Each piece has a simple and functional design that easily transitions from the stove to the table.
Resto
The Resto cookware line provides high-quality pieces that are both functional and beautiful to the value-conscious. They create some cookware for specific functions and needs, no matter what your culinary needs.
Materials Used
Demeyere specializes in high-quality, induction-specialized stainless steel cookware. This means they can be used on an induction cooktop. Here is a list of the materials that they use in their stainless steel cookware:   
7-PlyMaterial is a mix of 7 alloys, including stainless steel and an aluminum core. This allows for optimum heat distribution over the entire pan and allows for precise temperature control. 
5-Ply Material is a combination of 5 different allows, including aluminum layers and magnetic stainless steel. This construction ensures that heat is evenly distributed across the entire surface of the pan, eliminating all hotspots.
InductoSeal base is constructed of seven layers with a copper disk core. With its larger heat-conducting surface, this base is more energy-efficient and delivers superior results even on low heat. 
InductoBase base is constructed of seven layers with a core of pure aluminum. This pure aluminum core ensures that the cookware delivers exceptional results and has an even heat transfer.
Capsule Base consists of three layers- stainless steel, aluminum plate, and magnetic stainless steel. This design allows for the cookware to be used on all stovetops, like induction.
Handles
Demeyere's pots and pans have stainless steel, stay-cool handles. On the Resto and AluPro products, the handles are riveted to the cookware. For Atlantis, Industry, and John Pawson products, the handles are welded directly onto the cookware. 
Heat Retention
Heat retention or heat capacity is the amount of heat a material can store over time, even if colder items are introduced. This is an important aspect of cooking because you don't always want your food to cool off instantly or significantly change if you introduce cold ingredients. Certain materials affect the heat retention of an item, but also the thickness of the material can impact how well it holds onto heat as well. 
All of Demeyere's pots and pans are thick and heavy, ensuring superior heat retention.
Thermal Conductivity
The thermal conductivity of a material is a measurement that tells the material's ability to conduct heat. This is an important aspect of cooking and cookware because it can affect how quickly it takes to heat, how evenly it heats if there are cold spots or hot spots, etc. Stainless Steel, for example, has poor thermal conductivity. 
For stainless steel to be efficient in cookware, it must be combined with another metal that has excellent thermal conductivity. Demeyere Cookware has excellent thermal conductivity because its products are a combination of stainless steel & aluminum, stainless steel & copper, and cold-forged aluminum (for the non-stick). 
How Does Demeyere Cookware Compare to Other Cookware?
Demeyere vs. All-Clad
Both All-Clad and Demeyere are excellent options if you are looking for the best of the best stainless steel cookware. Both are expensive cookware, but both are worth their cost. The biggest difference between the two is heat retention and thermal conductivity. Demeyere has a better heating performance compared to All-Clad pots.
However, this also means that it is heavier and can be hard to manage. Both brands also have a unique but different cladding process, which is how they combine metal layers. Ultimately, either brand is an excellent choice. You can read more about the company and a few reviews in our All-Clad Cookware Review.
Demeyere vs. Viking
Viking offers various high-quality cookware, including stainless steel, copper, hard-anodized aluminum, and cast iron. Like Demeyere, Viking offers professional-quality pots and pans. However, Demeyere has superior heating and is induction compatible. If neither of those is your biggest concern, then either is a great choice here. You can learn more in our Viking Cookware Review.
Demeyere vs. 360 Cookware
360 Cookware is another high-quality stainless steel cookware brand. We have discussed them before in our 360 Cookware Review. Their cookware is designed to use Vapor technology (a waterless cooking method), which Demeyere is not designed for. Both brands are great choices depending on your preferences, although Demeyere has superior heat conductivity and is heavier.
Demeyere vs. Mauviel
Mauviel is a renowned French cookware brand that mainly uses copper, aluminum, and stainless steel. Like Demeyere, they focus on bringing professional performance to every kitchen. Mauviel is especially known for its luxurious copperware. You can read our thoughts on the Best Copper Cookware here. I would say that choice would depend on personal design preference. You can read more about Mauviel and our thoughts in our Mauviel Cookware Review. 
Demeyere vs. Hestan
Like Demeyere, Hestan is a high-quality cookware brand that is designed for exceptional performance and long-lasting durability. However, it is constructed mostly of titanium and a stainless steel exterior, which gives it a durability edge over Demeyere. Either would be an excellent choice for stainless steel cookware. Read more in our Hestan Cookware Review.
Click here to buy this cookware  
Demeyere Cookware FAQ
Where is Demeyere Cookware made?
Demeyere Cookware is manufactured in a state-of-the-art factory just outside of Brussels, Belgium.
What is Demeyere Cookware warranty?
Demeyere offers a 30-year warranty against manufacturer defects and craftsmanship. Please note, this is a 30-year limited warranty, not a lifetime warranty like other cookware brands. As always, I recommend reviewing the manual and warranty information provided with your cookware.
Is Demeyere Cookware dishwasher safe?
Although most of Demeyere's products are dishwasher safe, hand washing is recommended to extend the product's life.
Is Demeyere Cookware oven-safe?
Yes, Demeyere Cookware is oven safe. Depending on which product, it is safe anywhere from 445F to 600F.
Is Demeyere Cookware safe?
Yes, Demeyere cookware is safe to cook with. Most of their products are constructed with 18/10 Stainless Steel, but even the non-stick is PFTE- and PFOA-free. 
Is Demeyere Cookware good?
Yes, they are good. Demeyere creates products that can withstand and deliver professional kitchen results in your home kitchen. Each piece is designed to consider even the tiniest details, so everyday cooking is as comfortable and easy as possible. 
What colors does Demeyere Cookware come in?
Demeyere Stainless Steel Cookware comes in a silvery finish, especially quite getting the Silvinox surface treatment. The Alu Pro non-stick has a black, cold-forged aluminum color and, unfortunately, doesn't come in a variety.
Demeyere Cookware Reviews: What Do Customers Think?
Overall, customers love their Demeyere cookware. It is one of the best stainless steel options out there, and the customers seem to agree with this. The majority of Demeyere's products have a 4.7+ rating on their website and/or Amazon.
Does Demeyere Cookware Have Promotions & Discounts?
Yes, Demeyere has special offers and discounts available. You can find all their current offers here. 
What is Demeyere's Cookware Shipping Policy?
Demeyere offers free standard shipping for all orders over $59. Orders are processed on the next business day and shipped within 5 to 7  business days. 
What is Demeyere's Cookware Return Policy?
Demeyere and Zwilling.com have a 60-day return policy for any unused items. Some of their products are subject to a restocking fee of 15%.
Why Should You Buy Demeyere Cookware?
If you are looking for the best of the best in Stainless Steel cookware, then Demeyere Cookware is the right choice. Their pots and pans are constructed incredibly well and can last a long time if you take proper care of them.
Is Demeyere Cookware worth it?
Yes, I think that Demeyere Cookware is worth it, especially if you're looking for the best Stainless Steel cookware. Demeyere prides itself in designing and producing top, high-quality products. 
Where can I buy Demeyere Cookware?
You can buy Demeyere cookware from their website or their Amazon storefront. 
Bottom Line: Should You Buy Demeyere Cookware?
Demeyere cookware brings professional quality to the home kitchen. Each piece was designed to meet the needs of restaurants and professional chefs, which means they are designed to deliver exceptional results and long-lasting durability. Knowing this and after reviewing many of their products, I think Demeyere is absolutely worth the hype. I also appreciated the attention to detail that they put in all the tiny things, like dripless rims, induction compatibility, and more.
If you are looking for some new stainless steel pots and pans or even an entire set, then I highly recommend Demeyere. Personally, I loved the minimalistic approach of the John Pawson set, but all of their lines had some amazing features. I don't think you can go wrong with any one of these.
Click here to buy this cookware  
This article is by Kara Randle.
Source: 
1 – https://www.johnpawson.com/