Choosing the appropriate cookware for your home can feel like it requires almost as much research as you put into choosing the home itself. There are as many different types of cookware as there are types of cooks. Whether you are looking for a higher-end brand of cookware to suit more gourmet cooking styles or want to purchase cookware that will last a lifetime, you are most likely familiar with the Staub name. In this Staub cookware review, we will take a look at the various pieces this first-rate brand of cookware has to offer.  That way you can buy Staub cookware knowing you've made the right choice.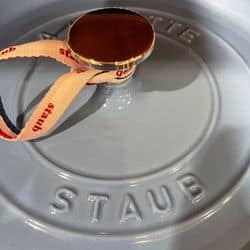 Staub is having a huge sale on select Staub cookware. Click here to check out the sale now
About Staub Cookware
History of Staub Cookware
In 1974 Francis Staub designed the first cocotte, French for "casserole," in a dormant artillery factory in the Alsace region of France. Thus Staub cookware was born. This company specializes in cast iron and ceramic cookware crafted for home cooks and professionals alike. In 2008, the German company Zwilling acquired the Staub brand, but the cookware is still handcrafted in France using the same traditional methods that made the Staub brand great from the start.
What is the Staub product lineup?
While the enameled cast iron cocotte is the most popular piece bearing the Staub name, there are a wide variety of cookware pieces to choose from. The ceramic cast iron pieces include cocottes, braisers, grill pans, fry pans, woks, and serving dishes. Staub also offers ceramic serving dishes, baking dishes, and tableware.
Materials Used
All Staub cookware begins with regular cast iron, which has been used in making cookware for thousands of years. For the enameled ceramic cookware, the cast iron is coated in all-natural ceramic for a naturally nonstick surface that is completely chemical-free. Each piece of this type of cookware from Staub is crafted individually and inspected visually and technically over 100 times for strict quality control.
Special Features
There are a few bells and whistles that are specific only to the Staub brand that helps this company stand out in a sea of endless cookware choices. The lids are contoured on the underside for moisture retention and designed to fit tightly onto its assigned dish. Each lid also features Aroma Rain technology, in which spikes on the inside of the lid ensure a continuous rainfall effect that keeps food from drying out.
Staub Cookware Review
Staub Cookware Set Review 12 Pieces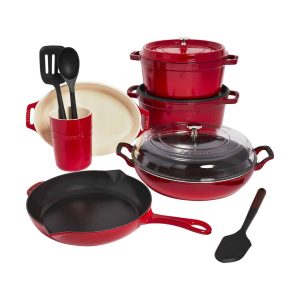 What's Included:
5.5-Quart round cocotte with lid
7-Quart round cocotte with lid
3.5-Quart braiser with glass lid
10-Inch fry pan
11-Inch oval baking dish
4.3-Inch utensil holder
Serving turner
Spatula
Serving spoon
Pros:
Oven safe to 572 degrees without lid
Freezer safe with lid
Stunning, vibrant color
Transition from stove to dinner table beautifully
Built to last a lifetime
Easy to clean
Cons:
Pricey cookware
Hand wash for best results
Overall Staub Cookware Set Review
There's no question that Staub cookware is at the top of the list of premium cookware. Make an impression on your dinner table, or enjoy the ease of cooking with this cookware that truly has it all. This set comes with everything you need to completely set up your kitchen and start cooking right away, including utensils and a holder. The enameled cast iron retains and distributes heat evenly for cooking perfection. Each piece cleans up quickly and easily so you can spend more time enjoying the meal.
Click here to buy this cookware  
Staub Pots and Pans Review
They also offer individual pots and pans, here are their most popular pots and pans reviewed to help with your buying decision.
Staub Dutch Oven Cocotte Review
Pros:
Oven safe to 900 degrees without lid (500 degrees with lid)
Tight-fitting lid to lock in moisture
Made to use on all cooktops, including induction
Never needs seasoning
Easy to clean
Cons:
Pricey cookware
Hand wash for best results
Overall Staub Cocotte Dutch Oven Review
This 4-Quart round cocotte measures 9 ⅜ inches in diameter and features a matte black cooking surface that can be used on the stovetop or in the oven.
This stunning piece of cookware is so lovely it's hard to believe it's built to withstand the rigors of even the most demanding kitchen. It performs like a workhorse with the beauty of a thoroughbred. It comes in 11 stunning colors and all the quality you'd expect from a piece of  Staub cookware.
This piece is a perfect addition to an existing set or as an introduction to high-end enameled cast iron cookware. It can handle everything from soups and stews to baking crusty bread with ease. However you use it, this piece is sure to become a prized possession in no time.
Click here to buy this dutch oven  
Staub Fry Pan Review
Pros:
Oven safe to 900 degrees
Suitable for use on all cooktops, including induction
Freezer safe
Easy to clean
No seasoning required
Dual pouring spouts for easy liquid and fat removal
Cons:
The handle can become very hot
Hand wash for best results
Overall Staub Fry Pan Review
The Staub Frying pan is an 11-Inch deep skillet featuring high sides and two pouring spouts and is available in 5 colors. This pan is multifunctional and can serve as a saute pan and frying pan all in one. The higher sides and deep interior make for less splatter in your kitchen. With this one skillet, you can cook bacon, cornbread, or cobblers. It does the job of many in one handy pan, saving space in your cabinets as well as your wallet.
Staub Grill Pan Review
Pros:
Oven safe to 500 degrees
A rough cooking surface is perfect for browning
Heat retention and distribution makes for perfect searing
Pouring spouts (on some models) for removal of fat and liquid
Safe to use on all cooktops, including induction
Some models feature a folding, stay-cool handle
No seasoning required
Cons:
Handles can become very hot (on some models)
Though these pans are listed as dishwasher safe, it is best to hand wash them.
Overall Staub Grill Pan Review
Staub grill pans come in a variety of shapes and sizes. The Pure Grill is round and comes in a 10-Inch size. Staub also offers square and rectangular grill pans both with and without pouring spouts.
Bring the grilling indoors with these sturdy and stylish grill pans. The enamel coating cast iron pan provides perfect heat distribution for that perfect sear, while the surface gives you those satisfying grill stripes on steaks and chicken. Keep in mind, if you like a pan with a smooth surface, this is not the pan for you. The grill groves also help drain the fat away for healthier cooking. These grill pans come in various styles, sizes, and features, so there is one that will fit your grilling needs perfectly.
Staub Perfect Pan Review
Pros:
Performs a wide variety of functions
Oven-safe to 500 degrees
No seasoning required
Safe to use on all cooktops, including induction
Each piece is one-of-a-kind
Cons:
Though the manufacturer says this pan is dishwasher safe, it is best to hand wash.
Handles can become very hot.
Overall Staub Perfect Pan Review
This 4.5-Quart enameled cast iron pan features rounded sides on a six-inch base and comes in four different colors. Not all colors are available at all times, so definitely grab your favorite while you can.
The name of this pan says it all: Perfect! If you're short on space but not on cooking needs, this pan is for you. One pan does it all: sear, saute, brown, steam, stir fry, and deep fry. It heats up quickly, cooks evenly, and cleanup is a breeze. You'll look like a pro with this stylish and multi-purpose pan.
Click here to buy this cookware  
Staub Kettle Review
Pros:
Oven safe to 500 degrees
Heats up quickly
Perfect size for making tea
Nontoxic cooking surface
Solid and sturdy body
Cons:
Heavy
The handle can become very hot
Overall Staub Kettle Review
This is a 1-quart enameled cast iron tea kettle that comes in three different colors: matte black, basil, and cherry. The cherry color option is my favorite.
This adorable enameled cast iron kettle is a charming addition to your stovetop. This would also make a great gift for a tea lover who already has a full cookware set and would like a little something to match. It's quite hefty for a little guy, making it sturdy and durable. Useful for boiling water for tea, heating small batches of soup, or warming milk.
How Does Staub Cookware Compare to Other Cookware?
Staub vs. Le Creuset
Both of these companies offer high-quality enameled cast iron cookware. Le Creuset is perhaps the more well-known brand of the two and will cost a touch more than Staub. Both cookware brands offer toxin-free ceramic nonstick cookware and bakeware. Le Creuset also offers a small line of stainless steel cookware as well. It is truly a matter of preference and looks when choosing between the two. Learn more about them in our Le Creuset review.
Staub vs. Lodge
Lodge is an American company based in Tennessee and offers cast iron and enameled cast iron cookware at a significantly lower price than Staub. Similar to Staub, Lodge also offers a selection of skillets and pans in carbon steel. This brand would be good for someone looking for enameled cast iron dutch ovens without spending a lot of money. Learn more about them in our Lodge cast iron review.
Staub vs. Stargazer
A relative newcomer to the scene, Stargazer manufactures cast iron cookware but only offers skillets. These skillets are not enameled but can be purchased pre-seasoned or bare. Read more about them in our Stargazer review.
Staub Cookware FAQ
Where is Staub Cookware made?
Each piece of Staub Cookware is handcrafted in France (1), as it has been since the company was founded in 1974.
What is the Staub Cookware warranty?
All Staub products come with a lifetime warranty that excludes some types of damage. Zwilling will repair or replace items that qualify.
Is Staub Cookware dishwasher safe?
No, Staub Cookware is not dishwasher safe. It is best for the longevity and performance of this cookware that it is hand washed after each use.
Is Staub Cookware oven-safe?
Staub Cookware is oven-safe. The cast iron base can withstand fairly high temperatures, while the lids are oven-safe at slightly lower temps.
Is Staub Cookware safe?
Staub Cookware is made from enameled cast iron that is completely toxin-free and is therefore completely safe to use.
Is Staub Cookware good?
This brand of cookware is truly top-of-the-line and well worth the money you'd spend on a full set. Each piece is handcrafted using quality materials for a truly gourmet cooking experience.
What colors do Staub Cookware come in?
One of the best features of Staub Cookware is the variety of rich colors offered. For some of the colors, the "Majolica" color technique is used to create a vibrant finish. This process applies three layers to the surface of the cast iron for a brilliant color.
The "Majolica" colors include Basil Green, Cinnamon, Grenadine, and Dark Blue. Other colors available are Blue, Cherry, Graphite Gray, Truffle White, White, Aubergine, Matte Black, and Turquoise. The lighter color, Truffle White, is especially beautiful. Ultimately, there is surely a gorgeous color to complement any kitchen decor.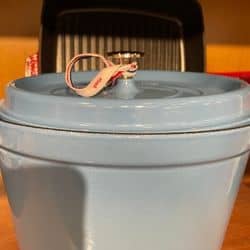 What is Staub Cookware Shipping Policy?
The official Zwilling website offers free shipping on orders over $59. You can purchase the cookware from other sites like Williams Sonoma, Amazon, Macy's, and others. Shipping costs will vary depending on the site.
What is Staub Cookware Return Policy?
A 30-day guarantee and lifetime warranty back all Staub Cookware. For any issues, contact the company, and the product can be repaired or replaced if the damage qualifies under the terms of use.
Does Staub have clearance?
Staub products can be found discounted on many sites that sell home goods and the official website. Some discounts are as much as 60%.  See their clearance section here.
Why Should You Buy Staub Cookware?
Staub Cookware is hand-crafted in France, guaranteeing that each piece is truly one-of-a-kind. The ceramic nonstick surface is completely toxin-free and, coupled with the cast iron construction, provides even heat distribution. The tight-fitting lids with Aroma Rain technology ensure your food is perfectly moist and flavorful.
Is Staub Cookware worth it?
Even though the price can be a bit steep, this cookware is worth every penny. With fine French craftsmanship and toxin-free nonstick surfaces, you can cook meal after meal knowing you are using the best of the best.
Where can I buy Staub Cookware?
While the official Zwilling website only ships to the UK and Ireland, Staub Cookware can be found on Williams Sonoma, Amazon, and others.
Does Staub Cookware Have Promotions & Discounts?
There are many websites and stores that carry Staub products. Stores like Macy's and Williams Sonoma will frequently carry this cookware at a discounted price. You can also monitor prices on Amazon. If you're willing to do some comparison shopping, you can typically find Staub products for lower than retail. The official site will also offer products at reduced rates here.
Staub Cookware Review Bottom Line: Should You Buy?
Staub cookware is for the home cook or professional looking for cookware that is built to last. Often referred to as "heirloom" cookware, Staub dutch ovens and pans can be handed down generation after generation. While Staub Cookware will often cost more than other brands of cookware, the quality construction, toxin-free ceramic nonstick surface, and durable yet beautiful exteriors make it absolutely worth it.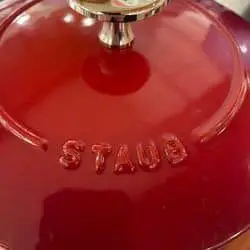 Source:
1 – https://www.zwilling.com/us/about-us/article-about-the-group-factories.html
Searching for the best cookware? Here's some help