Copper cookware is arguably the best kind of cookware for consistently superior results in the kitchen, and that's not an exaggeration. Here at the Best Copper Cookware Reviews, I will be walking you through the good, the bad, and the ugly when it comes to copper cookware. We will delve deep into the exotic history of copper culinary. By the time you've finished reading this article, you will find yourself with a much deeper appreciation for all things copper! That way, you will know if the best cookware set for you is a copper cookware set.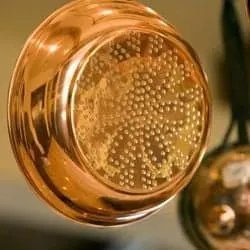 ✅  After going through all of the copper cookware, this is the one that we would buy based on all of its qualities.
Best Copper Cookware Sets
Our Top Pick!
Set includes:
10 and 12-inch fry pans
2 and 3-quart sauce pans with lids
3 and 6-quart saute pans with lids
12-inch chef's pan with lid
8-quart stockpot with lid
Features:
5-ply bonded construction with stainless steel, aluminum
Thick copper core
Highly polished stainless-steel cooking surface
Compatible with all cooktops including induction
Oven and broiler-safe up to 600°F
Best Copper Core Cookware: All-Clad 60090 5-Ply Bonded
Perhaps a couple of notches above the previously reviewed set, the All-Clad 60090 Copper Core 5-Ply Bonded Set is a 14-piece copper cookware set that is made with the best metals manufactured from America's number 1 crafter of stainless steel. As such, you could expect that all products are bonded with stainless steel linings rather than tin and excels in durability. The core is made of pure copper, which makes the heat-conducting above average. The 5-ply stainless steel consists of layers of aluminum and steel combined for maximum durability that lasts a lifetime. While it is missing the copper exterior look, this cookware is copper where it matters.
Features:
10-inch fry pan
12-inch fry pan
2 Quart saucepan with lid
3 Quart saucepan with lid
3 Quart sauté pan with lid
6 Quart sauté pan with lid
12-inch chef pan with lid
8-Quart stockpot with lid
Pros:
Pure copper core for better heat conduction and quality results
5-ply stainless steel from America's best for max durability
Silver finish with a beautiful shine
Comfortable, ergonomic handles
Compatible on all cooktops
Cons:
Stainless steel lining means copper conductivity is slightly negated
Not dishwasher safe
Click here to buy this cookware  
All-Clad 60090 5-Ply Bonded ​Review
I would honestly recommend the All-Clad 60090 Copper Core 5-Ply Bonded Set over anything if it weren't for the fact that the copper properties don't fully shine due to the premium stainless steel that can't help but take a bit of the spotlight. Thus, I must revamp my final review of this product since we are talking about the best copper cookware, and I will say that this set is the most durable copper cookware set on the market but not the best in terms of thermal conductivity.
Click here  for the latest price  
Best High-end Copper Cookware Set: Amoretti Brothers Copper Cookware Set of 11 with Flower Lid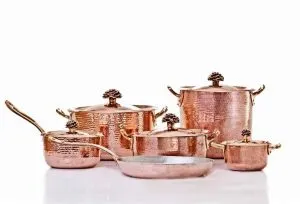 Brought to you by Amoretti Brothers, the Copper Cookware Set of 11 with Flower Lid is one of my best picks for copper cookware sets. Using the hand-hammered copper design, this 11-piece vintage set is so utterly beautiful, and the flower lid just makes you want to have a feel for yourself! This traditional Copper Cookware Set has all the fundamental pots and pans for your kitchen and is recommended if you are doing a complete kitchen make-over.
Features:
0.8 Quart cocotte with lid
4 Quart sauté pan with lid
10 Quart Dutch oven pan with lid
11-inch frying pan
10 Quart stockpot
2.8 Quart saucepan with lid
Pros:
Double tin lining for maximum chemical prevention and extra durability
Superior heating conductivity with copper material bonded with tin lining
Nice hammered finish
Aesthetic flower lid designs included on all lids in the set
Compatible on all cooktops
Cons:
2mm thick cladding, a little on the thin side
Not dishwasher safe
Not as durable as stainless steel lining
Click here to buy this cookware  
Amoretti Brothers Copper Cookware Set of 11 with Flower Lid Review
The Amoretti Brothers Copper Cookware Set of 11 with Flower Lid is a great choice for revamping your kitchenware and possibly the best-looking set on the market in terms of unique aesthetics and gorgeous design. Keep in mind; however, the copper cladding is only 2mm thick, which is a little below what I would recommend as the optimal range of 2.5 to 3mm.
Nevertheless, with the variety of different pans and pots included in the set and the sheer aesthetics of the flower lids and hammered finish, it would be hard to look past this gorgeous set. You can learn more about them in our Amoretti Brothers review.
Click here for the latest price  
Best mid-ranged copper cookware set: Legend Stainless Steel 5-Ply Copper Core
The Legend Stainless Steel 5-Ply Set takes the price way down and is definitely the top of the herd within the mid-range of copper cookware sets. This 14-piece copper pot set has all the essentials, from sauté pans to saucepans and stockpots; items in this set are blessed with top-of-the-range 5-ply stainless steel and a copper core for heat conduction.
Features:
8 Quart stockpot with lid
8-inch frying pan
10-inch frying pan
12-inch everyday pan with lid
1 Quart saucepan with lid
2 Quart saucepan with lid
3 Quart casserole pan with lid
3 Quart sauté pan with lid
Pros:
Far more affordable than most copper cookware sets
Copper core for higher heat conductivity
Beautiful golden colored handles make it one of the best-looking sets on the market
5-ply stainless steel durability
Compatible on all cooktops
Cons:
Not dishwasher safe
Stainless steel lining means thermal conductivity of copper not optimum
Stainless steel quality is great but not the best
Click here to buy this cookware  
Legend Stainless Steel 5-Ply Review
Overall, the Legend Stainless Steel 5-Ply Copper Core Set is one of the most stunning and affordable pieces you can get your hands on. Personally, gold is one of my favorite colors, and these handles and rivets just take my breath away. With that said, the stainless steel used is obviously not at the level of All-Clad, but as a mid-range copper cookware set, this product is surely the best of the best.
Click here to buy this cookware  
Best copper cookware set on a budget: Lagostina Martellata Hammered Copper
Dropping the bar even lower, the Lagostina Martellata Hammered Copper Cookware Set is made for all you bargain-loving, copper cookware enthusiasts! Yes, this set caters to those on a budget, and yes, copper cookware is not exclusive to big spenders only. This 10-piece thick aluminum core set comes with all the fundamentals, and with tri-ply construction, it is fairly durable too.
Features:
8-inch skillet
10-inch skillet
2 Quart saucepan with lid
3 Quart saucepan with lid
3 Quart deep saute pan with lid
6 Quart stockpot with lid
Pros:
Very affordable, great if you're on a budget
Aluminum core for superior conductivity
Tri-ply stainless steel for good durability
Compatible on all cooktops
Oven safe
Optional glass lid
Cons:
No 5-ply means not as durable as other brands
Copper conductivity diminished slightly by steel lining instead of tin
Not dishwasher safe
Stainless steel not of the best quality, but decent
Click here to buy this cookware  
Lagostina Martellata Hammered Copper Review
This 10-piece set is perfect for budget buyers who are looking for the copper cookware edge in thermal conductivity. The hammered copper exterior is gorgeous.  Tri-ply stainless steel provides fairly good durability, but of course, I would prefer 5-ply for even more durability. Nonetheless, we are talking about budget copper cookware here, and for the price you pay for this, there may well be no better option on the market!  See the reviews here.
Click here to get the latest price  
Best copper bottom cookware set: T-fal C836SD Ultimate Stainless Steel Copper Bottom
The T-fal C836SD Ultimate Stainless Steel Copper Bottom Set is a 13-piece set that gives you all the basics of copper cookware at a great price. Included in this set are a variety of skillets, fry pans, and stockpots that complete your kitchen very well. Using stainless steel pan construction and coming in with a nice silver finish and affordable price, this cookware set from T-fal is hard to look past.
Features:
8-inch fry pan
10.5-inch fry pan
12-inch fry pan with lid
1 Quart saucepan with lid
2 Quart saucepan with lid
3 Quart saucepan with lid
5-quart Dutch oven with lid
Stainless steel steamer
Pros:
Affordable copper cookware set
Stainless steel durability
Comfortable handles
Nice silver design
Cons:
Not dishwasher safe
Stainless steel far from the best
T-fal does not specialize in copper cookware, so this set is more of a bonus piece
Click here to buy this cookware  
T-fal C836SD Ultimate Stainless Steel Copper Bottom Review
This 13-piece set covers all the different pots and pans you need for your kitchen. While this is a great affordable alternative, keep in mind that T-fal specializes in aluminum non-stick cookware, so I would not recommend it if you are looking for high-quality copper cookware. With that said, this is still a good choice if you are looking for a cheaper option that still delivers the bare minimum of copper cookware's thermal conductive properties.
Click here to buy this cookware  
Best Copper Cookware Pans
Best Copper Saucepans: Mauviel M'Passion Copper
When it comes to the best of the best in copper cookware, Mauviel is a trusted brand by professional chefs and cooking enthusiasts and is possibly the top of the range in copper cookware. Of course, Mauviel is a super expensive brand, which is why I would recommend this Mauviel M'Passion Copper Saucepan, which is a one-off item that does not force you to purchase a full set. No stainless steel to interfere with the copper conductivity, this pan is what you've been waiting for: simply the best in copper cookware heat conduction.
Features:
1.9 Quart Mauviel M'Passion Copper Saucepan with Copper Handle
Pros:
Superior, top of the range copper core for unbeatable heat conductivity
No stainless steel to interfere with copper's power
One-off item means even budget buyers can get a taste of the best
Adaptable to all cooktop types
Cons:
Not dishwasher safe
Specialized cookware should not be used for all kinds of cooking as there is no lining
Requires proper care when adjusting temperature due to high conductivity
Click here to buy this cookware  
Mauviel M'Passion Copper Review
This item is possibly the best piece of copper cookware out there, at least in terms of saucepans, as it is one of the few copper cookware pieces that does not use interfering stainless steel.  In fact, there is no lining at all on this piece, so while the conductivity is absolutely maxed, I wouldn't recommend it if you're looking for an all-purpose saucepan.
Click here to buy this cookware  
Best Copper Saute Pan:  All-Clad 6406 SS Copper Core 5-Ply Bonded Dishwasher Safe Saute Pan
This piece is a single item copper core 5-ply bonded saute pan brought to you by All-Clad, the very best metal manufacturer in America. As a single-piece item, this saucepan is a little bit pricey but offers maximum durability along with copper conductive advantages. The surface is polished for a nice shine, and the ultra-durable materials used will ensure it lasts a lifetime.
Features:
6 Quart saute pan with a large cooking surface and riveted stainless steel handles
Pros:
5-ply construction for max durability
Manufactured from America's #1 brand of metal crafters
Copper core for heat conduction advantage
Adaptable to all cooktops
Oven safe
Dishwasher safe
Cons:
Copper conductivity is not optimal due to steel lining
Handles are made in China, which may be a turn-off for some
Quite expensive for a one-piece item
Click here to buy this cookware  
All-Clad Copper Saute Pan Review
Overall, I would only recommend this superior saucepan for those that desire the best and have the budget to make it happen. Definitely not for the half-hearted, like myself; I don't think you need to fork out this much money to get a quality copper experience, as this item specializes more in its 5-ply stainless steel. With that said, you can opt for smaller-sized options of this same saucepan for a lower price, so that may be worth considering.
Click here to buy this cookware  
Best copper stockpot: Sertodo Beautiful Copper Stock Pot

The Sertodo Beautiful Copper Stock Pot literally has 'beautiful' in its name; I wonder why? This pot is an absolute work of art and has truly mastered the hammered finish look. The shiny, scaly look of the copper exterior just makes me want to run my hand through the surface as I appreciate the utter craftsmanship that was put into this. Of course, the core is copper, and with tin lined copper to go with it, this pot is a step above the rest in terms of thermal conductivity, putting all the stainless steel lined products to sleep.
Features:
8-inch copper stockpot
Hot tinned interior
2.5 and 3.5-gallon capacity models
Patented ergonomic handles
Pros:
Tin lined for maximum copper heat conductivity
Hammered with a beautiful finish
Ergonomic patented handles for easy handling
Vintage, traditional design
Cons:
Tin lining means retinning will be necessary down the track
Not as durable as stainless steel
Click here to buy this cookware  
Sertodo Beautiful Copper Stock Pot Review
Overall, I would rate this copper stockpot 10/10 for aesthetics, 9/10 for copper conductivity, and 6/10 for durability. While it is absolutely stunning to look at and superior on the conductive aspect of things, it simply cannot contest with the durability of stainless steel, and you need to ensure that you regularly take it in for retinning, which may be a hassle. Nonetheless, a great buy at a somewhat fair price; I highly recommend looking into this one!  Read more about them in our Sertodo Copper Review.
Click here for the latest price  
Best Copper Frying Pan:  Mauviel M'Heritage M250C 2.5mm Copper Round Frying Pan
Lucky last on the list, we have the Mauviel M'Heritage M250C 2.5mm Copper Round Frying Pan. This single-piece item is brought to you by the masters of vintage design, and the copper core means thermal conductivity is optimal. Backed with a stainless steel interior, this set also gives you the durability to last a lifetime, which is exactly what you want with a piece from Mauviel.
Features:
10.2-inch Copper Round Frying pan with stay-cool ergonomic handles
Pros:
Copper core for great heat conductivity
Stainless steel interior for great durability
Ergonomic handle for ease of use
Compatible with all stovetops
Beautiful vintage design
Cons:
Stainless steel negates the conductivity of the copper slightly
Not dishwasher safe
A little pricey
Click here to buy this cookware  
Mauviel M'Heritage Copper Round Frying Pan Review
Mauviel M'Heritage Copper Round Frying Pans are good for professional chefs or those aspiring to be professional cooks. They are also good for people who simply appreciate finer kitchenware. It's copper cookware which is thicker than most, making it quite durable, particularly when combined with the stainless steel interior. Overall, a great buy for high-roller home chefs that don't want to commit to a full set but want that vintage Mauviel experience and superior copper advantage.
Click here to buy this cookware  
Best Copper Cookware Brands
Below you will find the most popular and best copper cookware makers. Each one is unique in its own way and offers a different process and manufacturing method.
Ruffoni Copper Cookware
Founded in 1962, Ruffoni Copper Cookware aims to create a brand of cookware that can be passed through generations of households. Handcrafted with artisan cookware and backed by heirloom quality, Ruffoni is one of the pioneers of copper cookware. Its beautiful bronze color design gives off a shine bright enough to inspire a great cooking adventure.
Founded on sturdy materials combining 3-ply stainless steel with copper goodness, Ruffoni offers the best of both worlds in terms of durability and superior heat conduction, using hand-hammered techniques that further enhance thermal conductivity.
Mauviel Copper Cookware
Mauviel Copper Cookware is like an ancient piece of art in a contemporary museum. Made in France and with exotic family history and strong lineage, Mauviel has prided itself with tradition and heritage and is essentially the vintage upper-class choice of cookware for those that appreciate aesthetically pleasing kitchen designs. Equipped with a thick copper outer surface and stunning bronze shine, this is the traditional copper cookware that essentially wins the 'old but gold' award. Mauviel is like a bride in a never-before-seen, stunningly beautiful wedding dress that makes all the ladies rethink their life choices.
Lagostina
Lagostina made its debut in the world of cookware over a century ago. In 1901, when Italian man Carlo Lagostina and his son Emilio started a business selling tinplate cookware in the town of Omegna. Made using Italian craftsmanship, Lagostina uses high-performance copper cookware and tri-ply stainless steel pots and pans with rapid thermal conductivity and dangerously durable properties. The brand is a rather affordable one (thankfully) and is available from a range of retailers, making it accessible to home cooks everywhere!
Sertodo Copper
Born at the dawn of the 21st Century, Sertodo Copper is a younger copper cookware maker brought to you by Jonathan Beall in 1997. Its spunky youthfulness shows in its products, with a very cool design that encompasses a unique patented handle design.
The unusual design was intended to not only provide a stable grip but also as a resting platform to place your lid on as you stir your pot, saving you that extra bit of irritation when you have to place a steaming, sometimes dirty lid onto your clean kitchen benchtops.
This awesome feature is also seen on Sertodo stockpots, with two double arch handles (one on each side), which can also be used for resting the lid and easy handling.
Falk
Yet another European brand of copper cookware, Falk Culinair, was born in 1958 Belgium, where the Van Achter family founded the company. Treading the fine line between tradition and technological innovation, Falk gets the best of both worlds with an aesthetic vintage appearance backed by modern contemporary construction.
Using a fancy process called inter-crystallization, this particular brand uses 2.3mm thick solid copper plates combined with 0.2mm thick layers of stainless steel for a quality finish in every way. Quick heating, incredible durability, and cast iron handles for easy handling, you would have to be a fool to spill with this cookware, or at least, incredibly unlucky. With a range of stunning copper cookware sets at affordable prices that deliver bang for your buck, this is a brand that will satisfy you and your Falks! (Pun intended)
Hestan
Named after its founder Stanley Cheng, Hestan boasts an extensive range of cookware that is suitable for stovetops, ovens, bases, grills, and yes, even wine production. In 1970, Hestan began to produce hard-anodized aluminum cookware and continued to hone this craft through collaborative efforts with chefs, gathering a deeper understanding of the requirements that the expert cooks are looking for and paying attention to the really microscopic details that add up to a bigger picture, much like the individual grains of sand that produce a beautiful beach view when accumulated together.
Nevertheless, the true selling point for Hestan is indeed the wraparound magnetic stainless steel base, which is bonded with a pure 5-layer of copper construction for more even heat distribution (read: no hot spots) and control. Naturally, copper cookware hailing from such a divine realm of kitchen culinary, it's only fair that we pay a little more to get our hands on this one, much like how you would expect to fork out more dollars for a first-class flight as opposed to the economy commoners. Learn more about them in our Hestan Cookware Review.
Matfer Bourgeat
Coming in from the country of love, Matfer Bourgeat has its roots grounded in France with an absolutely astonishing history of over 200 years. Despite this, the brand only made its way to international markets about 30 years ago, so don't scold your grandparents if they haven't told you about this one. Nonetheless, the real hotshots in the cooking business would most certainly have heard of Matfer Bourgeat and its premium quality products.
While the difference of Matfer Bourgeat copper cookware may not be felt by the average Joe of the kitchen, it hits differently for chefs and cooks that are using these cookwares all day long and on a daily basis. The copper core, which heats the pots and pans quickly, is easily noticeable by such home chefs, and the stainless steel properties prevent any of the cookware materials from influencing the taste of the food.
Because let's be honest, no one wants to mistake their delicious meal for a piece of metal upon the tongue touch! That being said, this is another 'first-class' traditional copper cookware brand and is not for those looking for that family McValue meal, but rather seeking the 'fancy Angus' experience, if you catch my drift.
All-Clad
If metal crafting is an art, then All-Clad is the Leonardo Da Vinci. Pure perfection of metal crafting is what this American metallurgical company strives for, so it's not surprising that they've become the top crafters of metal in the U.S. Founded in 1967 by metal-craftsman John Ulam, All-Clad is so incredibly renowned across the country that they even went on to make coinage for the U.S. Mint, or if you don't know the lingo here, they basically manufactured American silver coins, such as a variety of coins.
I went off on a tangent a bit there, but All-Clad's awesome reputation and history simply must be known when discussing All-Clad cookware, so please bear with me. Combining a copper core with the optimal 5-ply construction made using layers of premium quality crafter aluminum and stainless steel, as you'd expect from America's best, and coming out with a beautiful silver shine that is as bright as your future should you get your hands on this baby.
I don't say this lightly because, with a lifetime warranty, you are guaranteed to have great results for life. The shine of these pots and pans will seep into your offsprings' futures, too, because this state-of-the-art copper cookware is durable enough to be passed on for generations, so keep in mind the possibilities of handing these over once your cooking career in the kitchen comes to an end.
Brooklyn Copper Cookware
BCC is a brand that should be on the BBC because Brooklyn Copper Cookware is simply newsworthy copper cookware. Made with a harmonious balance of quality and sustainability, BCC uses 99.99% pure lab-grade tin for its interior surface and 99.93% pure, phosphorous oxidized copper for the exterior surface. With handles made of pure iron and solid copper rivets, BCC is not only exceptionally heat conductible but also high in durability and strength, ready to last a lifetime.
If that's not enough, BCC also has something for all you Earth-loving people out there (which I hope is most of us), as all products are made with 40-75% recycled and purified copper, which also makes it recyclable should you ever wish to get rid of your BCC set (God forbid!). This is indeed one of the better copper cookwares out there, so you need to be ready to pay a first-class dollar for the first-class experience.
That being said, it is not the end of the world for you stingy ones out there (myself included), as BCC's range extends to more than just copper cookware sets, as they also offer each individual item exclusively for purchase, which makes it far more affordable to get your hands on the bare minimum for your kitchen needs.
Duparquet Copper Cookware
Made in America, Duparquet Copper Cookware was on a mission to restore the dying-out vintage copper cookware. Founder Jim Hamann had a huge admiration for old, hand-crafted products that projected history at first glance. In fact, the aesthetics of Duparquet's products are just as important as the technical performance, and this is the philosophy that the company follows.
The crafting process involves spinning copper on a lathe and molding the product with friction tools and rollers to produce a thick cladding and perfect shape. The interior is hand-lined with tin; the copper exterior is attached to cast iron handles with uniquely ginormous rivets for long-lasting sturdiness and durability for a lifetime of use.
The interior tin surface is the best choice of material for enforcing non-stick properties without succumbing to the use of nasty chemicals, which is not good for the cookware, the food, and, most importantly, your digestive system.
Amoretti Brothers Copper Cookware
Born in Italy and making its way to Mexico as their main manufacturing headquarters, Amoretti Brothers Copper Cookware is a rather new brand on the market, but that does not stop them from having a huge range of cookware products and sets. In terms of looks, this Amoretti Brothers cookware is one of the best, rivaling even that of the fancy' best-dress award' Mauviel 1830.
Of course, they are not an exact copy of Mauviel. Instead, they compromise on a few materials to give it a slightly more affordable price. If Mauviel is the first-class flight, then Amoretti Brothers are surely the business-class flight, with an experience that has many of the perks of first-class, such as stunning beauty and a vintage design but does not quite live up to the extra condiments of material quality and durability as that of Mauviel 1830.
Nonetheless, business-class is still an expensive option. If you are willing to pay the big dollar for this set, then consider if you also have the capacity for Mauviel, as this is a better investment for the high-paying kitchen chefs.
Everything You Need to Know Before Buying the Best Copper Cookware
The benefits of Copper are abundant. I mean, have you seen how beautiful that bronze shines? Have you seen how quickly and evenly the heat is conducted from your stove to the pan? And have you ever seen such happy, free-flowing food moving about with nothing holding onto it as you stir that pan? Well, like all things in this universe work, everything has a shadow, and copper pots are no exception. Below, I will be discussing the pros and cons of using copper. That's right; there are actually dark sides to using true copper cookware which, if proven to be a trigger point to one of your pet peeves, would certainly sway you to seek another choice of cookware type.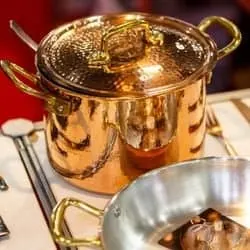 Pros
Excellent heating properties
Copper pots and pans are coated with non-stick elements that are free of chemicals. Easier cooking, better results on the food, and no nasties getting into your digestive system are just a few of the many pros of copper pots and pans. To enlighten you more on what copper actually is, it is a highly conductive metal that is extremely reactive to heat and changes in temperature.
This means it's easy to reach high temperatures with copper pots but also easy to cool right down after use (and maybe after applying a bit of cold water). In fact, copper is twice as conductive as aluminum core and approximately 10 times more conductive than stainless steel. As such, copper pans are the ideal choice for cooking foods that need to be heated steadily with precise temperature control.
Cooking at lower temperatures
As great power comes with great responsibility, extra care needs to be taken when using copper pans, as you could easily burn your food if applying the wrong level of temperature. The high conductivity of copper makes it easy to spread that heat out, much like an oil-soaked tissue that catches fire. Yes, the spread of heat is practically instant, so you almost don't need to concern yourself with centering the pan perfectly on the stovetop.
Copper has antimicrobial properties
Copper pots are also antimicrobial, meaning it is resistant to germs and bacteria as a protective barrier is created through the tin lining on the interior to also keep anything from sticking to the food and of course making that food so seamlessly pleasant to move about. Copper cookware is the best choice for precise, nimble cooking, such as steaks or fish, which require different temperatures to be able to cook through the inside and sear the outside for a crisp, but tender finish.
Looks amazing
The final positive to note about copper pots is that it is simply aesthetically pleasing and easy on the eye. Easily noticeable from a distance and a shine that may well be brighter than my future, you won't be judged for putting your copper cookware on display, such as hanging them up or exhibiting them on the kitchen table. However you choose to show off your copper pans, they definitely don't deserve to be locked away in a cupboard hidden from the world!
Cons
The good news is, the number of cons doesn't even come close to the number of pros when it comes to copper pots. The bad news, however, is that there are cons.
Higher price
For starters, copper pans are significantly more expensive than typical stainless steel pans, especially if you go for a full set. I would honestly consider buying individual pieces as needed rather than a full set that will give you many different sizes of pans, most of which you likely won't use.
Frozen foods
Price aside, another potential con of copper pots is, surprisingly, comes from one of its pros. Yes, you read that correctly. The feature about copper that is essentially its selling point, that is, the highly conductive metal exterior and tin lining interior for delicate heat control, can indeed be perceived as a con depending on the user and their needs, abilities, and right down to pure opinions.
Some chefs, such as Trent Blodgett from Spice Tribe, actually stated that copper pans are not ideal for searing steaks. This is because of the conductivity of copper, which not only heats fast but also cools fast. I suspect chef Blodgett is arguing that the cold touch of the raw meat onto the pan may result in rapid cooling of the pan, which somewhat cancels out the superior heating conductivity properties.
The steak debate aside, the bottom line here is that cooking cold stuff, particularly frozen vegetables or anything from the freezer, may negate a lot of the superior heating properties of copper, so it may be best to ensure your ingredients are at least room temperature before commencing cooking on copper pans.
Cleaning and Proper Care
Lastly, copper pans require a little more effort to clean than stainless steel cookware or aluminum pans. All you dishwasher enthusiasts are not going to like this, but copper pans need to be hand washed and polished after each use; no dishwashing is allowed! Fair enough, however, as putting copper pans through a dishwasher will diminish the shine of the copper exterior, and the non-stick coating will degrade. Dishwashers may also cause scratching on the surface, which is a big no-no when we are dealing with copper pots.
What you need to know about copper cookware
It is important that when considering copper cookware, you know exactly what you're in for. In this section, I will be discussing the various things you need to know about how copper cookware is made, the different types of copper cookware, and what you could gain from using copper cookware products.
Types of Copper Cookware
Copper cookware comes in many different shapes and sizes, so make sure you know exactly what you need so you can make the right choice and save the most money. Generally, copper cookware comes in the form of copper dutch ovens, sauce and saute pans, skillets, and stockpots. As a bare minimum, you need to know the differences and uses of each of these types of cookware because things will get even more complex in the sections to come.
Tin Linings vs. Stainless in Copper Cookware
Not all copper cookware is created equally, but it is the differences that make it so versatile. Understanding the differences between tin lining and stainless steel linings, for example, can give you enormous advantages when combined with an understanding of your own needs. Quick side note: lining refers to the additional layer of a different material (other than copper) for the interior surface of the pot or pan to prevent chemicals from spreading to the food as a result of the cookware reacting to the heat.
Tin Lining:
Tin lining is the traditional lining used in copper cookware, and for a good reason. The tin material is able to bond very well with copper, much like two best friends that just 'click.' Great non-stick properties and non-reactive to acid (in acidic foods), tin melds seamlessly into the lining of a copper pot, as it can melt quite easily and is quite adaptive to different temperatures. That in itself, however, easily becomes a con of using tin lining copper cookware, as the low melting point (about 450 degrees Fahrenheit) means that the tin can wear down easily and needs to be retinned regularly to maintain the interior quality.
Stainless Steel Lining:
The main purpose of stainless steel lining is to cover the failures of tin lining, which, if you haven't figured out already, is the low melting point and lack of durability. While stainless steel is more durable than tin, the reason some still prefer tin is that stainless steel does not bond well with copper naturally. Copper and stainless steel are like two opposite people that have nothing in common and little to talk about, but no one can deny how well they work together when it comes to the task at hand.
However, the issue with the lack of bonding with stainless steel is that it does negate some of the superior heat-conducting properties of copper but makes up for this with its insane durability. So while they struggle to be bonded to one another and need to be mechanically forced together, stainless steel is the modern solution to durability and is still the preferred option by top-tier brands, such as Mauviel, All-Clad, and many high-class restaurants in the US.
Which is better?
Ultimately, when it comes to tin lining vs. stainless steel lining, the choice is between superior heating or superior durability:
Are you willing to sacrifice some of the durability for quicker heating? And do you not mind going through the trouble of getting your cookware retinned? Go for the tin lining.
But are you indifferent about maximizing the power of copper conductivity? And do you prefer not to waste your time with retinning your cookware? Go for stainless steel lining.
Thickness and Cladding
In addition to the awesome heating properties of copper, another huge factor that gets professional chefs and serious home cooks onto the bandwagon is the cladding. Copper cladding is intentionally made to be about 2.5 to 3mm thick so that the rapid heating properties of the copper are not diminished by overly thick cladding, such as aluminum.
As such, keep your eyes open when shopping for copper cookware, taking note of the dimensions. Just remember that if you want the best experience of copper cookware's conductive awesomeness, don't go near anything more than 3mm thick. On the plus side, this is fairly common knowledge among crafters of copper cookware. Generally, you need not worry about accidentally purchasing an overly thick piece, as they are not too common, but best to be safe than sorry, so keep this in mind!
Hammered vs. Smooth
When expanding your knowledge of copper cookware, it is common that you will come across the terms hammered and smooth. Please know that these terms have nothing to do with the quality or performance of the product but are more to do with aesthetics.
Hammered is the type of surface that is, well, hammered. That is to say; you will notice a pattern on the surface and a texture that is somewhat bumpy and looks rather like a honeycomb of hexagons spread all over.
Smooth is, of course, evenly finished all throughout, and you can run your hand over it and feel no bumps, and there are no noticeable patterns upon viewing. Essentially, smooth and hammered are a matter of preference of design. While the hammered look was, once upon a time, an indication of guaranteed hand craftsmanship, this is no longer the case as there are now just as many smooth finishes on the market, some of which are the highest quality brands.
The benefit of copper cookware
Using copper cookware is super beneficial when it comes to precise cooking and even heat distribution,( there are no hot spots!) You can easily sear meats and tackle complex recipes that require sensitive timing in terms of temperature altercations. The coatings used for copper cookware are also fairly non-stick, and the linings guarantee no chemicals will interfere with your dish.
Why choose copper cookware?
The reason I would choose copper cookware is for the superior heating conduction and the aesthetic look of the bronze finish that gives the kitchen an awesome vintage look. Heating optimization means better cooking results, and as a food-lover myself, I really appreciate good quality food because life is too short to settle for anything less! It's also remarkably durable, you are able to use metal utensils on it and don't have to worry about scratching the surface.
Heating
Copper is one of the most highly conductive metals in the world, so it's no wonder that copper cookware is loved by kitchen enthusiasts and professional chefs worldwide. Tackling complex recipes has never been easier when you have cookware that obeys your every command. Turn the heat to 150 degrees celsius, and that's exactly what you'll get, in an instant, no questions asked. Switch that stove off, and the cooling down begins on the spot, like jumping into an air-conditioned room on a hot summer's day!
Durability
The durability of copper cookware really depends on the type of lining you go for. To be blunt, it's not the selling point. Copper cookware is more about the heat and less about the endurance, particularly if you go for the tin lining, which will need regular maintenance to keep up. Alternatively, if you do want durability with your copper cookware, you can still enjoy relatively superior heating conduction as well as high durability if you go for the stainless steel lined products. It really depends on you and your needs.
Maintaining Copper Cookware
How to Clean Copper Cookware
Cleaning copper cookware is not as simple as simply tossing it into the dishwasher; in fact, that is highly not advised. It is best to handwash with detergents, and if you are after the same shine they had when you first purchased the cookware, then you may want to invest in some copper and brass cream cleaners or some metal polish and a soft cloth.
How to care for Copper Cookware
The best way to care for copper cookware is to ensure it is constantly retinned, hand-cleaned and polished. Also, ensure the stove is not on if you are not cooking, as the cookware is designed to transfer heat to your food, and if there is no food in sight, your copper pan may just explode from the excess heat! (Or at least melt away, this is one of the risks to be aware of).
Copper Cookware FAQ
Is copper cookware dishwasher safe?
Not all copper is dishwasher safe; in fact, most are not. However, there are some exceptions, such as All-Clad, which has optimal durability due to its stainless steel construction, which makes it dishwasher safe.
Is professional copper cookware worth it?
For the right buyer, yes. Professional cookware usually refers to the likes of Mauviel and All-Clad, which are indeed quite expensive, and whether they are worth it or not definitely depends on one's own perception, needs, and goals, as well as financial budget.
Why should you buy copper cookware?
Copper has many advantages, from superior heat conductivity, non-stick properties, and aesthetic look. When combined with stainless steel, it becomes both conductive and durable. Definitely, something you should consider buying if you want a superior experience in cooking at precise temperatures and tackling complex recipes. With options ranging from stainless steel to tin lining, or even just bare copper cookware, there is something for everyone.
How does copper make cooking easier?
Copper makes cooking easier simply because it is one of the most conductive metals in the world, so the transfer of heat from the oven to pan to food is simply unbeatable. Additionally, non-stick layerings help you avoid chemicals and destruction of your food so that you can enjoy a quality food result every time!
Where can I buy copper cookware?
You can buy most of these brands on Amazon, or directly from their respective sites.
Is copper cookware worth it?
Overall, copper cookware is definitely worth it for all types of buyers. For the high-spenders, you can consider Mauviel or All-Clad copper cookware sets for unbeatable results in their respective areas of expertise. For the budget buyer, brands such as Legend and T-fal offer great, low-cost options for copper-core pots and pans sets.
Click here to shop copper on Amazon  
Final Thoughts About The Best Copper Cookware
In essence, the best copper cookware comes down to personal choice, needs, goals, and budget. The sheer amount of choice out there is phenomenal, but all copper cookware brands have one thing in common, and that is the superior heating conductivity of copper.
The awesomeness of the heating power can either be let loose completely with the bare copper cookware options, slightly contained by the tin lining alternatives, or tamed very well through the durability of stainless steel construction. With so many brands, sets, single items, and different combinations in terms of materials and bonding, copper cookware really does come in all shapes, forms, and sizes. So my final advice to you wonderful readers is: whoever you are and whatever you do, get your hands on some copper cookware today!
✅ After going through all of the copper cookware this is the one that we would buy based on all of its qualities.