Misen Cookware is a high-quality brand of stainless steel 5-ply pots and pans that produce restaurant-quality results for home chefs everywhere. Today, with this Misen Cookware Review, we will be covering the good, the bad, and everything in between about this brand to help you decide if purchasing Misen pans is right for you. This article will also be running through the different competitors on the market and how they measure up against Misen Cookware.
Finally, we will be addressing a series of frequently asked questions about Misen that will hopefully shed some light on the brand and clear any doubts you may have about buying these quality pots and pans for your home. Please note, Misen generously sent our co-founder, Cat, a Misen pan and knife to try out and review.
Misen Cookware Review
Our Top Pick!
Set includes:
10 in. Pan
12 in. Pan
3 QT Sauté
6 QT Rondeau
2 QT Saucier
3 QT Saucier
8 QT Stockpot+ Lids
Features:
5-ply, 3.0 mm-thick composite
Optimal heat distribution
Excellent heat retention
✅    Misen's Warehouse sale is on now! Save up to 50%  by clicking this link and using the code SUPPLYCHAINSAVINGS
Misen sells one style of cookware set with several different versions. This is their most popular cookware set reviewed for you.
Misen Cookware Review:  Essentials Cookware Set
What's Included:
3 Quart Saucier
10-inch Skillet
12-inch Skillet
3 Quart Saute
8 Quart Stockpot
Pros:
Superior heat conduction and even cooking
5-ply stainless steel + aluminum durability
Friendly on all cooktops
Oven safe
Dishwasher safe
Ergonomic handles
Well-priced
Cons:
A little difficult to clean in some areas (e.g., imprinted logo area)
Not all sizes of pots and pans are included in this set
Misen Essentials Cookware Set Review
As its name suggests, the Misen Essentials Cookware Set contains all the necessary kitchen essentials designed to set up home chefs or a professional chef for success. Made from 5-ply, 3mm thick cladding featuring 5 layers of stainless steel and aluminum, this set encompasses high-level stainless steel interiors and exteriors which facilitate superior heat conduction and retention for a higher quality of food quality and cooking outcomes.
Additionally, this set comes with stay-cool, ergonomic, stainless steel handles that are comfortable to use and do not overheat during stove-top cooking. With compatibility among all types of cooktops, the Misen Essentials Cookware is also constructed with strong rivets, making these items very versatile and durable for a lifetime.
Overall, the Misen Essentials Cookware Set is the go-to set you want to get your hands on as a first-time Misen Cookware buyer. This set alone can revamp your kitchen, no matter your level of expertise on the cooking stove. Unless there is a specific size of pot or pan you are after, there is no reason to look past the Misen Essentials Cookware Set for your first kitchen upgrade.
Misen Pans Review
Misen also sells its individual pans directly to consumers. Here are our individual Misen pots and pans reviews.
Misen Carbon Steel Pan Reviews
Features:
Carbon Steel Pan with Stay-Cool Handle
Lighter than Cast Iron
Non-stick Coating created from Seasoning
Multi-use Properties
Pros:
Great non-stick properties that improve over time
Lightweight and easy to use
Compatible with all cooktops
Highly durable
Oven-safe
Easy to clean
Affordable
Cons:
Seasoning the pan may be challenging
Misen Carbon Steel Pan Reviews
The Misen Carbon Steel Pan is an easy to use, durable steel pan which adapts to seasonings such as oil or butter by retaining microscopic layers of polymerized oil, which creates a natural coating of non-stick patina with no added chemicals. 42% lighter than cast iron pans of the same size, this pan is easy to lift and move and makes cooking seamlessly struggle-free and pleasurable. The carbon steel, over-safe material used allows the pan to perform various cooking tasks, such as searing, baking, and frying, while also making it compatible with all cooktops, from gas to electric to induction.
Essentially, this Carbon Steel Pan takes the lifetime durable toughness of cast iron and the flexibility and adaptive nature of stainless steel for a cookware solution that creates endless cooking possibilities. Reasonably priced, this is the ideal choice of pan. If you are not after an entire set of cookware but wish to improve a specific part of your kitchenware or even to get a taste of Misen Cookware, then this affordable Misen Carbon Steel Pan is an excellent choice to start. This is a great addition for your cookware collection.
Click here to buy this cookware  
Misen Stainless Skillet Review
Features:
Stainless Skillet
5-Ply Steel
Larger Cooking Surface
Stay-Cool Handle
Pros:
Thick cladding with 5-ply stainless steel durability
Superior conduction and retention
Adaptable to all cooktops
Over-safe
19% more cooking area than average pans
Stay-cool ergonomic handle
Affordable
Cons:
Steeper interior design may make cleaning more difficult
Misen Stainless Skillet Review
The Misen Stainless Steel Skillet is a versatile and spacious skillet with endless applications. Designed with optimal heat conduction properties and maximum floor space on the interior, these skillets are backed by durable 5-ply construction and ergonomic handles for an easy-to-use beast of a pan that achieves great outcomes when it comes to searing sauteing and pan-frying.
The Misen Stainless Skillet is the optimal choice for stainless steel skillet that is accessible to the public for an affordable price. Available in a range of sizes from 8-inch, 10-inch, and 12-inch skillet, this item will provide the versatility and adaptability to use in various cooking ventures and may well replace a whole bunch of pans and skillets in your own home! With little to worry about in terms of cons, and a huge number of 5-star ratings from real users of the product, the Misen Stainless Skillet is one of the best multi-purpose pieces of cookware that provides endless applications in the kitchen.
Misen Nonstick Pan Review
Features:
Misen Nonstick Pan
Plasma Primer infused with Titanium
PFOA-Free
Dupont Platinum Coating
Ergonomic Stay-cool handle
Compatible with all stovetops
Pros:
Unique non-stick coating for quality food results
Ergonomic handles for comfort and ease-of-use
Adaptable to all cooktops
Oven-safe, Dishwasher-safe
Affordable price
Cons:
No stainless steel included
Misen Nonstick Pan Review
The Misen Nonstick Pan is regarded as the essential pan for your home. With a non-stick surface that lasts a lifetime and a spacious cooking area, it is the perfect solution for delicate foods susceptible to sticking. Available in 8-inch, 10-inch, and 12-inch sizes, the Misen Nonstick Pan caters to all your needs. Misen combines a high-quality non-stick surface with a unique plasma primer that helps create seamlessly superior cooking results.
The Misen Nonstick Pan is a unique and effective solution to achieving your non-stick goals during your cooking ventures. The construction of the pan's interior is quite superior in terms of its materials and manufacturing process. For an affordable price, as well as a lifetime guarantee, the Misen Nonstick Pan is a no-brainer buy if you are seeking something that gets straight to the point and delivers top-of-the-market results.
Misen Sauté Review
Features:
Misen 3 Quart Saute Pan
5-Ply Steel
Stay-Cool Handle
Versatile + Durable
Pros:
Superior construction for heat-conducting and retention
Produces great quality food results
Stay-cool ergonomic handles for comfort and ease-of-use
Quality 5-ply materials used for superior durability
Cons:
A little expensive
Non-stick properties not as strong as Misen Nonstick Pan
Misen Sauté Review
The Misen Saute is a 3-quart Saute pan with a flat bottom featuring vertical sides and a larger surface area. Sauteing, frying, poaching, and braising have never been easier with this classic stainless steel cookware brought to you by Misen. Backed with 5-ply construction encompassing stainless steel and aluminum for superior heat conduction and retention. Equipped with ergonomic, stay-cool handles, this pan is relatively safe to handle and is also extremely durable and versatile with a lifetime guarantee for use on all cooktops.
Overall, the Misen Saute is, as their website suggests, "the pan you'll use more and more." Indeed, this proves to be true thanks to the multi-usage capabilities of the pan, the durable construction, superior heating properties, and seamlessly great results with your food. Priced a little higher than other Misen cookware, the Misen Saute provides more surface area and more capabilities than most and depending on your needs, so it's absolutely worth the cost.
Misen Rondeau Review
Features:
Misen 6 Quart Rondeau
5-Ply Steel
Stay-Cool Handle
Versatile + Durable
Pros:
Spacious interior for higher quantity cooking
Stainless steel 5-ply durability
Superior heat conduction properties
Ergonomic stay-cool handles
Adaptable to all cooktops
Cons:
Non-stick properties not as prominent as other Misen products
Misen Rondeau Review Review
The Misen Rondeau is a 6-quart rondeau and a kitchen staple for aspiring chefs. Vertical sides accompany the wide base for a greater interior area for cooking bigger and better meals for you and your friends or family. Additionally, this item has all the Misen perks, from the lifetime guarantee to the 5-ply steel, stay-cool handles, and versatility on all cooktop types.
In essence, the Misen Rondeau is the perfect cookware solution for families, groups of friends, or even individuals who want to cook extra for themselves. Durable for a lifetime and backed with a warranty, the Misen Rondeau delivers exactly what it markets, and for the right person, it may just be what you are looking for. This is one of the best Rondeau pans you can find.
Misen Grill Pan Review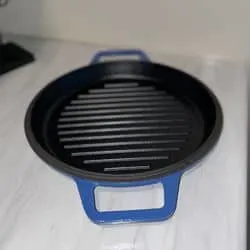 Features:
Misen Grill Pan
Enamel Cast Iron Griddle
Doubles as a lid for the Misen Dutch oven
Pros:
It's a grill pan that can be used on any stovetop.
You'll have a healthier way to cook your food.
Create an outdoor grilling experience in the comfort of your own kitchen.
Cook with confidence knowing you're cooking healthy, delicious meals for yourself and your family
Easy to clean and dishwasher safe
Cons
Heavy
Need to be careful when using on a glass top stove
Review of Misen Cast Iron Grill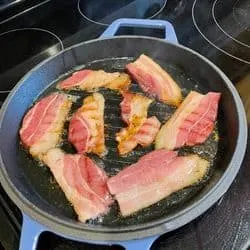 This is another genius creation of Misen, it's already on our Best Cast Iron Griddle list, and for good reason. We got to test this out early on thanks to Misen and we loved it. There is enough cooking surface to handle most griddle-style foods (grill cheese, bacon, etc…). It's easy to clean and you can grill like a pro with this cast iron grill pan. It creates an outdoor grilling experience on any stovetop. Plus you get to enjoy cooking outside all year long without having to go outside!
Click here to see the price of this pan  
About Misen Cookware
History of Misen
Misen Cookware is a modern-day company that got its start with a Kickstarter campaign in 2015. The campaign for their Misen Chef Knife went viral, leading the company to have a second successful campaign as well. Now, they are a well-known cookware company, especially among millennials.
The founder, Omar Rada, said he got the idea for the name Misen from the French term mise en place. This phrase, commonly used by chefs, means "to put in place."  Today, Misen Cookware is well known in the cookware industry for its quality products and durability for both the professional and home cook.
Cookware Specifics
Design and Construction
Misen Cookware uses an iconic stainless steel design with a shiny silver finish that really catches the eye upon first look. With a stunning stainless steel exterior that has been brushed nicely for that sleek shine, Misen uses this aspect of design in all of its pot and pan products within the cookware range. Additionally, the handles of the pans are also stainless steel and have a comfortable grasp for its users. This makes it a shiny, polished, and aesthetically pleasing handle as well as ergonomic.
In terms of its basic construction, Misen Cookware combines stainless steel layers and an aluminum core for a 3-ply layered finish to its pots and pans. For some sets, Misen Cookware uses 5-ply construction, meaning rather than a single layer aluminum core, it would have a triple-layer aluminum core which magnifies its heat conduction properties. Finally, the resultant pan is attached to steel ergonomic handles for an easy-to-use cookware solution.
Handles
As mentioned previously, Misen's handles, particularly on Misen Cookware pans, are very ergonomic and easy to handle, not to mention aesthetically stunning with a polished finish. Delving into a bit more detail, the handles are secured to the skillet of the pan with two rivets stationed at either side of the platform cutout in which the handle and pan meet.
Finally, the base of the handle is marked with the iconic Misen logo featuring the '5-dot' design. Some have critiqued that the imprinted logo makes it more difficult to clean as bits of dirt can get trapped in there. However, this only constitutes a tiny part of the pan's design and is not likely to interfere with your overall experience with Misen's pans or handles.
Interior
The interior of many of Misen's cookware is made with an 18/10 stainless steel surface which is brushed with a silver color finish, giving it a rather modern contemporary look. There is also a slight amount of graining on the interior, making the surface more applicable for searing foods, particularly steaks and meats.
In addition, the interior walls are steeper than the average pan. This increases the cooking area and makes it easy to shake the pan or stir the food inside without anything spilling.
Exterior
The exterior of Misen Cookware features a 3mm construction with a solid, sturdy feel with superior durability due to the thickness of the steel cladding. Additionally, like the interior, the exterior is also brushed with a nice silver finish and a beautiful shine. The base of Misen Cookware involves inductive stainless steel for superior heating properties.
Lastly, the Misen logo can also be found at the bottom of Misen's pans, making it easy to spot. It stands out from the rest with its unique and easily recognizable '5-dot' design, much like an upside-down version of the 5 Olympic rings.
Products Available
Nonstick Pan
Carbon Steel Pan
Stainless Skillet
Saucier
3 QT Saute
Starter Cookware Set
Essentials Cookware Set
Complete Cookware Set
Chef's Knife + Skillet Bundle
Cookware + Quality Knife Bundles
6 QT Rondeau
8 QT Stockpot
Roasting Pan
Universal Lids
Carbon Steel Seasoning Wax
Pan Protector
Spatula
How Does Misen Compare to Other Cookware?
Misen vs. All-Clad
Misen is by far the more affordable option when compared against All-Clad, which is known for its superiority in luxury and prestigious reputation for premium quality materials from America's best steel manufacturer.
Depending on your cookware goals and perhaps your budget for cookware, you can really go either way on this. Check out our full All Clad Cookware Review.
Misen vs. Made In
Misen is around 25-35% more affordable than Made In and is slightly faster in heat-conducting capabilities.
However, Made In has a far larger variety and range of cookware sets and is also quality-assured as it is used in Michelin-star restaurants by respected chefs. Again, you could go either way between Misen and Made In, depending on how much you wish to spend and how determined you are to have a more luxurious quality of cookware.
Check out our full Made In Cookware Review.
Read the full comparison in our Misen vs Made in Cookware and Knives article.
Misen vs. Hexclad
In terms of construction, Misen takes the cake with its 5-ply stainless steel construction, compared to HexClad's 3-ply.  Strangely enough, HexClad is still the more expensive option here, despite its inferior construction.
This may perhaps be due to its design, which, as its name suggests, consists of many tiny hexagons on the interior that make up its non-stick surface. While deciding on which is the better buy is purely up to the buyer's preference, it would seem that Misen is the better, more cost-efficient choice for most cooks when it comes to weighing up these two China-made cookware. Check out our full HexClad Cookware Review.
Click here to buy this cookware  
Misen Cookware FAQ
Where is Misen cookware made?
Misen manufactures its cookware in China.
What is Misen cookware warranty?
Misen cookware offers a spectacular lifetime guarantee, so you can really buy with confidence.
Is Misen dishwasher safe?
Yes, Misen is dishwasher safe, which makes cooking at home with these quality pans easier.
Is Misen oven-safe?
Yes, Misen is oven-safe, so there are many ways to use your pans to cook your meals at home.
Is Misen safe?
Yes, Misen is safe in all aspects from dishwasher-safe to oven-safe. Don't forget, Misen products also have stay-cool handles, which are a testimony to its safe design and construction.
Is Misen cookware good?
Misen cookware is excellent in delivering quality food results at an affordable price. Durable 5-ply construction and stunning stainless steel are just a few of the many advantages of purchasing Misen cookware.
How is Misen sold?
Misen sells directly to their customers through their website using a direct-to-consumer model. This means you can purchase Misen cookware via their website (and only on their website.) This is how Misen is able to sell such quality cookware at affordable prices.
Where can you buy Misen?
You can purchase Misen Cookware through their website at Misen.com.
Why Should You Buy Misen Cookware?
Misen Cookware is one of the most optimal choices for affordable cookware that delivers results in the kitchen. It is available to the public and backed by a lifetime warranty, with testimonies from real users of the brand to verify its performance.
Is Misen cookware worth it?
Misen Cookware is one of the few brands that we can say is always worth it. Unlike some of the more prestigious brands, or in some cases the unnecessarily expensive ones, Misen Cookware is affordable for everyone. Additionally, it more than delivers when it comes to actually producing desirable results in the kitchen.
Misen Pans Review Final Thoughts
On a final note, Misen Cookware is perhaps the most "bang for your buck" product on the cookware market. Its limited range is of top quality 5-ply construction, which is often an expensive feature in cookware. However, Misen has found a way to make it affordable for all by using a direct-to-consumer sales model. So, if you are looking for your next upgrade in cookware for your kitchen but don't want to overspend doing it, give Misen Cookware a try. You will not be disappointed.
Click here to buy this cookware