Have you noticed your pans and pans are not holding up to everyday use? Perhaps the advertised "non-stick" coating is wearing off, or your favorite pot is chipping. If you're in the market for new pots and pans, consider 360 Cookware. This high-quality cookware has many different types of pots and pans to choose from. Below is a complete 360 Cookware review to help you decide if you should buy 360 Stainless Steel Cookware and if it's right for you.
✅  Looking for the discount code for Learn The Kitchen readers, use "Millennial25" to get 25% off when you buy direct you can access it here or you can jump on their
Disclosure: 360 Cookware gave me a 1 Quart and 3 Quart pan plus a large baking sheet to share and test for this review. 
360 Stainless Steel Cookware Set Review
Our Top Pick!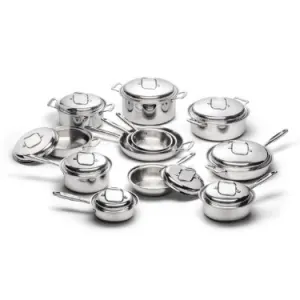 Set Includes:
1, 2, and 3 Quart Saucepans with Covers
4, 6, and 8 Quart Stockpots with Covers
8 Covered Fry Pan
2.3-inch Quart Casserole Pan with Cover
3.5-inch Quart Sauté Pan with Cover
3 Fry Pans (7″, 8.5″, 11.5″)
Slow Cooker Base
We will start off our 360 cookware reviews with their most popular stainless steel cookware set and move onto their individual pieces like their bakeware and slow cookers.
360 Cookware 21 Piece Set Review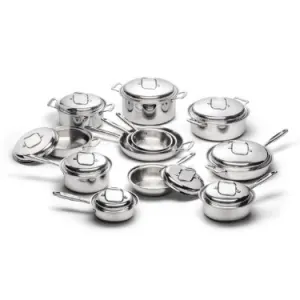 This is a comprehensive 21 piece cookware set that contains everything you need for a fully functional kitchen. Not only would this be a great gift for a new couple or someone moving into their first house, but it would be a great gift to give yourself too. There's no need to gather pots and pans over the years if you purchase this set and get everything you need all at once.
What's Included:
Saucepans with Covers (1, 2, and 3 Quart),
Stockpots with Covers ( 4, 6, and 8 Quart)
8″ Covered Fry Pan
2.3-inch Quart Casserole Pan with Cover
3.5-inch Quart Sauté Pan with Cover
3 Fry Pans (7″, 8.5″, 11.5″)
Slow Cooker Base
Pros:
This set comes with everything you would need as a home cook or a professional one
Each piece has its lid and is stackable for easy storage
Cons:
This cookware set has every available piece from the collection. If you want a full array, this is the right set for you.
No discount for buying the items in a set versus individually, but still worth the value
360 Cookware 21 Piece Set Review
This set of 360 Cookware would complement any kitchen allowing a home chef to make healthy, flavorful meals. The vapor seal technology reduces the need for additives like oil and butter and enhances the food's natural flavor. The best stainless steel cookware construction with three metal layers withstanding heat up to 500 degrees allows heat to be evenly distributed.
This makes this set versatile for cooking, baking, and any culinary adventure. Clean-up will be a breeze with easily wipable smooth surfaces. The price point for this set is steep, but the set does include a free slow cooker base. With the lifetime warranty and quality construction, it's feasible this would be your last cookware set purchase.
9 Piece Set Review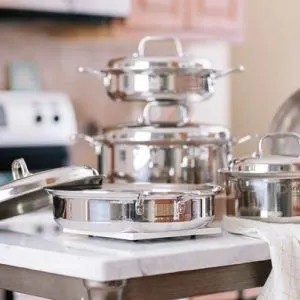 This is an excellent 360 Cookware set that has nine different essential stainless steel cookware pieces. While it isn't as comprehensive of a set as the 21 piece set mentioned above, it's still an excellent starter set for any kitchen.
What's Included:
3 Quart Saucepan with Cover
2.3 Quart Casserole Pan with Cover
3.5 Quart Sauté Pan with Cover
6 Quart Stock Pot with Cover
11.5″ Fry Pan
Slow Cooker Base
Pros:
Long-lasting
Oven Safe
Longer handles
More cost-effective than the 21 piece set
Cons:
This set does not include the 4qt sized cook pot.
9 Piece 360 Cookware Set Review
This nine-piece set is great for a single person to small families. The options included here will allow you to try new recipes and support even the most seasoned cook in the kitchen. Consumers rave about the performance and versatility of this set. The craftsmanship is superior, and you can purchase this set knowing you are supporting a family-owned American Business.
360 Pots and Pans Review
360 Cookware Stockpot with Cover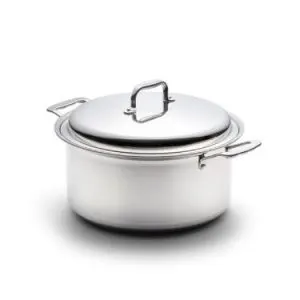 This is a compact yet mighty stockpot. It won't take up a lot of room in your cupboard, but it is big enough to make a spaghetti dinner for a small family. This is definitely an essential item that you'll use a lot at home.
Features:
Diameter Rim to Rim: 10.5″
Weight: 8lbs
Pros:
A versatile piece as a stockpot and slow cooker
It can fit in the fridge
Cons:
It does not fit the 360 cookware slow cooker base
Heavier than other pots
360 Stockpot with Cover Review
This stockpot can be used as a mini oven cooking succulent pieces of meat such as poultry or tenderloins on the stovetop. It's also great for small soups or even many kinds of pasta. Even though it's smaller than other stockpots, it fits more than meets the eye. While this piece is a little heavier than its counterparts, its sleek, compact design makes this a favorite among consumers.
360 Cookware 3 Quart Saucepan Review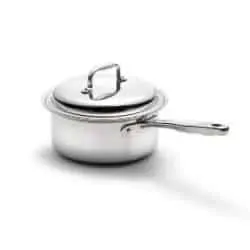 This looks like an ordinary saucepan, but because of 360 Cookware's Vapor cooking technology, you can do far more with this saucepan than you might expect. For example, you can boil eggs without using water. It's a small but mighty pan.
Features:
Diameter Rim to Rim: 7.34″
Weight: 5lbs
Ergonomic Handles
Oven Safe
Pros:
Easy cleanup
Compatible with all stoves
Cons:
There is a slight learning curve with the Vapor cooking technology.
360 Cookware 3 Quart Saucepan Review
This pan efficiently cooks all of your stovetop recipes, from soups and curries to boiled eggs and pasta. The lid lock feature makes cooking rice and vegetables a breeze. Consumer feedback confirms that Vapor technology produces consistently good food that is healthier and tastes great. A few customers have expressed concerns with the learning curve related to waterless cooking but spoke highly of the tutorials 360 cookware offers.
360 Cookware Fry Pan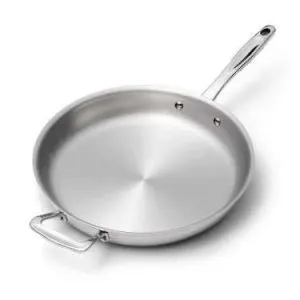 This 10″ frypan is one of 360 Cookware's newest products. Be one of the first to try this perfect-sized, medium fry pan. With it, you can cook an array of different meals for you and your family. It works with all different types of stoves and isn't too heavy to maneuver.
Features:
Inside Cooking Diameter: 10″
Inside Height: 2″
Weight: 2.5lbs
Pros:
Durable
Stay Cool Handles perfect for a stove to oven cooking
Compatible on all stoves
Cons:
Some foods may stick
It does not come with a vapor lock lid
360 Cookware Fry Pan Review
This is a non-stick pan but will require a layer of oil to ensure food does not stick. This may seem like a disadvantage over other non-stick fry pans, but it means that no harsh chemicals are coating the pan! If food does happen to get stuck, it washes out easily. Consumers love the size of this pan. It's perfect for a one-person meal, but it can also handle a larger meal.
360 Cookware 3.5 Quart Sauté Pan with Lid
This is 360 Cookware's most popular pan, and it's for a good reason. This 3.5 quart sauté pan is big enough to cook those homestyle meals like casseroles and stews. You can essentially use it to create food from sauces to dessert. It's that versatile and a clear favorite of customers.
Features:
Diameter Rim to Rim: 12.17″
Inside Cooking Diameter: 10.5″
Inside Height: 2.5″
Weight: 7lbs
Pros:
Easy cleanup
Deep sides perfect for sauces or curries
Cons:
A bit on the heavier side, but the ergonomic handle helps you to keep a firm grip.
3.5 Quart Sauté Pan Review
This Sauté Pan from 360 Cookware is versatile, durable, and highest quality stainless steel. This will become your go-to primary cooking pan for casseroles, meats, vegetables, stews, and even baking. If it's possible to fall in love with cookware, then it would be this! Consumers consistently comment the food tastes better, the cleanup is easier, and the pieces are aesthetically pleasing.
360 Cookware Slow Cooker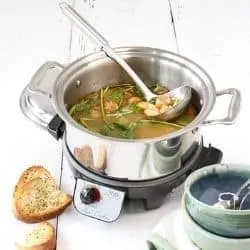 Rest assured, this isn't your mom's traditional slow cooker. In fact, it's 360 cookware's most versatile piece. You can use the 360 cookware slow cooker on its base, which operates similarly to the slow cookers you know well. Or, you can place it on your stove and cook your dinner that way.
Features:
Ergonomic Handles
The stockpot is Oven Safe
Pros:
Versatile and high quality slower cooker
Small frame perfect for tiny kitchens and maintaining counter space
Cons:
Can discolor over time
No on/off switch on the base
360 Slow Cooker Reviews
This slow cooker is perfect if you like for your meals to cook while you're away. This piece is versatile and can be used as a regular stockpot or converted into a traditional slow cooker. As this comes with a separate cooker base, you can even use this away from while camping. This item is great for searing meats/onions before you slow cook them without creating extra dishes. With Vapor Technology, you can cook whole meals in the pot, preserving each food's natural flavor.
360 Stainless Steel Cookware Bakeware Review
Features:
Surgical Grade Stainless Steel
Lifetime warranty
Heirloom quality
Pros:
Oven safe up to 500 degrees F
Likely the last bakeware you will buy
Eco friendly
Thicker than other bakeware
Cons:
Higher priced than other bakeware
360 Cookie Sheet Review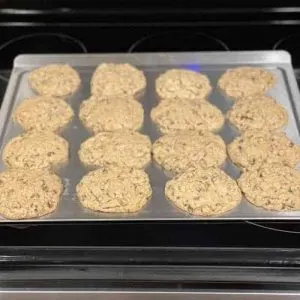 If you are tired of having to replace your bakeware every few years, or you just don't like the idea of non-stick coatings and what they could be doing to your health, these baking sheets are a good alternative. We were provided one to test out, and the quality is much higher than other baking sheets we own.
While the price may deter you at first, there is a certain comfort in knowing that this may be the last cookie sheet you buy. The steel allows for better heat distribution, and we've found making cookies to bake them evenly. The clean-up was also noticeably easier.
About 360 Cookware
360 Cookware is an American-based company that handcrafts high-quality cookware with your family's health, well-being, and finances in mind. The Hurley Family has more than five decades of experience thoughtfully designing and sustainably producing innovative stainless steel cookware.
Most importantly, 360 Cookware employs innovative Vapor Technology that preserves the nutrients and natural flavors in food for healthy and delicious meals.
This, above anything else, sets 360 Cookware apart. It's why many families choose to invest in 360 Cookware products. Below is our 360 Cookware reviews of those products, including detailed descriptions of their pros and cons.
The foundation of 360 Cookware is perseverance. This translates into the highest quality stainless steel cookware that will stand the test of time and can pass down to future generations. 360 Cookware was founded in 2004 by a father and son. When many cookware businesses outsourced their manufacturing to other countries, it left many factory workers without jobs.
However, the Hurleys banded together with the displaced workers. They created jobs for the American economy and established an EPA-certified manufacturing facility to produce durable cookware. The company has remained committed to its mission to produce American-made cookware, with a customer focus all while minimizing their environmental impact.
Click here to shop 360 Cookware 
What is Vapor Technology?
If there's one thing you take away from this 360 Cookware review, it's Vapor Technology. This is what sets this company apart from all the rest and what makes these products worth the investment. Vapor cooking allows food to cook in its natural juices without the excess water or oil other cookware requires. Vapor Technology creates fast, even heat. Essentially this is waterless cookware capable of making it a healthy cooking option.
The 360 Cookware lids create a Vapor Seal that prevents heat from escaping and allows it to move evenly around the food. This vapor seal method is more efficient than normal cookware as the vapor seal cooks food at the optimal temperature requiring lower temps while speeding up the cooking process. This vapor seal cooking method enhances your cooking experience. Each cookware piece is equipped with the lid lock feature to support waterless cooking. 360 Cookware offers various recipes and cookbooks conducive to vapor cooking; however, you can still cook as you always have.
This method of waterless cooking was new to us, but we have found that it is much easier, and the food tastes better. If you have never considered waterless cooking, then trying 360's vapor seal technology can be a healthier way to cook your food.
Does Vapor Technology work?
After reading about this technology, I was a little skeptical, but 360 Cookware provided us with a few pans to test it out. The result? It works fantastic! The first thing we tried was asparagus, and my kids actually ate them, saying, "These are the best asparagus we've ever had!" Considering there was no water, butter, or even seasoning, this was a resounding success. We continue to test different vegetables, and they keep turning out tastier than we could imagine. Vapor cooking works, and our food has never tasted better.
Another bonus is that you cook things at medium and low temperatures. For example, you would put your veggies in the pan with the lid on and then heat on medium (which is one or two minutes); at that point, you activate the vapor lock by turning the lid (it spins freely) and reduce the temperature to low and cook for the desired amount of time. That's it. It's much easier than turning the vegetables to make sure everything cooks properly.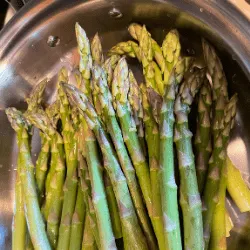 Design and Construction
The design of 360 Cookware's products surpasses the traditional stainless steel cookware. Each piece is made with multiple metal types, each playing a key piece in the cookware's superior performance. Two layers of stainless steel encase an aluminum layer which is the best metal for heat conduction.
The interior layer is made of T-304 surgical-grade stainless steel, which is nonporous and the safest non-toxic metal to come into contact with food. The outer layer is composed of T-400 series stainless steel, which has an optimum mix of nickel and carbon to be in contact with the cooktop stove. 360 Cookware uses the .11 gauge of thickness for each layer which is the best in the industry.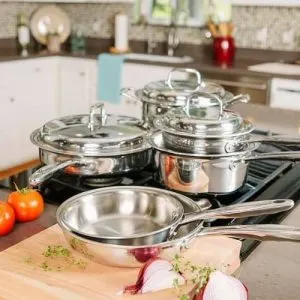 What is surgical-grade stainless steel?
T304 surgical steel contains a higher nickel and chromium content, which has many advantages. These advantages include corrosion and temperature resistance, preservation of flavor, and an easy-to-clean surface.  We've found that this stainless steel cookware transfers heat better, and you can cook at lower temperatures than you would with other cookware sets.  Simply put, this made in the USA cookware is some of the best stainless steel cookware you can find.
How Does 360 Cookware Compare to Other Cookware?
360 Cookware vs. Mauviel
Mauviel cookware handles are too short and less comfortable to hold compared to the ergonomic handles on 360 Cookware. While both are beautiful cookware sets I would opt for the 360 Cookware.
360 Cookware vs. Ruffoni
Ruffoni Cookware is visually appealing, but the copper material does not translate well for functional cooking. The brass handles transfer heat and is hot to the touch. Additionally, their saucepans' narrow opening is not conducive to removing finished foods such as soups or seared meat.
360 Cookware vs. All-Clad
All-Clad is a close contender to 360 Cookware. However, All-Clad lacks Vapor Technology which results in more efficient cooking. All-Clad cookware retains heat which affects temperature control. This will affect recipes that call for browning or caramelization.
Click here to shop 360 Cookware 
360 Cookware vs. Copper Chef Cookware
CopperChef's cookware is not made of actual copper, and many of its pans do not come with lids. Their non-stick coating requires extreme care and consumers relayed concerns over long-term durability. Learn more in our Copper Chef Review. 
360 Cookware vs. Gotham Steel
Gotham Steel advertises a non-stick coating which consumers report is not effective and quickly wears off. This cookware's durability and quality are no comparison to the handcrafted, nonporous finish of 360 Cookware. Learn more in our Gotham Steel Reviews.
360 Cookware vs. Lagostina Cookware
Lagostina cookware contains stainless steel and copper, which diminishes the versatility of this set. The cookware is not induction compatible, nor is it suitable for use with a dishwasher. High-temperature cooking can damage the copper exterior, so consumers are hesitant to use this for oven cooking. The copper is prone to discolor over time and requires a special cleaner, making 360 Cookware easy-clean surfaces even more attractive. Read more about them in our Lagostina Cookware Review.
Click here to shop 360 Cookware 
360 Cookware FAQ
Where is 360 Cookware made?
360 Cookware is handcrafted in West Bend, Wisconsin, in a Green E-certified approved facility.
What is 360 cookware warranty?
360 Cookware offers a lifetime warranty on all their products which cover any manufacturing defects.
Is 360 Stainless Steel Cookware good?
Yes, 360 Cookware offers a variety of options and price ranges. Depending on your usage and your purpose, there is likely a saucepan or cookware set for you. The reviews consistently tout good value, quality, and customer satisfaction.
What is 360 waterless cookware?
360 waterless cookware is constructed to retain heat and moisture and function at lower temperatures. The result is food that cooks faster. Removing traditional cooking supplements such as water, oil, and butter result in a healthier, fresher meal.
Is 360 Cookware non-stick?
360 Cookware utilizes an EPA-approved manufacturing process that results in a smoother, nonporous finish creating a non-stick surface.
Where to buy 360 cookware?
You can purchase 360 cookware on their website or on Amazon.
How do you clean the stainless steel cookware?
The 360 Cookware high-quality stainless steel will wipe clean with ease in hot soapy water and a non-abrasive pad. For any stubborn foods, apply a little baking soda paste before washing. We found that this was very easy to clean and have had no issues with clean-up so far.
Where to buy 360 Cookware?
You can buy their cookware direct from their website. This is a great way to directly support an American company and help out the local economy. Make sure to use the code "Millennial25" to get 25% off your order.
Click here to shop 360 Cookware and save with the discount code 
Why Should You Buy 360 Cookware?
It's important to support an American family-owned business and invest in a healthy way of cooking for you and your family. Your purchase will likely last a lifetime with 360's handcrafted, safe, and durable stainless steel cookware that makes any cooking experience easy and efficient.
Is 360 Cookware Gas Stove Compatible?
Yes! You can use 360 pots and pans on a variety of stove tops including gas. It's our top pick for Best Cookware for Gas Stove.
Does 360 cookware have sales?
360 Cookware frequently runs promotions. You can find the current discount code on their website or use MILLENNIAL25 as a reader of Millennial Homeowner to save 25%
Is there a 360 cookware coupon?
Yes! Millennial Homeowner readers can get a special discount. Use the 360 Cookware Discount code "MILLENNIAL25" to get 25% off your order.
Click here to shop 360 Cookware 
Is 360 cookware worth it?
The 360 Cookware reviews make it evident that the cookware set is competent and versatile in the kitchen. The ease of maintenance and use, ergonomic handles, and durable construction, coupled with the vapor technology makes this a frontrunner every home kitchen should have.
Final Thoughts About 360 Cookware
The best stainless steel cookware set for your kitchen can depend on a few factors, but one constant is there has never been a better time to invest in quality cookware. Given the lifetime warranty, it's likely your grandchildren will be cooking with these pieces. 360 Cookware offers a sleek, stainless steel appearance. But, it also offers a durable and eco-friendly design. Most importantly, this innovative cookware technology can provide you and your family with healthy meals for many years to come.
This is some of the best stainless steel cookware you can buy. 
Click here to shop 360 Cookware 
This piece was written by Michaela Blackwell.
Looking for more cookware reviews? Here are some of the most popular ones