A top kitchen knife set is the most important tool that every kitchen needs. One thing about a budget knife or dull blades is they can easily turn a 10-minute prep work job into a long, grueling job that no one wants to do. Using professional, quality knives should be comfortable and feel like an extension of you.
In this article, our best professional knife set review, we have reviewed and compiled some of the best professional chef knife sets. Hopefully, if you wonder which high-end knife set is for you or if the most expensive knife sets are even worth it, you will know by the end of this article.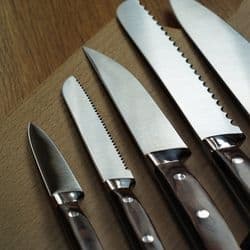 ✅  After going through all of the professional knives, this is the one that we would buy based on all of its qualities.
10 Best Professional High-End Knife Sets
[affiliatable id='109725′]
Best Professional Knife Set:  Wusthof Classic 16-piece Acacia Knife Block Set
What's Included
3.5-inch Paring Knife
4.5-inch Utility Knife
5-inch Serrated Utility Knife
6-inch Utility Knife
7-inch Hollow Edge Nakiri Knife
8-inch Bread Knife
8-inch Chef's Knife
9-inch Sharpening Steel
Six 4.5-inch Steak Knives
17-slot Acacia Knife Block 
Come-Apart Shears 
Pros
58 Rockwell hardness
Full-tang knives
Precision-forged from high-carbon stainless steel
Precision Edge Technology (PEtec) for a sharper edge and longer edge retention
Handles are constructed of highly durable synthetic material (POM)
Lifetime warranty against manufacturing defects
Cons
Handles are made of plastic (POM), which might feel weird or heavy
Commonly used knives appear to dull quickly 
Overall Wusthoff Classic 16-piece Acacia Knife Block Set Review 
For over 200 years, Wusthof has continued a tradition of precision and innovation in their craftsmanship of high-quality, premium kitchen knives. The Classic line has been their best-selling collection for generations. Each knife is precision-forged from a single piece of high-carbon stainless steel. Its handle is constructed of synthetic material and then triple riveted to the full tang. This design gives each knife a balanced, hefty weight and a comfortable, ergonomic hold. To ensure each blade is precise and seamless, Wusthof uses Precision Edge Technology (PEtec) which enhances sharpness by 20% and increases durability. This is one of the top-rated chef knife sets.
This Classic 16-piece knife block set includes everything you would need for cutting in the kitchen. The attention to detail that Wusthof puts into their blades, and specifically this line, is impressive. I liked the classic look of these knives, and the Acacia knife block will look stunning on the kitchen counter. With its precision-edge, balanced feel, and long-lasting durability, not to mention Wusthof's reputation for premium blades, the 16-piece Acacia knife block set is our pick for the Best Professional knife set.
Read more about them in our Wusthof Knives Review.
Wusthof's Classic line has been and still is their best-selling collection for generations. This luxury knife set gets a 4.7 out of 5 stars; you can read the reviews here.
Click here to get the latest price
Enso SG2 Dark Ash Slim Knife Block Set 
What's Included
3.25-inch Paring Knife
6-inch Utility Knife
6.5-inch Santoku Knife
8-inch Chef's Knife
9-inch Bread Knife
Stainless Steel Take-Apart Kitchen Shears 
6-Slot Dark Ash Slim Knife Block
Pros
63 Rockwell Hardness
Full-tang knives
101 layered Damascus construction with SG2 steel core
Double-bevel edge – right or left-handed use
The handle is black canvas micarta with stainless steel bolster
Limited lifetime warranty against manufacturing defects
Cons
Requires specific cleaning process 
Overall Enso SG2 Dark Ash Slim Knife Block Set Review 
If you are looking for a high-quality, premium set without all the extras, then this 7-piece set from Enso is the right one for you. It includes everything you might use in the kitchen and delivers superior performance. Each blade has a 101-layer stainless steel Damascus construction with an SG2 steel core. Its edge is designed with a double-bevel to allow both left and right-handed use. The gorgeous handle is made of black canvas micarta with a Samurai Crest and stainless steel bolster that delivers stability and balance.
These Japanese blades are impressive and deliver professional results. Constructed with powdered carbon steel, these blades have an unprecedented 63 Rockwell hardness rating and are corrosion resistant. Its double-bevel edge was also really nice and conveniently works for both left and right-handed chefs. I also loved the dark ash block and know it will be a beautiful addition to any kitchen.
This luxury set from Enso has a 5 out of 5 stars rating, which you can read here.
Shun Premier Knife Block, 8 Piece Cutlery Set
What's Included
8-inch Chef's Knife
6.5-inch Utility Knife
4-inch Paring Knife 
5.5-inch Shantou Knife
9-inch Bread Knife
9.5-inch Slicing Knife
Sharpening Steel
11-slot Bamboo Block
Pros
Free professional sharpening 
Limited lifetime warranty
VG-MAX Cutting Core
Double-bevel edge – left or right-handed use
Full composite tang
60-61 Rockwell hardness
Cons
Requires proper maintenance to keep blades sharp
Overall Shun Premier 8-piece Knife Block Set Review 
Shun is one of the most well-known and top-tier brands of Japanese knives on the market. Each knife is created through a 100-step process by a highly skilled craftsman. This Premier collection uses their VG-Max steel with a tsuchime finish to deliver quality performance and strength with effortless food release while cutting. It also features a Pakkawood handle with a full composite tang that delivers a comfortable and precise grip. The blade and handle are designed for both right and left-handed use.
The 8- piece Premier knife block set is an excellent buy. The blades' hammered finish has a unique look that gives it a non-stick advantage over other knives. Its design and double-bevel ensure comfortable, confident use for right- or left-handed cooks. These knives deliver top-tier results and last a lifetime. I also appreciated that Shun offers free sharpening for life. This is the set for you if you are looking for knives that do not compromise on quality.
It has a 4.7 out of 5 stars rating on Amazon; read all the reviews here.
Read more about them in our Shun Knives Review. 
Hammer Stahl 21-Piece Classic Knife Set 
What's Included
3.5-inch Paring Knife
7-inch Vegetable Cleaver
4.5-inch Santoku Knife
7.5-inch Santoku Knife
8-inch Carving Knife
Carving Fork
8-inch Bread Knife
10-inch Slicer
5-inch Cheese Knife
Sharpening Steel
8 Steak Knives
2 removable Steak Knife Blocks
V-shape rotating Bamboo Display Block
Pros
Steak Knife blocks are removable
55-57 Rockwell Hardness
Quad tang design
High-carbon German steel
Lifetime warranty against manufacturing defects 
Cons
Storage block takes up a lot of counter space 
Overall Hammer Stahl 21-Piece Classic Knife Set Review 
With 21 pieces, this is a huge knife set, which can often lead to a compromise in quality. This not the case with this set from Hammer Stahl. Each knife is designed for top-tier performance, comfort, and long-lasting durability.
The blade is forged from high-quality German steel and precisely measured by a laser to ensure razor-sharp quality. Its quad tang design delivers balance, precision, and comfort, which is complemented with the pakkawood handle. These knives have a beautiful, unique look that you will want to be displayed on your counter. And my favorite part? The rotating knife block with removable steak knife blocks. It has a triangular shape that allows it to sit perfectly in the corner. If having all the knives out is too much or if you want to bring just the steak knives to the table, you can easily remove those blocks.
This set is currently rated at 4.2 out of 5 stars on Amazon, which you can read here. 
These are exceptional knives. Their Chefs knife was even our pick for the Best Chef Knife under $50. 
Zwilling J.A. Henckels Knife Block Set
What's Included
8-inch Bread Knife
8-inch Carving Knife
4-inch Paring Knife
7-inch Santoku Knife
8-inch Chef Knife 
9-inch Honing Steel
Brown Magnetic Easel Block
Pros
60 Rockwell Hardness
Full-edge utility – can be sharpened from tip to bolster
Cronidur 30 steel – high performance 
Ice-hardened blade 
Limited lifetime warranty against defects in material and workmanship
Cons
Ebony handles require special care 
Overall ZWILLING TWIN 1731 7-piece Knife Block Set Review 
Zwilling J-A. Henckels has a worldwide reputation for its top-tier quality. With almost 300 years of experience, they have perfected their craftmanship of premium knives to ensure precision, durability, and comfort. The Twin 1731, designed by Matteo Thon, is no exception.
The blades are crafted with Cronidur 30 steel and ice-hardened to provide exceptionally sharp and durable cutting. Its handle is made of beautiful Ebony wood that is bonded to the bolster and tang. When holding a Twin 1731 knife, it is clear that it was designed for professional performance.
The storage block is designed in a way that beautifully displays your knives. You will want to see these on your counter, just like you will want to use them. This knife set has a 5.0 out of 5.0 stars rating on Amazon; you can read them here. 
We've also reviewed Zwilling's value brand before, Henckels International. If you would like to learn more, you can read our article: Henckels Knives Review: Are They Good?
Cangshan TN1 Series Swedish Sandvik
What's Included
8-inch Chef's Knife
8-inch Bread Knife
7-inch Santoku Knife
6-inch Boning Knife
5-inch Serrated Utility Knife
3-5-inch Paring Knife
2.75-inch Peeling Knife
4 Serrated Steak Knives
8-inch Honing Steel 
9-inch Metal Shears
Solid Maple Magnetic Storage Block
Pros
Swedish Sandvik 14C28N Steel
57-61 on the Rockwell Hardness
ULTRA6 Heat Treatment Process
Ice-hardened blade 
Magnetic storage block
Cons
Some users found their fingers slipping into the hollow area of the handle
Overall Cangshan TN1 14-Piece Knife Block Set Review 
Although Cangshan is a fairly new company to the knife industry, they have quickly made a name for themselves. Their knives are highly reviewed and awarded for their design, beauty, and function.
The TNI series has a bold design with its sleek hollow handle. It is a combination of all the best from Eastern style and Western-style knives. Its straight-edge blade is constructed of Swedish steel that offers incredible hardness, sharpness, and durability. It undergoes an Ultra6 heat treatment process and then ice-hardened to ensure that it stays sharp for a long time. Every aspect of the design was considered to ensure comfort and balance while using. Even the storage block was designed for beauty and function, featuring 3 separate blocks that are held together by strong magnets. This allows you to only bring the knives you need over to your cutting board.
I was very impressed by this set. Each knife was handcrafted and hand sharpened for precise and effective results. This is the set for you if you are looking for modern, high-quality knives that are exceptionally responsive and sharp.
Cangshan knives seem to always be highly reviewed, and the TN1 is no exception, with a 4.5 out of 5 stars rating. You can read the reviews here. 
Read more about them in our Cangshan Knives Review.
Cutco Knife Set
What's Included
2.75-inch Paring Knife
Trimmer
Spatula Spreader 
6.75-inch Petite Carver
7.625-inch Petite Chef
Butcher Knife
9-inch Carver
9.75-inch Slicer
Turning Fork
Carving Fork
8 Table Knives
Medium Cutting Board
Knife Sharpener
18-Slot Oak Block 
Pros
Dishwasher safe
Double-D Edge – very sharp, clean cuts
"Forever Guarantee" warranty
Full tang blade 
Ergonomic handles
Cons
Some reviewers found the steak/table knives flimsy 
Double-D Edge requires special sharpening 
Overall Cutco Homemaker 21-piece Knife Block Set Review 
Cutco knives use a "word-of-mouth" marketing strategy to sell their knives. They are confident that you will purchase their knives once you experience them for yourself. For over 60 years, this strategy has worked for them because they produce quality knives.
The Homemaker set from Cutco features a full tang, high-carbon stainless steel blade with their exclusive Double-D Edge. This material ensures superior sharpness, edge retention, and easy care. Its Double-D Edge provides a sharp, even cut and stays sharper with its unique design of 3 cutting edges that are recessed on the blade edge.
Its "Hand-Perfect" handle allows anyone to use the knives with a comfortable and confident grip. They are constructed of thermo-resin that ensures they are durable and dishwasher safe. This is the only professional knife set on our list that is actually dishwasher safe.
If you are looking for an American-made set of knives that are known for their quality, then Cutco Homemaker is the right set for you. These are highly reviewed and come with a Forever Guarantee from Cutco.
This set has 4.8 out of 5 stars on Amazon, which you can read here. 
Read more about them in our Cutco Knives Review. 
VonShef Premium 7 Piece Professional Stainless Steel Knife
What's Included
8" Chef Knife, 8" Carving Knife, 8" Bread Knife,
5" Utility Knife, 3.5" Paring Knife, 7" Scissors and 7.5" Knife
Sharpener
Pros
Unique, revolving block
Handles have a nice, firm grip
Compact but functional set 
Sharp knives 
Cons
Difficult to clean
Scissors are not as great as the knives 
Overall VonShef Premium Professional 7-Piece Knife Block Set Review 
This expensive knife set from Vonshef is a unique addition to any kitchen. The knives feature a razor-sharp stainless steel blade with a nonstick coating which delivers an effortless, precise cutting and ensures that food easily releases. Its soft-grip handles are ergonomic and offer a confident grip. Housed in a stylish, revolving block, this is a set that you will want to display on your counter. This sleek set perfectly complements almost any kitchen. It is perfect if you are looking for a modern-looking set with only the essentials.
This is a solid set with a 4.4 out of 5 stars rating on Amazon, which you can read here. VonShef even made our Best Electric Knives Review. 
Global 35th Anniversary Special Edition
What's Included
8-inch Cook's Knife
6-inch Small Bread Knife
5.5-inch Vegetable Knife
5-inch Small Cook's Knife
4.3-inch Utility Knife
3.14-inch Peeling Knife
Stainless Steel Knife Block
Pros
56-58 Rockwell Hardness
Hollow handles are filled with sand to ensure perfect weight and balance 
Cromova 18 high carbon stainless steel
Seamless construction
Limited lifetime warranty against manufacturing defects
Cons
Handles feel small to many users 
Dimpled handles could be difficult to clean
Overall Global 35th Anniversary 7-piece Knife Set Review 
Global is known for creating a revolutionary set of high-performing, extremely sharp knives with stainless steel handles back in 1985. For over 35 years, they have been known for their high-quality professional knives all over the world. The 35th Anniversary set was created to go back to the beginning and celebrate the last 35 years. 
Constructed of high carbon stainless steel that is tempered and ice-hardened, these blades deliver an incredible cut and hold a razor-sharp edge. The hollow handles are filled with sand to ensure perfect balance and optimal control. Its ergonomic and dimpled handles also ensure a slip-resistant and comfortable grip.
These are nice-looking knives. And with a 4.9 out of 5 stars rating, many cooks seem to like this professional knife set. Read the reviews here. 
Global knives makes a variety of knife sets and also made our list for Best Chef Knives under $200 list. Learn more about them in our Global Knives review. 
Lamson Fire Forged 10-Piece Block Set, Walnut
What's Included
2.875″ Trimming/Paring Knife
3.5″ Paring Knife
6″ Utility Knife
6″ Fillet / Boning Knife
7″ Kullenschliff Santoku Knife
8″ Bread Knife
8″ Chef Knife
10″ Slicing Knife
10″ Honing Steel
9-Slot Maple Block
Pros
"Sharp for Life" – professional sharpening
Lifetime Guarantee
Full tang
58 Rockwell hardness 
Curved, recessed bolster
Cons
Not an ergonomically shaped handle
Overall Lamson Fire 10-Piece Knives Set Review 
Lamson is the oldest kitchen cutlery manufacturer in the United States. With almost 200 years of experience, Lamson knives have become synonymous with American-made, superior quality, and passion. Their knives are meticulously crafted for both expert chefs and home cooks alike.
Lamson's 10-piece Premier Fire series knife set is an impressive option. Constructed with the finest, high-carbon German steel, the blades are precision-forged using a traditional hot-drop method, which results in a sharp blade that is durable and retains its edge longer. The handle is constructed of a fiery red acrylic that is sleek, sturdy, and balanced. With their curved bolster, the knives have a seamless transition from blade to handle. These fiery red knives are displayed in a beautiful 9-slot walnut knife block.
If you want American-made quality knives, then the Lamson Premier Fire Series is an excellent choice. These are beautiful knives that are comfortable to use and stay sharp longer. It is also convenient that Lamson offers their Sharp for Life program, so you never have to worry about dull blades.
With a 4.6 out of 5 stars rating, this is a solid choice for your kitchen; read the Amazon reviews here. Read more about Lamson in our Lamson Knives Review.
Knife Buying Guide: What To Look For In A High-end Professional Knife Set?
Number of knives
There is not an exact number of knives that you should look for when purchasing a High-End Professional Knife set because it all depends on What will you need in the kitchen? Do you need a set of steak knives? Will you use some of the more specialty knives? However, it is important when purchasing an expensive knife set to verify that it comes with at least a Chef's Knife, a Paring Knife, and a Serrated Knife. 
Quality of knife steel
The quality of the blade is essential and determines the capabilities of the knife. The blade material should be at least stainless steel or high carbon stainless steel to ensure superior durability and edge retention. 
Most knives are constructed of either German Steel or Japanese Steel. Japanese Steel is hard, which means it will have a fine edge and stays sharp longer. At the same time, German Steel is more durable and can endure more "abuse" in the kitchen. This is important to consider depending on your kitchen preferences. Powering through tough meats/bones? German Steel. Sharpening less often? Japanese Steel.  
Handle
Another important aspect to consider is the handle of the knives. This usually boils down to personal preference and needs, but you should always look at the durability of the materials, if it is comfortable to use, how big or small it is, and if it is made for left- or right-handed users.
Knife block
The knife block does not affect how well the knives will perform, but it is going to be a part of your kitchen for years. Make sure that you like how it looks on your kitchen counter. You should also consider if it has any extra slots for any knives you may purchase down the road and how securely the knives fit in the slots. 
Dishwasher safe
Professional knives should always be hand washed. If you do place them in the dishwasher, you will quickly have dull blades or knives that are damaged due to harsh wash cycles and detergents. 
A high-end knife set is an investment, so you will want to properly maintain and clean your knives after each use. We recommend immediately washing with hot, soapy water and drying with a cotton towel. Do not soak in water because it can lead to rust or corrosion. Do not wait until later to clean unless you want to scrub and scrape off dried food. 
Warranty
The warranty is an important thing to consider, especially when investing in high-end, expensive knives. The majority of the knife sets that we reviewed included a limited lifetime warranty.
Maintenance
As mentioned above, all of these professional knives should be washed by hand. They will also need to occasionally be sharpened either at home or professionally.
What Makes a High-End Knife Set a "Professional Knife Set"
A high-quality knife should feel like an extension of your hand. It should feel light and balanced in your hand while using. The blade itself should be constructed of quality materials to ensure superior edge retention, clean cuts, etc.
When considering an investment in a professional knife set, it is important to verify they are made with high-quality materials, have a functional design, and deliver professional results.
Which Knives Should be Included in a Professional Chef Knife Set?
The knives included in the set do not determine if it is professional quality or not. However, there are a few essentials that you will want to make sure are included: 
Chef's Knife 
Paring Knife 
Serrated knife
In addition to these, there are a few nice-to-have knives that are also useful additions:
Santoku Knife
Utility Knife
Steak Knives
Kitchen Shears
Best Professional Chef Knife Set FAQ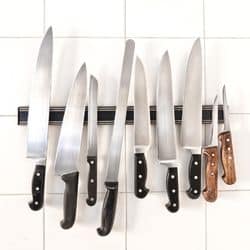 What is the best professional knife set?
My pick for the Best Professional Knife Set is Wusthof's Classic 16-piece set. This has been their best-selling collection for generations, and it shows in the craftsmanship and design.
Its PEtec edge delivered impressive results with a clean, even cut with no drag. Plus, the triple-riveted, highly durable handles give it a very traditional look and are comfortable to use.
This 16-piece set has everything you could possibly need for prep work, and if not, the 17-slot wood block has a few open slots for any additional knives you might purchase.
What brand of knives do professional chefs prefer?
Every chef has their own personal favorite knives that they have chosen based on their preferences, as well as considering the quality of the materials, edge retention, handle, etc. Brands like Wusthof, Zwilling, Shun, and more are commonly picked because they offer premium, professional-quality knives. Sometimes, chefs might use one brand for one task or situation and a completely different brand for another.
What knives does Gordon Ramsay use?
For instance, Gordon Ramsay had Zwilling J.A. Henckels knives on his Hell's Kitchen show, but Wusthof on his online cooking courses. 
Are German or Japanese knives better?
It depends on your personal preference and how you are going to use it in the kitchen. Both Japanese and German knives have their use in the kitchen, but it ultimately boils down to your performance needs.
German knives have a curved blade, which allows the rocking back and forth in cutting. They are highly durable knives that are usually thicker and tend to weigh more. Constructed of German steel, these blades are usually a 56 to 58 on the Rockwell hardness scale.
Japanese knives usually have a straighter edge. They are extremely sharp, lightweight, and thin. Its blade is constructed of Japanese steel, which normally has 60 to 61 on the Rockwell hardness scale and stays sharper longer. 
The biggest factor to consider when deciding German vs. Japanese knives is how you are going to use them because the thin, sharp Japanese knives tend to be more delicate and can break if not used properly.
Why are Japanese knives expensive?
It is the quality and craftsmanship that makes Japanese knives so expensive. The knives are constructed from some of the highest quality materials, like high-quality carbon steel for the blade and exotic materials like Micarta or Pakkawood for the handles.
The craftsmanship is also a huge factor because of the extra cost to forge together multiple layers, the intricate designs, or they are completely made by hand. Each knife is designed and crafted to be a work of art.
Final Thoughts on the Best Professional Chef Knife Set
These are some of the most expensive chef knife sets, but you have to pay for quality, and these are some of the best. The quality of the materials, balance, design and overall aesthetics of these knives sets them apart from a budget or mid-range knife set. Hopefully, this list has helped you to decide which one will work for your kitchen.
Overall though, the most important aspects to consider when choosing a professional knife set are the quality of materials, sharpness and edge retention of the blade, balance, and the comfort and grip while using. You will know what works best and feels most comfortable to you.