We've been searching for a good set of pots and pans. Our latest eye-grabbing is the Xtrema cookware line. This article will dive deep into our Xtrema Ceramic Cookware Review.
We've tried non-stick pans in the past, and they are always a disappointment. They either chip (like they did with our Blue Diamond pan review) or flake off like our non-stick T-fal pans. So we are searching for something that is healthier and giving up on non-stick for the most part. That's why we are looking at the best ceramic cookware as our new go-to option.

What we like about Xtrema Cookware
Ceramic cookware is a nice healthy option that isn't Teflon coated. We have used Teflon pans in the past, and finding a healthy option that isn't metal-based is a nice change. Not only is it good for the environment, but it's healthier for cooking because you don't run the risk of metals leaching into your cooking. Instead, Xtrema cookware is pure ceramic, all-natural, eco-friendly products.
They are FDA certified and California Proposition 65 compliant (which is testing for lead and cadmium ). They also test and certify that they are free of more than 800 other compounds that may cause cancer and birth defects.  You can see the test results on their website.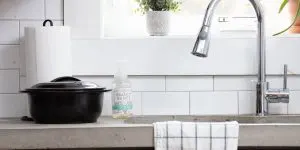 I love the look of this Ceramcor cookware. It is nice to have something that you can put on a table and not worry about it scratching. The versatility of this cookware has been it's really benefit. They have the look of cast iron but aren't nearly as heavy, which is nice. The black look of their products is a nice elegant polished look, and the red protective silicone handles are a nice accent.
Plus, I have to say it's a nice change of pace from the stainless steel and cast iron pans we've tried.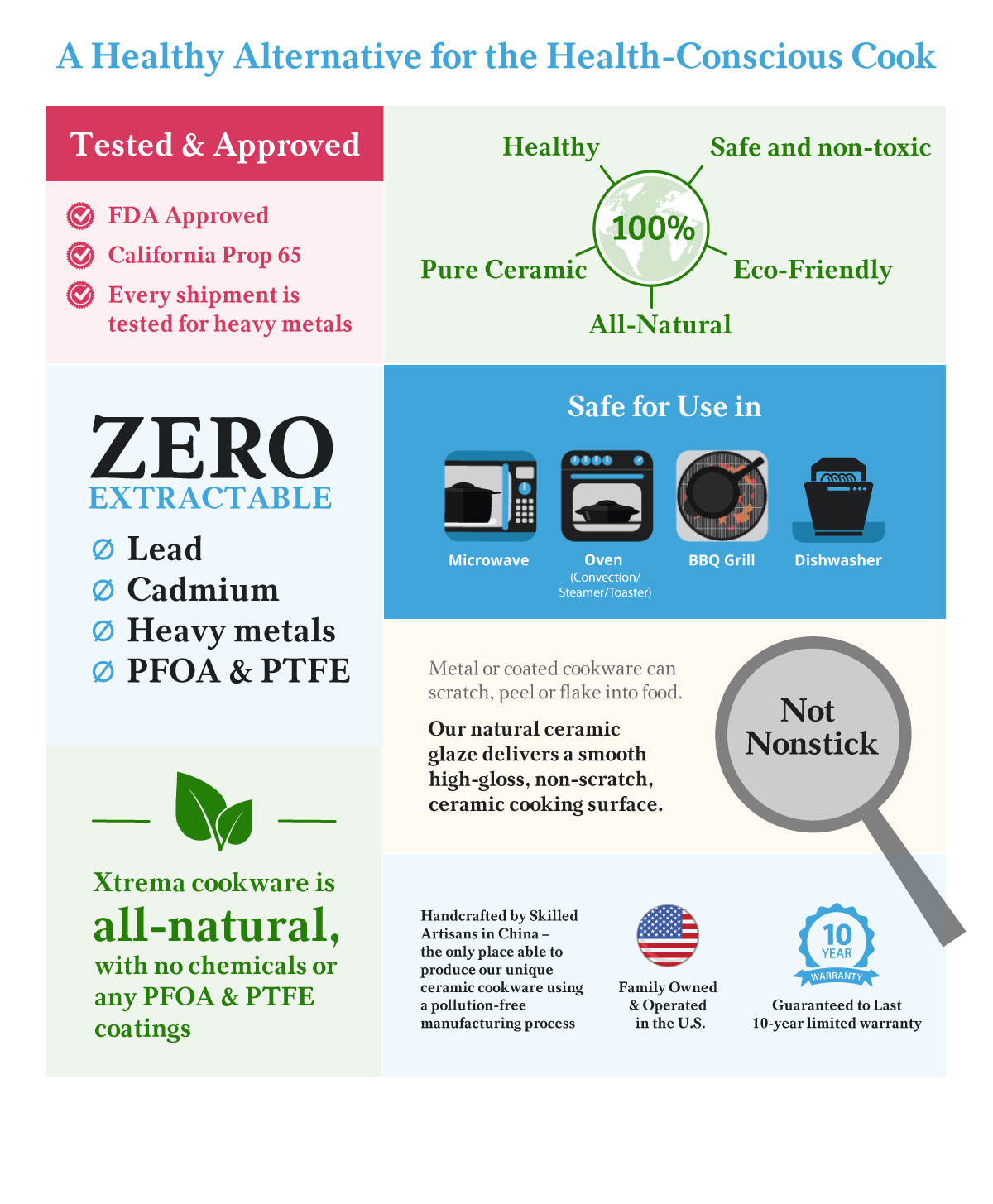 What does Xtrema sell?
They sell a variety of safe cookware products. They sell ceramic cookwares in sets and individual pieces and also have skillets, saucepans, stockpot, versa skillets, tea kettles, bakeware for sale on their site.
They also sell a variety of cooking accessories like collapsible container sets: colanders, kitchen tools, and cookware protectors.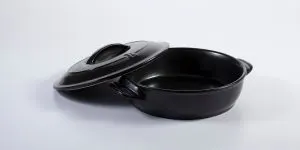 Do Xtrema cookware products ever go on sale?
Yes, Xtrema does have sales on their site; here is the link to see their current sales. 
Best Xtrema Ceramic Cookware
If you are wondering about the best ceramic cookware or just ceramic curious, here are a few of their products to see if they are the right fit for you.
9-Piece Traditions Cookware Set
This is a nice 9-piece cookware set if you are looking for a pot with a handle (they make some that don't). While this isn't non-stick cookware, it is non-toxic cookware, and that is more important. If you are looking for a safe cookware alternative to all of the non-stick options out there, then this set is a great place to start.
Cookware Protectors include three Protectors:
Medium (15.25″ diameter),
Large (19.25″ diameter),
Extra-large (23.25″ diameter)
Cookware Set Includes:
1-Quart Traditions Saucepan with Lid
1.5-Quart Traditions Saucepan with Lid
2.5-Quart Traditions Saucepan with Lid
10-Inch Traditions Skillet with Lid
Skillet/Wok Silicone Handle Pot Holder
If you prefer their Versa style, which is a nice option and has a few more pieces, you can check it out. There is no pot with a handle but rather two smaller handles on opposite sides. This set has a few more pieces and is worth looking at if you want a larger set of pieces in your pan collection. This set also makes it onto our list of best ceramic cookware sets.
Cookware Protectors include three Protectors:
Medium (15.25″ diameter)
Large (19.25″ diameter)
Extra-large (23.25″ diameter)
Cookware Set Includes:
1.5-Quart Versa Pot with Lid
2.5-Quart Versa Pot with Lid
3.5-Quart Versa Pot with Lid
10-Inch Versa Skillet with Lid
4-Piece Red Pot Holder Set for Versa Pots
Click here to see the images and pricing.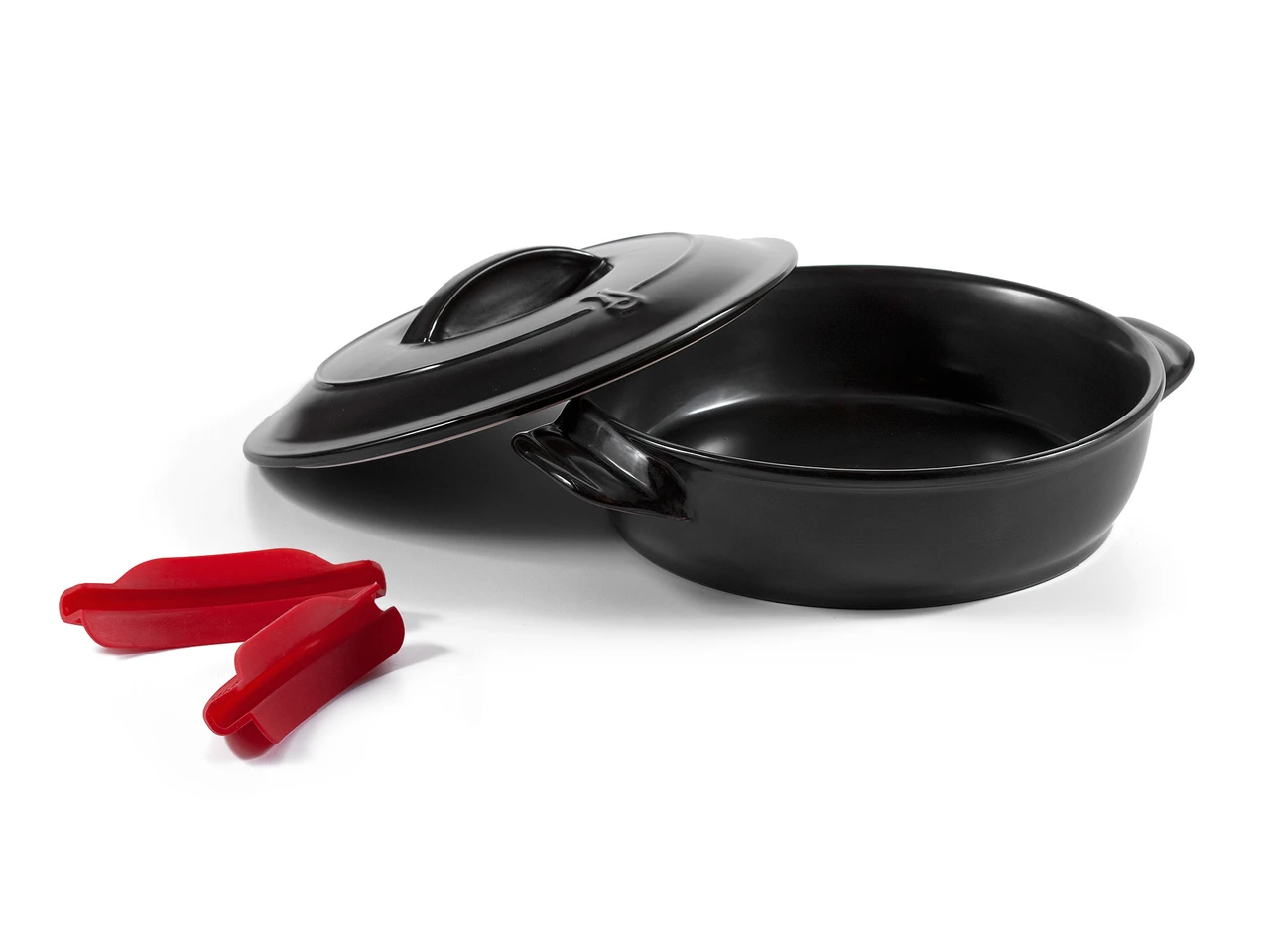 This skillet is a great way to cook many of your best cooking ideas. It comes with a lid and is a tremendously versatile piece of cookware for your kitchen. It also comes with silicone pot handle holders, so you can easily take it in and out of the oven.
This comes in two sizes, and you can see all of the uses in this video here. 
Click here for the current pricing and photos.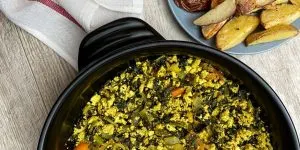 Xtrema Cookware FAQ
What are the benefits of Xtrema ceramic cookware?
The benefits of this cookware are that they do not use metals, they are oven safe, dishwasher safe, microwave safe, fridge, and can even be used in a toaster oven. They tend to have even heating as well, which is nice when cooking.
Ceramic cookware has been around for over 5000 years. 
Is Xtrema Cookware Dishwasher Safe?
While it is dishwasher safe, the best way to clean pots and pans is by handwashing them using soap and hot water.  It has a non-scratch surface, so you can clean it knowing that you won't do damage to it.
Does Xtrema Contain Any Lead or Other Heavy Metals?
No, this cookware is made of 100% natural minerals, clay, and water.  Their products contain no extractable lead or other harmful metals.
Can I Use Xtrema Cookware in a Microwave?
Yes, their cookware can be used in a microwave. It is also oven, stovetop, and BBQ grill safe.
Where Is Xtrema Cookware Made?
Xtrema is made in China. China is ranked number 1 for ceramic manufacturing and is where many of the best ceramic knives are also made. China is a leader in ceramic products.
How to Clean Xtrema Cookware?
While you can put Xtrema cookware in a dishwasher, it is usually best to treat your pots and pans to hand washing with soap and hot water.
Where to Buy Xtrema Cookware?
Xtrema sells all of their products on their own website; it is not sold on Amazon.  They are a family-owned business located in the U.S. To check out all of their products, visit their site here.
Is Xtrema cookware heavy?
Ceramic pots and pans are a heavier material than traditional stainless steel cookware of the same size. But it is lighter than a cast iron pan of the same size. I would say that it depends on your definition of heavy. Personally, I prefer a more solid pan when cooking, and the weight is what I would expect from a ceramic cookware set.
What Is the Xtrema warranty?
Xtrema's warranty is 10 years on their cookware. Their warranty is for product replacements only with the exclusion of certain products like lids and storage.
What Makes Xtrema different?
What makes them different is that they are a safe and non-toxic cookware alternative. They are geared towards healthy living people who are concerned about the quality of their cookware and the chemicals that can leach into their food. For this reason, they are a top choice amongst healthy living cooks.
What are the drawbacks of using ceramic cookware?
The big drawbacks of ceramics are that it can chip if they are dropped. They cannot be used on induction stovetops without a special plate underneath. The other drawback is that they are not non-stick pans, but in my experience, finding a non0stick pan that lasts any length of time is a challenge.
Can I use them on an induction stovetop?
Directly no, you cannot use ceramic cookware on an induction stovetop. As a workaround, you can purchase a special induction disk to fit over the induction burner that allows you to use it.
What is their return policy?
Xtrema wants you to be happy with their product. They offer a 40-day replacement or refund on unused products, which is pretty good for a return policy.
Final thoughts on Xtrema Ceramic Cookware Review
If you are looking for an alternative to cast-iron skillet cooking and something that you don't have to worry about non-stick surfaces, then Xtrema's ceramic cookware is a healthy cookware option that looks great and is easy to use.
Looking for more cookware reviews? Read these: