Farberware cookware is known for producing a wide range of superior quality cookware, bakeware, percolators, and more that are perfect for everyday cooking. If you're wondering whether Farberware pots and pans are worthy of your time and investment, you've come to the right place. We wondered the same thing. So, we researched for you and compiled this Farberware cookware review. We cover everything you need to know about Farberware, its products, and its value.
✅   The Farberware sale is live! Save now by clicking this link.
Farberware Cookware Review
Our Top Pick!
Stainless steel cookware set includes: 1-quart and 2-quart saucepans with lids, 8-quart stockpot with lid, 8-inch and 10-inch frying pans, and a 3-quart saute pan with lid
High heat induction cookware: Stainless steel pots and pans are oven safe to 500 degrees f and induction compatible
Dishwasher safe: Cookware set is dishwasher safe for convenient cleanup
Glass lids lock in heat and flavor: Glass lids let you monitor cooking progress without releasing heat or flavor
Sturdy stainless steel handles: Stainless steel handles are securely riveted to pots and pans for added durability
Farberware Glide Copper Ceramic Review – 11 Piece Set
The Farberware copper ceramic cookware utilizes Innovative CopperSlide Nonstick technology. They have a sturdy aluminum construction and flared edges for drip-free pouring.
What's Included
The Farberware Glide Copper Ceramic cookware set comes with a
1 quart saucepan and lid
2 quart saucepan and lid
5 quart dutch oven and lid
8.5 inch deep frying pan
11.25 inch deep frying pan, slotted turner, slotted spoon, and a pasta fork
Pros:
They are dishwasher safe
Oven-safe up to 350 degrees Fahrenheit.
Their plastic handles are more heat resistant than metal handles a
Easy to grip handles
Cons:
The oven-safe temperature limit is lower than some of Farberware's other product lines.
Overall Farberware Copper Ceramic Review:
This cookware set is going to give you a great, versatile nonstick cook set at a reasonable price as long as you don't need them to be oven-safe at high temperatures. They are dishwasher safe and easy to clean. The lids are shatter-resistant and provide a seal to lock in heat while cooking.
While this may not be the best copper cookware if you are looking for a starting copper ceramic cookware set at a reasonable price you will be hard price to find a better price than this.  They have a 4.5 out of 5 on Amazon and are reasonably priced for what you get in this set.
Farberware Millennium Review – 10 Piece Set
The Farberware Millennium 10-piece cookware set is a stainless steel cookware set made with polished 18/10 stainless steel for protection and durability.
What's Included
The Farberware Millennium cookware set comes with :
1-quart and
2-quart saucepans with lids
8-inch and
10-inch frying pans
3-quart saute pan with a lid
8-quart stockpot with a lid
Pros
Dishwasher safe,
Suitable for induction
Stovetops, and is
Oven-safe up to 500 degrees Fahrenheit.
Thick aluminum core
Cons
Stainless steel pans do not include nonstick coating and require different cooking techniques to prevent food from sticking while cooking.
Overall Farberware Millennium Review
If you're in the market for stainless steel cookware, the Farberware Millennium cookware set is going to give you a handsome, durable cook set for a great value. This set has a thick aluminum core that provides exceptional, even heat distribution.  This is high heat induction cookware which means it can withstand oven temperatures of up to 500 degrees. So if you find yourself putting lots of your pans in the oven then this may be a good set for you.
It has over 1500 ratings on Amazon and gets an average 4.5 out of 5 stars. It's reasonably priced for a 10 piece stainless steel cookware.
Farberware 15 piece Stainless Steel Cookware Set
This is a complete stainless steel cook set that includes nonstick skillets. With 15 pieces, it comes with everything you need to have a functional, stylish kitchen set.
What's Included
The Farberware 15-piece stainless steel cookware set includes:
1-quart saucepan with lid
2-quart saucepan with lid
3-quart saucepan with lid
4-quart sauce pot with lid
8-quart stockpot with lid
8-inch nonstick frying pan
10-inch nonstick frying pan
3 nylon kitchen utensils
Pros
Oven-safe to 350 degrees
Complete set for new homeowners
Cons
The skillets are not dishwasher safe.
Overall Farberware 15 piece cookware set review
This cookware set provides an excellent balance of quality and affordability. If you are looking for more pots and pans than the Millennium set we reviewed above then this may be a nice set for you. A few distinctions from the Millennium set is that it has a much lower oven safe rating (350 degrees compared to Millennium 500) .  It really is a trade off between a larger set and higher oven compatibility.
It has over 1400 ratings on Amazon and gets an average 4.6 out of 5 stars. It's reasonably priced for a 15 piece stainless steel cookware.
Farberware Designs Review – 15 Piece Nonstick Cookware Set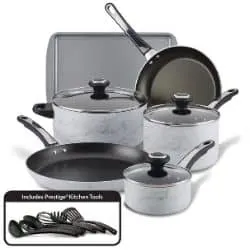 Farberware's Designs cook set is noticeable by its stylish marble finish. When combined with their durable construction and nonstick coating, these make the perfect addition to any modern, chic kitchen.
What's Included
This cookware set comes with all of the following:
1-quart saucepan with lid
5-quart Dutch oven with lid
3-quart saucepan with lid
10-inch skillet
12.25-inch skillet
9-inch x 13-inch cookie pan,
ix Prestige nylon tools.(includes a slotted turner, slotted spoon, solid spoon, pasta fork, whisk, and ladle)
Pros
The Farberware Designs aluminum cookware set has an elegant marble exterior, is dishwasher safe, and oven-safe to 350 degrees Fahrenheit. It also includes a baking sheet.
Cons
Some reviews claim the Farberware Designs cookware finish isn't very durable, and it is not suitable for induction stovetops.
Overall Farberware Designs Cookware Review
The Farberware Designs cook set provides a chic option for anyone looking for a complete cook set that includes baking items. This non stick set comes with a nice fresh marbled look exterior and sets a nice modern tone. If you are looking to make more of a fashion statement and looking for some cookware that has color or a design this is Farbeware's answer.
Farberware Pans Review
Farberware Griddle Review
Features
This griddle is 11-square inches and has a dimpled, nonstick cookware surface that boosts durability and creates air pockets that prevent hot spots and heat food quickly.
Pros
Dishwasher safe
Oven-safe to 350 degrees Fahrenheit
Cons
Not suitable for induction cookstoves.
Some reviews claim it warped relatively quickly
Overall Farberware Griddle Review
For anyone in the market for a stovetop griddle, the Farberware griddle provides even heating with an excellent nonstick finish.
If you have been looking for a flat top griddle with a stylish yet functional handle this is it. The sturdy handle on this griddle provides a comfortable grasp with a distinctive exterior color. It is dishwasher safe and oven safe to 350 degrees Fahrenheit. Even better, the design of this stovetop griddle is stylish and neutral and will easily complement many of Farberware's collections.
With over 2000 ratings on Amazon and a 4.5 out of 5 star rating, this Amazon Choice product is a great buy at a stellar price!
Farberware Frying Pan Review
Pros
Includes three different pans
Oven-safe to 500 degrees Fahrenheit
Dishwasher safe
Cons
The set does not come with lids.
Farberware Frying Pan Review
Farberware skillets come with PFOA-free nonstick, which keeps foods from sticking and makes the kitchen clean up easy.
This 3 pack is a great way to cook multiple things at once while never needing to worry about your food sticking to the pan. Farberware non-stick skillets come in 8", 10", 11". The frying pans feature heavy-duty aluminum construction to heat quickly and evenly and help reduce hot spots that can burn food. This is a nice set that includes three different sizes of skillets.
Farberware Product Lines
Farberware has a wide range of product lines to suit any need.
Farberware Classic Series
Their Classic Series collection is their flagship stainless-steel cookware. It is one of their oldest and most iconic product lines. It is constructed of heavy-duty, polished stainless steel and is dishwasher safe. The Classic Series includes 14 different items. So, you can have a complete matching set of any cookware items you may need for your kitchen.
Click here for this line of pots & pans 
Farberware's Cookstart
Farberware's Cookstart collection uses their DiamondMax nonstick interior, which performs three times better than ceramic nonstick surfaces. This product line comes in five different colors. It's excellent at heat conduction thanks to its heavy-duty aluminum construction.
Click here to see this line of cookware 
Farberware's Designs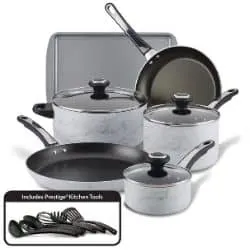 Farberware's Design collection stands out with its unique styling. These pots and pans have a nonstick finish and a unique silicone polyester finish with a marble design.
Farberware's Glide
Farberware's Glide collection product line utilizes CopperSlide technology to deliver 90% better food release than major ceramic competitors. These pots, pans, and lids are all oven-safe to 400 degrees Fahrenheit.
Farberware's High-Performance
Farberware's High-Performance collection utilizes a unique dimpled surface on their SmartGlide Nonstick System to ensure food releases easily. Their durable aluminum heats quickly to reduce hot spots. These pans are also dishwasher safe.
Farberware's Luminescence
Farberware's Luminescence collection also uses their SmartGlide Nonstick System. However, this collection is set apart by its shimmering pearlescent exterior. The Luminescence collection is only available on three items: a 2-quart nonstick saucepan, a 12-inch round griddle, and an 8-inch nonstick frying pan.
Farberware's NeatNest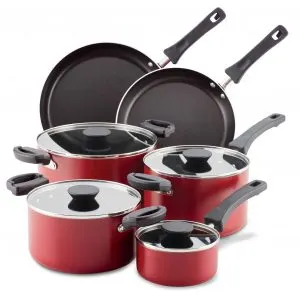 Farberware's NeatNest collection stacks together to provide space savings without scratches, dents, or dings. They come with an enhanced nonstick interior and are dishwasher safe and oven-safe up to 350 degrees Fahrenheit.
Farberware's Purecook
Farberware's Purecook collection is their line of colorful cookware that utilizes nonstick ceramic technology. These pots and pans are porcelain, dishwasher-safe, and oven-safe up to 350 degrees Fahrenheit.
Please note: Ceramic cookware is not suitable for induction cooktops.  You can learn more about buying ceramic cookware with our buying guide and best of reviews.
About Farberware Cookware
Farberware cookware is a company with over 120 years of history. They were founded in 1899 by a Russian immigrant cookware factory manager named Simon Farber. He started by producing tin and copper cookware. Over time, the Farberware cookware brand has become known for high-quality, durable kitchenware.
The Farberware company has made everything from percolators to appliances, gadgets, flatware, and cutlery throughout its history. Lastly, Farberware cookware is considered an industry pioneer in cookware and stainless-steel kitchen electronic technology.
How Does Farberware Compare to Other Cookware?
Farberware vs Cuisinart
Farberware and Cuisinart both produce different cookware products, but one thing that sets these two brands apart is the pricing. Cuisinart is known more for aesthetics and styling, while Farberware is much more affordable for consumers seeking to balance the budget with quality. See our full Cuisinart Cookware review.
Farberware vs Calphalon
Calphalon cookware has a reputation for being a bit higher-end than Farberware, but that also comes with a much steeper price tag. Both companies offer similar product lines that include stainless steel and nonstick cookware.
Farberware vs. T Fal
Farberware and T-Fal both have pretty solid reputations as cookware brands, and both are widely available at familiar retailers. T-Fal products offer a few more bells and whistles, such as their Thermo-Spot indicator to indicate when the pan is preheated. However, if you don't need those, Farberware products tend to be a bit more affordable. Read more about them in our T-fal Cookware Review.
Farberware vs Tramontina
Farberware is an American company, whereas Tramontina has Brazilian origins. Both produce different sets of stainless steel and ceramic cookware.
Farberware vs. 360 Cookware
Founded in 2004, 360 Cookware is a much younger company than Farberware. They primarily focus on producing stainless steel products with their unique Vapor technology. As we mentioned in our 360 Cookware review, 360's products are generally more expensive than Farberware cookware. Farberware has many more product options, including many more nonstick and ceramic options.
Farberware vs. Gotham Steel
Gotham Steel pans also produce nonstick pots and pans, but one of the significant differences between Gotham Steel and Farberware is that Gotham steel does not use PFTE, PFOS, or PFOA. Their nonstick surface contains nonstick ceramic and titanium. Gotham steel cannot be used on an induction cooktop, though many Farberware pans are compatible with induction stovetops. Learn more about them in our Gotham Steel Pan Reviews.
Farberware vs. Hestan
Hestan is a high-end cookware brand that produces cookware sets for both professional and home chefs. They are known for innovative cookware technology that allows some of their pots and pans to be heat-resistant to over 1000 degrees Fahrenheit. However, Hestan is significantly more expensive than Farberware. At the time of review's writing, Hestan's 10-piece set is available for $1599, while you can purchase a similar Farberware stainless steel cookware set for one-tenth of that price. See our full Hestan Cookware review for more details.
Farberware vs Le Creuset
Le Creuset is a premium French cookware brand that is famous for its colorfully-enameled cast iron pots. As we covered in our Le Creuset review, Le Creuset also sells stainless steel and nonstick cooking sets. Their nonstick pans are PFOA-free and safe to use with dishwashers, ovens, and metal utensils.
Farberware vs. Circulon
Circulon is a cookware line named for their innovation of raised circles on the cookware surface that are supposed to help the food release more easily. They are a mid-range cookware brand that produces all nonstick product lines.
Farberware vs Lagostina
Lagostina is an Italian premium cookware brand almost as old as Farberware, although it is generally a little less well-known than some other cookware brands. Lagostina offers a wide range of cookware sets, including three-ply stainless steel, copper, and hard-anodized aluminum sets. Lagostina's cooking surfaces include PTFE (Teflon-style), ceramic nonstick, and durable stainless steel. See our Lagostina Cookware Review for more about this brand.
Farberware vs. Viking
Viking is a company that got its start producing state-of-the-art commercial-size ranges, but they have since branched into the cookware realm. Their products are high quality but quite a bit more expensive than Farberware.  See our Viking Cookware Review for more about this brand.
Farberware vs Green Pan
Green Pan products have a patented Thermolon ceramic coating. Their excellent thermal conductivity allows you to cook perfectly with low heat settings without getting food stick to the pan. Green Pan and Farberware both use hard-anodized aluminum, but Green Pan products are heat resistant to 850 degrees Fahrenheit. Green Pan products are not dishwasher safe.
Learn more about them in our GreenPan review.
Farberware Cookware FAQ
Where is Farberware made?
Meyer Corporation owns Farberware cookware, and Meyer manufactures its products in the USA, China, Italy, and Thailand.
What is Farberware cookware's warranty?
Farberware cookware offers a limited lifetime warranty for many of its cookware products, covering manufacturer defects in materials and workmanship. If any item is defective, Farberware will replace it or give you a comparable product if the original item is no longer available.
You may void the Farberware cookware warranty if you misuse the products or don't clean them properly. That may include overheating or scratching a nonstick surface with metal utensils. It also includes using scouring pads, cleaning neglect, and putting non-dishwasher-safe products in a dishwasher.
Farberware cookware offers a Quality Assurance Guarantee. This means Farberware guarantees your bakeware free of defects the first time you use it.
Is Farberware cookware dishwasher safe?
Farberware manufactures a wide range of products; some are dishwasher safe, and some are not. It is always best to look at the use and care manual for your specific products.
Stainless steel Farberware cookware products are dishwasher safe when used with a mild dishwasher detergent.
While Farberware technically claims many of their products are dishwasher-safe, the technical FAQ section on their website recommends washing many of their metal and nonstick bakeware products by hand. Placing their nonstick products in the dishwasher may wash away that nonstick finish faster than washing by hand. Dishwasher detergent tablets may also damage Farberware bakeware finishes.
Farberware recommends hand-washing their cookware products with enamel finishes and porcelain exteriors unless expressly stated in the product's use and care manual.
Is Farberware cookware oven-safe?
Yes, some of their cookware is oven safe for up to 350 or 500 degrees Fahrenheit depending on the cookware line and pot.
Is Farberware a good brand?
Yes. Farberware cookware has more than a century of history devoted to building a high-quality cookware reputation at a reasonable price.
What colors does Farberware cookware come in?
Farberware cookware comes in a wide variety of colors. Some of their color options include stainless steel, copper, aqua, red, lavender, blue, champagne, gray, white, pewter, brown, black, sapphire, silver, and teal. Some products are only available in limited color selections, though.
Why Should You Buy Farberware Cookware?
Farberware cookware provides an excellent balance between value and quality. Their products offer a reasonable price point for most consumers. Many reviews are available online from satisfied customers who testify that they have had sets of Farberware pots and pans that have lasted twenty years or more.
Is Farberware cookware worth it?
For anyone seeking a budget-friendly, high-quality cookware set, Farberware cookware is definitely worth it. They have stainless-steel, nonstick, or copper ceramic product lines to meet your needs. If you are buying your first cookware set and want enough pans without breaking the bank Farberware provides a nice price point.
Does Farberware have sales?
Yes, they have sales periodically throughout the year. Check their site for the latest sale.
Farberware Cookware Review Final Thoughts
Farberware cookware is an excellent brand. With their wide selection of products and reasonable prices, Farberware cookware is sure to have something for everyone. Farberware cookware would be a perfect choice for first-time home buyers, college students, or anyone seeking to balance value and quality.
Written by: Cody Loveland
Looking for more cookware reviews? Read these: