Are you looking for some new cookware that offers the benefits of both non-stick and stainless steel cookware? You might have heard of HexClad before because of its unique design and durability. Whether you are frying eggs or searing a steak, this quality cookware will heat well, cook evenly, and is scratch-resistant so you can safely use a metal spatula while cooking. This HexClad cookware review will explain the history of HexClad and what this cookware brand offers, review various HexClad products, answer frequently asked questions about the products, and compare the HexClad brand to other cookware brands. If you are wondering if HexClad is worth the money, read on to see our product reviews.
✅    HexClad is on Sale! Save up to 30%  by clicking this link.
HexClad Hybrid Cookware Review
Our Top Pick!
All you need in a cookware set.
Pots and pans work on induction, gas, electric, and ceramic cooktops
This cookware is non-stick and stainless steel
Tri-ply construction with an aluminum core so it heats consistently and evenly
Lifetime warranty
Dishwasher safe
Oven safe up to 500 degrees
HexClad Hybrid Nonstick Commercial Cookware 13 Piece Set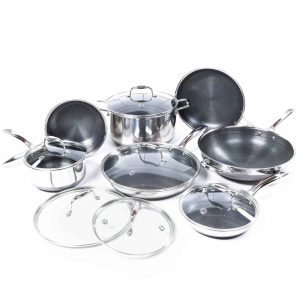 What's Included
12-inch pan
10-inch pan
8-inch pan
12-inch wok
2-quart pot
3-quart pot
8-quart pot
6 lids
Pros
You can use these pots and pans on a variety of types of cooktops – induction, gas, electric, and ceramic
This cookware is non-stick and stainless steel
Tri-ply construction with an aluminum core so it heats consistently and evenly
Lifetime warranty
Dishwasher safe
Oven safe up to 500 degrees
Cons
Some users report that the pans lose their non-stick coating quickly
There have been reports of some black residue coming off the pans after cleaning them
Overall HexClad Hybrid Nonstick Commercial Cookware 13 Piece Set Review
If you are looking to upgrade your cookware or need to buy a set that contains a variety of cookware pieces, check out this set. It includes a wide array of sizes with numerous pots and pans to meet your cooking needs. This set can handle the heat and provide even heating for a better food preparation experience.
HexClad Hybrid Non-Stick Cookware 7 Piece Set with Lids and Wok
What's Included
12-inch pan
10-inch pan
8-inch pan
12-inch wok
3 lids
Pros
Works on all cooktops
Cool-touch handle
PFOA-free
Dishwasher safe
Safe in the oven up to a temperature of 500 degrees Fahrenheit
Cons
Some users have found that the pans are not easy to clean
The non-stick design has been questioned by some people who have experienced a lot of food sticking to the pan.
Overall HexClad Hybrid Non-Stick Cookware 7 Piece Set with Lids and Wok Review
If you do not need all the options included in the 13 piece cookware set, this 7 piece set may be better suited for you. Each pan comes with a lid, and the 8, 10, and 12-inch sizes are suitable for a variety of cooking uses.
When considering the size of the pan, it is important to be aware that the size listed above is not the flat bottom cooking surface size. The 12" wok has a 6" wide bottom. The 12" pan's bottom is 9". For the 10" pan, the bottom cooking surface is 7.5" in diameter, and the 8" pan has a 5.5" bottom diameter. The weight of the pan can also be a concern for some home chefs. The wok is the heaviest at 4.5 pounds. The other pans weigh between 2 and 4 pounds each.
HexClad Hybrid Non-Stick Cookware 6 Piece Set with Lids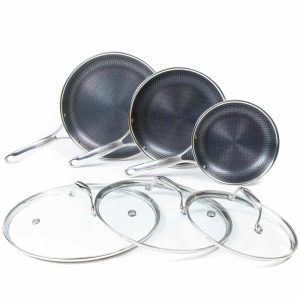 What's Included
12-inch pan
10-inch pan
8-inch pan
3 lids
Pros
This set includes the three most commonly used pan sizes to meet a variety of needs
Works on a variety of cooktops
Scratch-resistant coating
Dishwasher safe
The glass lid allows you to check on your food while it is cooking.
Cons
Some users have found the cookware to have issues with food sticking
Some owners of this cookware have reported problems with the lid.
Overall HexClad Hybrid Non-Stick Cookware 6 Piece Set with Lids Review
This six-piece cookware set can accommodate a variety of cooking needs. The 8" pan is great for sauces and cooking sides, and the 10" pan can be used for cooking common everyday meals. It does not matter whether you cook on a gas, electric, ceramic, or induction cooktop, this set will work for you.
HexClad Pans Reviews
If you are looking for a single Hexclad pot or pan, they have several you can buy directly on their site. Here are the most popular HexClad pan reviews.
HexClad Hybrid Pan Review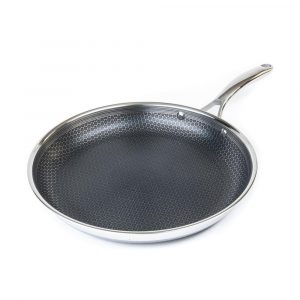 Pros
The pan works on all types of cooktops
The aluminum middle layer allows for even heat distribution
You can cook with little or no butter or oil
PFOA-free design
Handles are designed to stay cool
Cons
The pan does not come with a lid, but one is available to purchase separately
The depth of the 12" pan measures 1 ⅞ inches, which may be too shallow depending on what you want to cook.
Overall HexClad Hybrid Pan Review
Perhaps you do not need a whole cookware set and instead prefer to buy just one pan. Hexclad's Hybrid Pans are available in multiple sizes ranging from 8" to 14". This hybrid pan is great for frying or searing food. It features HexClad's unique hexagon design for optimal use.
To choose the best size pan for you, consider how many people you are cooking for and the types of food you typically prepare. The 14" is the most versatile and can be used for meal prep or preparing food for a large family. The 12" pan is suitable for cooking for multiple people. The 10" pan offers deeper sides so that your food will not spill over. If you are cooking for one or need a small pan to prepare sauces or sides, the 8" pan is your best option.
HexClad Wok Review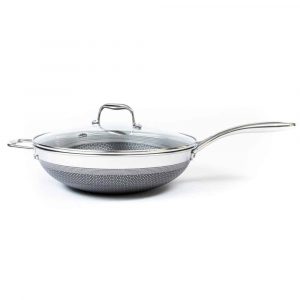 Pros
These woks are deep. The 12" wok option is 3.5 inches deep and the 14" wok is 3 ⅝ inches deep.
The woks are dishwasher safe
The scratch-resistant coating means that if you use metal utensils, you will not easily scratch the pan's surface
The aluminum core allows for even heat distribution and consistent heating throughout the pan
The glass lid allows you to easily monitor your food while it is cooking
Cons
The 14" wok weighs 7 pounds, so some users may find it too heavy to comfortably use.
The diameter of the flat bottom is roughly half the size of the wok's top rim – 7.5" for the 14" wok and 6" for the 12" wok.
Overall HexClad Wok Review
The HexClad woks are available in two sizes: 12" or 14". The 12" wok is sold both with and without a lid. The 14" wok comes with a lid.
If you enjoy cooking stir fry, pasta, or sauces, a wok can be an excellent addition to your home kitchen cookware. These quality nonstick pans offer good heat distribution, resist scratches, and can be used on a variety of stovetop types. They are designed for easy release and require little to no cooking oil. If you have never cooked on this type of pan, you are missing out.
History of HexClad Cookware
The company's two co-founders, Daniel Winer and Cole Mecray, launched the company in 2016. The cookware's popularity is largely derived from its digital advertising and unique direct-to-consumer model, which were not popular at the time.
The founders sought to develop pots and pans that would be great for frying and searing and that food would easily release from while allowing the food to cook evenly in cookware that heats well. Their laser-etched design set them apart from the competition as a brand that uses an innovative design with a distinct look.
About HexClad Cookware
Now that you have seen the best HexClad pots and pan sets. Here is more to know about this innovative company.
What is HexClad?
HexClad cookware is hybrid by design. This means that it includes both stainless steel and an aluminum core to create a nonstick pan. Whether you want to fry or sear food, this type of pan can handle the heat.
Design
HexClad uses a patented design technology that provides an unmatched cooking experience. It is based upon a hexagon design that is laser etched into the cookware. This design results in a series of peaks and valleys specific to the cookware of this brand. The peaks are stainless steel and allow you to sear your food effortlessly and prevent the peeling or flaking of the cookware. The valleys contain the non-stick surface so that you can cook with little to no oil or butter and make cleaning up a breeze. This design allows you to use the metal utensils without worrying about scratching the non-stick surface. Many reviews mention the unique design of the products.
Materials Used
The cookware is tri-ply. There is a layer of stainless steel that is magnetic, then a layer of aluminum, then another layer of steel.
Handles
For cooks who worry about the heat of the handles, you will be pleased to know that the handles are designed to stay cool during use. This helps enhance your cooking experience and keeps the heat from burning you if you move your pan while it is hot.
Pros and Cons of HexClad Cookware
Pros
The cookware is oven safe up to temperatures of 500 degrees Fahrenheit. It is also dishwasher safe. The HexClad Hybrid product line offers the benefits of both stainless steel cookware as well as providing a nonstick coating.
The peaks and valleys created in HexClad's hexagon design mean that you get both a nonstick surface with durable coatings and the long-lasting durability of stainless steel. This means whether you are searing, frying, or preparing food some other way, you can use these pots to cook your food. If you are someone who cooks regularly, you understand the importance of the surface heat quality of your pots. The nonstick surface available in this cookware makes cooking and cleaning easier.
Also impressive is the lifetime warranty that backs up these products. Any damaged or defective products with issues that result from normal wear and tear will be replaced by the company. This is a nice bonus to help you feel better about spending your hard-earned money on the pots and pans.
Cons
Traditionally, non-stick cookware does not last very long. Additionally, if you are looking for cookware pieces that offer various color options to match your kitchen aesthetic, this line may fall short. Several reviews mentioned the lack of color options as a negative. Additionally, be sure to be mindful of whether a lid is included in the cookware piece you are considering buying as sometimes the lid is included and other times it has to be purchased separately. In addition, HexClad only offers one product line at this time, so it has fewer options available than other cookware companies.
HexClad Cookware Care and Cleaning
Do HexClad pans need to be seasoned?
Yes, you will need to complete the seasoning process for your HexClad Cookware before using it for the first time. To do so, the company recommends that you heat your pan to medium-low and spread 1 teaspoon of vegetable oil in the pan. Then, let the pan remain on the heat for 1 – 2 minutes. At that point, you are ready to use your new pan. As you continue to use your HexClad hybrid cookware, the fats in the foods you cook will continue to re-season the pan. You do not have to do the vegetable oil seasoning process before every use.
Is HexClad Cookware dishwasher safe?
Yes, you can place your HexClad pans in the dishwasher or wash them with warm soapy water. The heat of the dishwasher will not damage the pots or pans.
Does HexClad scratch?
This cookware is scratch resistant but it is possible to scratch it. However, the scratch would only be cosmetic and does not impact the cookware's performance.
Can you use soap on HexClad?
Yes, washing your pans with warm soapy water will clean your cookware.
Can you clean HexClad with steel wool?
Yes, due to the hybrid design, you can use a more abrasive sponge such as steel wool to remove cooked on food.
Are HexClad pans healthy?
HexClad is PFOA-free and PFAS free, but it does contain PTFE.
Does HexClad contain PTFE?
HexClad hybrid cookware is PFOA-free but does contain PTFE. Most nonstick cookware contains PTFE.
Does HexClad have Teflon?
No. HexClad does not have any PFAS, the main harmful chemical in Teflon coating.
How Does HexClad Cookware Compare to Other Cookware?
When it comes to making such a large purchase decision such as buying new cookware, there are a lot of elements to consider. Price is one important element. You want to ensure you make a good purchase for the money spent. The cookware features are also very important.
You also need to decide what type of material you want your cookware to have. For example, you can choose between nonstick pans, cast iron, or stainless steel. You may also be concerned about what goes into the construction of the pans, as some pans include potentially toxic chemicals. As you think about how you will most often use the cookware, be sure to consider the desired temperatures at which you would like your pans to be oven-safe. Let's see how HexClad measures up to other cookware brands.
HexClad vs All-Clad
HexClad is a newer company (the trademark was registered in 2016), whereas All-Clad was founded in 1971. While HexClad has a hybrid design, All-Clad is stainless steel cookware. Do you use an induction cooktop? If so, all of the HexClad options are induction-compatible. Only six of All-Clad's collections are suitable for using an induction cooktop. A HexClad pan is made in China. All-Clad's stainless steel line is made in the United States.
There are design differences between HexClad and All-Clad as well. HexClad has one design – the hexagon pattern. The handles are designed to stay cool and are polished. HexClad handles are large, rounded, and riveted to the pan. All-Clad's handles offer a different design. They are stainless steel and riveted to the pan like HexClad's but the All-Clad handles are higher and mostly straight instead of slightly bent like HexClad handles.
The lid also differs between the two brands. HexClad's are glass with a stainless steel rim. Some of the All-Clad lines offer stainless steel lids.
If you prefer more design options, All-Clad is the better choice. The HexClad hybrid cookware features the very distinct hexagon design and there is only one cookware collection available. If you are looking for more variety, All-Clad cookware has seven different cookware collections. All-Clad also offers brushed, polished, or copper-accented finishes for the stainless steel cookware line. The non-stick cookware is available in polished stainless, matte black, or dark gray aluminum options. At this time, HexClad does not offer different finish options.
If you compare HexClad's price to the stainless steel All-Clad collections, the prices are pretty similar. You can check out our full All-Clad review here.
HexClad vs Misen
Both HexClad and Misen are made in China and launched around the same time. Misen began as a Kickstarter campaign in 2015, and HexClad was trademarked in 2016. Misen products are cheaper than HexClad but Misen does not offer a warranty. HexClad is metal utensil safe, whereas Misen is not.
Misen cookware has a brushed stainless steel exterior and the non-stick pan features a silicone-wrapped handle. HexClad's handles are designed to stay cool while cooking and do not have a silicone wrap. Both companies' cookware is induction-compatible. If you plan to place your pans in the oven, you need to be aware of the temperature limits. HexClad cookware is safe up to 500 degrees Fahrenheit. The maximum temperature for Misen cookware depends on which product line you buy. The stainless steel pans are safe up to 500 degrees. The non-stick line is oven safe up to 450 degrees Fahrenheit while the carbon steel line is safe up to 900 degrees Fahrenheit without the silicone handles.
Misen's stainless steel line uses a 5-ply fully-clad construction. The outer layers are stainless steel and there are three core layers made of premium aluminum and aluminum alloy. The non-stick cookware line is finished with a PFOA nonstick coating. HexClad cookware is PFOA-free.
Both of these cookware companies offer limited options and have not been around long enough to determine the long-term durability of the products after extensive use. Non-stick cookware tends to have to be replaced more often, which users and companies justify by the typically lower purchase price when compared to stainless steel cookware. However, HexClad cookware is priced higher and more aligned with stainless steel lines, even though it does not last as long as traditional stainless steel cookware.
You can read our full Misen pans review here.
HexClad vs Caraway
Caraway cookware is ceramic coated and is made without harmful chemicals. Their product line includes a fry pan, saute pan, sauce pan, and dutch oven. There are also various color options including cream, peach, navy, and sage, among others. The saute pan, saucepan, and dutch oven come with a matching lid. The ceramic-coated interior makes this pan a durable non-stick option. This makes cooking and cleaning easier.
The ceramic non-stick design of Caraway cookware means that the products are non-toxic and eco-friendly. The pans are naturally slick which means you can use less oil or butter when cooking. This also keeps food from sticking to the pan which makes cleaning up easier. HexClad cookware also offers non-stick elements and is PFOA-free. However, HexClad, like most non-stick cookware products, contains PTFE.
If you like a pop of color in your kitchen, Caraway is a great option for quality non-stick cookware that is non-toxic and aesthetically appealing. You have more color options with Caraway than you do with HexClad.
HexClad offers some nice features that are missing from Caraway products. Stay cool handles are a notable feature that HexClad has that Caraway does not. In addition, the HexClad lids are glass so you can visually check on your food while cooking. You cannot see through Caraway's lids.
Caraway offers a "Try Before You Buy" program where you can try out certain products for 7 days before deciding if you want to buy the item(s). You can find our full Caraway review here.
HexClad vs Scanpan
While HexClad is relatively new to the cookware market, Scanpan offers a long track record of performance and a durable design. Scanpan is made in Denmark while HexClad is made in China.
Scanpan offers more products than HexClad and includes more options for customers to choose from. For example, Scanpan's Classic Collection alone has nearly 50 pieces.
HexClad uses a 3-ply construction of steel, aluminum, and steel. Scanpan uses either cast aluminum or a 5-ply construction design. The 5-ply construction means that instead of one layer of aluminum in the middle like HexClad, there are three layers of aluminum. The other Scanpan option is a cast aluminum base that is more durable and not susceptible to warping. HexClad does not offer anything like this at this time.
Products from both companies are safe in the oven up to 500 degrees Fahrenheit. While all HexClad products are induction-compatible, only certain Scanpan lines are suitable for use on an induction cooktop. HexClad and Scanpan's Stratanium line are both metal utensil safe.
The handles differ between the two companies. HexClad handles are riveted and designed to stay cool. Scanpan handles are rivetless and are either Bakelite or steel.
Some users have found that the hybrid design of HexClad can cause some cooking difficulties. This is especially true of eggs or fish as they are more likely to stick to the pan. It has been commented that some recipes are better served by a truly non-stick or stainless steel pan, as opposed to a hybrid option.
Scanpan cookware tends to be cheaper than HexClad but the non-stick surface does not last as long. You can read more in our Scanpan review here.
HexClad Cookware FAQ
What pans does Gordon Ramsey use?
Gordon Ramsey uses Hexclad Pans in his kitchen at home.
Is HexClad Induction Compatible?
Yes. Due to its tri-ply design, HexClad Cookware can be used to cook on an induction stovetop as it has a layer of magnetic stainless steel on both sides of the pan.
Where is HexClad Cookware made?
HexClad is headquartered in Los Angeles, California, U.S.A. but the cookware is manufactured in Asia.
What is HexClad Cookware warranty?
HexClad Cookware offers a lifetime warranty.
Is HexClad Cookware safe?
Yes, the cookware is safe. The aluminum layer does not come into contact with your food and the nonstick ceramic coating on the pots and pans is free from harmful chemicals.
Is HexClad Cookware good?
HexClad offers a unique concept with its hybrid cookware. The products have received positive reviews on Amazon with an average rating above 4 stars. 
Why Should You Buy HexClad Cookware?
If you want to buy multifunctional cookware that provides the benefits of non-stick cookware combined with the durability of stainless steel pans, HexClad Cookware is a good option. The unique laser-etched hexagons provide an enhanced cooking experience. Heat is distributed well for a better cooking experience.
Where can I buy HexClad Cookware?
You can buy HexClad Cookware directly from their website or via Amazon. Sometimes Costco also sells the products, but be advised that Costco's inventory can change frequently.
Does HexClad Cookware Have Promotions & Discounts?
Yes. At times, HexClad runs promotions or sales. Reviews of the fine print indicated that only one discount code can be used per order on their website.
Click here to buy this cookware  
HexClad Cookware Review Final Thoughts
HexClad offers hybrid cookware that is unique in its design and functionality. If you are looking for the benefits of nonstick cookware combined with magnetic stainless steel, this set is worth checking out. Its innovative design allows for heat to be distributed evenly and the pans can be placed in the oven at a temperature up to 500 degrees of heat. If you are looking for quality pans and do not mind investing your money in a durable set with quality reviews, this cookware set could be a worthwhile purchase. Home cooks know that the quality of the pan's construction can greatly impact the cooking experience. HexClad's hybrid cookware can be used on a variety of types of stovetop cooking surfaces which makes this tri-ply cookware optimal for a wide array of cooking needs.
This HexClad Cookware review discussed the history of the company, provided an overview of its design and construction, analyzed several options, and compared HexClad to other brands.