What is Pakkawood?
Pakkawood is a hardwood laminate material that is used in household products such as knife handles, cutlery, and other cooking utensils. It is a dense, durable material that is heat and moisture-resistant. It is made from engineered wood (impregnated wood veneers) and a composite resin that is better than the typical wood it is used to replace.
Because of its added durability and washability, it is a better choice than wood in both knives and kitchen utensils.
It is also known as Dymondwood, Staminawood, or Colorwood.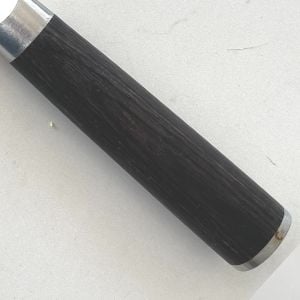 Where do you use Pakkawood?
Because of its composition and durability, pakkawood is commonly used in kitchen utensils and cutlery. The most likely place you will see pakkawood is in kitchen knife handles. They have the look of woodgrain and a shiny resin coating on them which helps make them longer lasting. They are also a feature on our top kitchen knife set.
Here is where you will likely see this natural wood.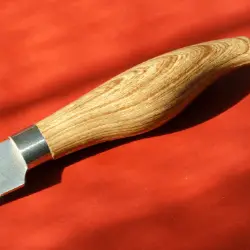 Cooking spoons and spatulas
Because of its durability pakkawood is great for cooking spoons and spatulas. It's water-resistant and the fact that it is wood means it will not scratch the coating on non-stick pans. This is an important feature because once the surface of a nonstick pan is scratched it damages the integrity of the non-stick coating.
Pool cues
Pakka wood is commonly used as a breaking cue due to its strong material. It has excellent durability and if you're looking for something that lasts, this is an option you should consider.
Kitchen knife & Tactical knife handles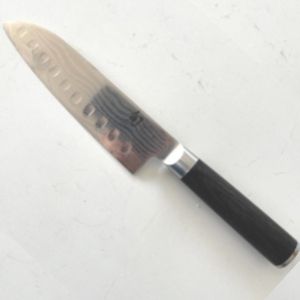 Last but not least, pakkawood is used to make knife handles because of its water-resistant properties. Pakkawood handles are often found on kitchen knives and steak knives because they won't crack or discolor like natural woods would when exposed to regular use over time.
If you enjoy working with wood in your spare time, it's possible for you to purchase pakkawood material from DIY stores. My father-in-law recently order it for the custom knives he is building and they are worth the added cost.
If you're looking for a great knife handle material, Pakkawood is one of the best options. It's got an appealing look and the wood is very durable.
Where is Pakkawood from?
Pakkawood was developed in Egypt. It is an overarching term for wood veneers that consist of several layers of hardwood. It is a very common thing to see on many of your kitchen essentials.
Is Pakkawood better than regular wood?
Pakkawood has several benefits over regular wood. Pakkawood material is durable, moisture resistant, heat resistant, and has a nice glossy finish. Whereas natural wood is less durable, can splinter and absorb water.  This makes pakkawood a more desirable option for handles. It will also not scratch your non-stick cooking pans, which happens when you use a steel material on a non-stick surface.
Want to know more about knives? Read this post on the different parts of a knife.
Can you color Pakkawood?
Yes. Pakkawood can be colored in a variety of different colors to appeal to the aesthetic of your home. The colors can range from a natural light wood such as maple to a darker walnut wood. You are also able to give your pakkawood a different color than a woodgrain look.
What is Rainbow Pakkawood?
Rainbow pakkawood has a rainbow look to it. It has the appearance and weight of hardwood but is much more durable.
Here is an example of rainbow kitchen utensils made from pakkawood.
Which knife companies use Pakkawood material?
Many of the knife companies that use pakkawood are the ones that offer a limited lifetime warranty on the knife because of the durability of the handle that pakkawood provides. You can find it on many household items in your kitchen essentials.
Pakkawood Utensils
There are many manufacturers of pakkawood utensils, and they come in a variety of styles. The look of these utensils is very unique and will have your guests asking you where you got such interesting-looking items.
As a bonus, because it is made of wood, you can use many of these items on your non-stick cookware. See some of them here.
There is this set of ice cream bowls and a scooper.
How to Care For Pakkawood
If you are wondering how to care for pakkawood, it's pretty easy. To care for your knives and utensils was them by hand with soap and water. After you have rinsed them off, immediately dry them to avoid any water damage.
When you clean them, make sure to pat them dry immediately after. You can care for them using mineral oil such and tung oil and wiping it on with a soft cloth.
Because pakkawood consists of wood and resin, soaking it is not recommended.
How do you polish pakkawood?
If your pakkawood is fading in color and has a laminated finish, you can try polishing it with mineral oil.
Is Pakkawood Dishwasher safe?
No, while the material is water-resistant, the wood veneer on it can be damaged by the water and soap with prolonged exposure like you would have in a dishwasher.
What is Pakkawood?
Bottom line: Pakkawood is natural wood with a veneer coating that is a more durable material than regular wood. It is both heat and water-resistant, making it a better handle choice for several household products such as the best chef knives. The polishing and sanding that goes into a finished handle make it a highly sought-after finished product.