Cookware sets are an essential part of any kitchen. After all, a home cook can't make amazing food without something to cook it in! When it comes to cookware sets, you have a ton of different options depending on your personal preferences, needs, and budget.
Cookware sets come in a variety of materials, sizes, and prices so it's important to know what you need in relation to all of your household essentials. When shopping for sets, it's important to consider several different factors. Here are the best cookware sets for any kitchen on any budget.
Best Cookware Set of 2022!
HEXCLAD PATENTED TECHNOLOGY: The hexagon design is created through a laser etching process to provide both stainless steel and non stick surface. This dual surface allows your large wok to sear still while using less oil, grease, and butter.
WHY CHOOSE HEXCLAD: Featuring a patented laser-etched hexagon design and tri-ply construction, HexClad is PFOA-free, oven safe up to 500 degrees, stovetop, and induction range-ready. It features stay-cool handles for a premium cooking wok experience.
HIGH-QUALITY MATERIALS: To create a durable nonstick wok built to last requires a tri-ply construction. The first and third layer is stainless steel for sturdy non-stick features, while aluminum in between conducts consistent, even heat distribution.
EASY CLEAN & SCRATCH RESISTANT: The Hexclad 14″ big wok and lid is dishwasher safe and can be cleaned using scorching, or steel wool pads since it is scratch-resistant won't scuff or wear down from the use of metal utensils.
LIFETIME WARRANTY: As Hexclad's dedication to quality to perfection, all non stick cookware is backed by a lifetime warranty. Sautéing and stir-frying vegetables or fry burgers, hotdogs, egg, meat, or fish. Add it to your nonstick cookware sets.
Best Stainless Steel Cookware: 360 Cookware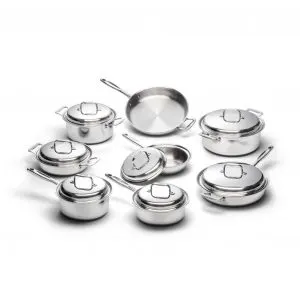 If you're a home cook looking for the best stainless steel cookware for gas stoves, look no further than 360 Cookware. These pots and pans are made of three metal components: a surgical-grade steel cooking surface, an aluminum core, and a T-400 Series stainless steel exterior.
The high-quality stainless steel surface ensures long-lasting durability and tasty cooking, while the aluminum core provides rapid, uniform heating. The handles on this pan are designed to keep you cool while cooking. Its waterless cookware design allows food to be cooked quicker and at a lower temperature without the use of oils/fats or water, thanks to Vapor Technology.
The 360 cookware set, which comes with a stainless steel cover and aluminum core, is an excellent choice for gas stoves and electric cookware. These stainless steel pieces will quickly and effortlessly adapt to the flame's temperature.
It is a more energy-efficient choice that includes vapor technology, resulting in a lower overall temperature. Using the cookware on an electric stove is even easier. Making this stainless steel cookware a great addition to any kitchen.
Overall, the 360 Cookware set is highly recommended to anybody seeking stainless steel cookware that they can use on a gas or electric stove. Its construction is of generational quality, and the Vapor® Cooking allows for energy-efficient, healthy cooking.
As a reader of Millennial Homeowner, you can save 25% when you use the code "Millennial25" when you buy direct.
Click here to buy this cookware
Best Cookware For Glass Stoves: Caraway Ceramic Cookware Set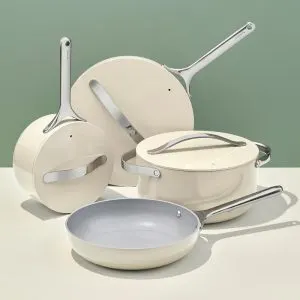 As our top choice for best ceramic pans and best cookware for glass stoves, the Caraway Ceramic Cookware Set is a top-of-the-range brand in ceramic coated cookware, with a reputation as one of the best. I know that those kinds of claims usually point to expensiveness, but not in this case!
At a very affordable price, this set gives you a range of ceramic cookware essentials, from a dutch oven pot to a range of different ceramic pans; this set has all the fundamentals to get you going in the kitchen.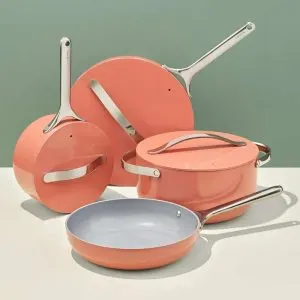 Rated with a staggering 4.8 out of 5 average by real customers, the Caraway Ceramic Cookware Set is worth every penny and is indeed the top of the range in the realm of ceramic cookware. It's high quality cookware that's extremely durable.
While Carraway products do not come with a lifetime warranty, the limited warranty may be sufficient in this instance. It is difficult to beat this brand in terms of quality and reputation, not to mention affordability.
The aluminum core is an excellent conductor of heat. Regardless of your cooking style, it heats evenly. If you're a home cook who wants a reliable cookware set, whether you're frying chicken or simmering tomato sauce, these pans perform well at a reasonable price.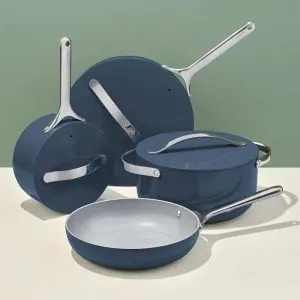 Overall, I strongly recommend this set to anyone looking to enter the ceramic cookware lifestyle because not only does the cookware look great in your kitchen (it comes in several colors), but its safe and healthy results will have you jumping for joy! Learn more about ceramic cookware in our Best Ceramic Cookware post.
Click here to buy this cookware
Best Copper Cookware: Amoretti Bros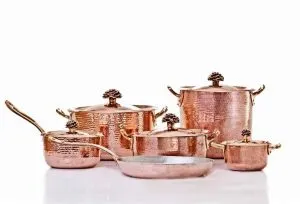 The Amoretti Brothers Copper Cookware Set of 11 with Flower Lid is a great choice for revamping your kitchenware. The hammered finish and flower lids are simply gorgeous and make this set stand out from the rest. While the copper cladding is a bit thin at 2mm, this set includes a variety of different pans and pots that are perfect for any kitchen.
So if you're looking to upgrade your cookware collection to some of the best copper cookware out there, be sure to check out the Amoretti Brothers Copper Cookware Set of 11 with Flower Lid. You won't be disappointed!
Click here to buy this cookware
Best Granite Stone Cookware: Ballarini Cookware
Granite cookware is all the rage these days, and for good reason. This Ballarini set is a great way to get started with this innovative cooking material. It is our best granite stone cookware, and it's easy to see why. The pots and pans are coated with PFOA-free mineral reinforced nonstick porcelain, so your food will come off easily – no scraping or struggling required.
Plus, the ergonomic handles stay cool under high temperatures, so you can comfortably cook without any risk of burns. The aluminum core ensures even heat distribution throughout the cookware, so your food will be cooked evenly every time.
And with tempered glass lids, you can keep an eye on your food without having to remove the lid and lose heat. Whether you're a beginner or an experienced cook, this Ballarini set is sure to make your granite cooking experience a breeze.
Click here to buy this cookware  
Best Titanium Cookware Set: Heritage Steel 5 Piece Essentials
Are you looking for the best titanium cookware set that is resistant to corrosion and easy to clean? If so, then you should consider investing in the Heritage Steel 5 Piece Essentials Cookware Set. This is our top choice for titanium cookware.
This titanium-strengthened cooking surface is 20x more resistant to corrosion than other surfaces, and it is also chemically inert, preserving the taste and health of the food you cook.
In addition, their 5-ply construction uses multiple layers of metal for enhanced heat conductivity and durability. The exterior titanium-strengthened 439 steel will maintain its luster for a lifetime of cooking. The ergonomic handle is comfortable to hold and will not overheat on the stove. Plus, all of the cookware is made in the USA and comes with a lifetime warranty.
This Heritage Steel 5-piece set includes a saucepan, sauté pan, and frying pan for a basic all-purpose cookware set. The materials include top-of-the-line titanium-strengthened stainless steel and a triple-layered aluminum core that is one of the most durable 5-ply constructions available on the market today.
Click here to buy this cookware  
Best Budget Cookware: Green Life
If you are looking for the best budget cookware set, the Green life set is hard to beat. It's the best cookware set for under $100.
I like this cookware set because it comes with a two-year warranty. It's also oven safe up to 350 degrees Fahrenheit, and the nonstick coating is derived from sand. You can choose between seven different color options, which is really cool.
This cookware set comes with a lot of pieces, including nonstick pans, so it's perfect for someone who is just starting in the kitchen. I would definitely recommend this to a friend as a starting point. You have all the pieces of cookware you would need, and then there are a bunch of other tools to help you get started as well.
Plus, having a nonstick surface makes clean up easier, and we know that makes home cooks happy.
Click here to buy this cookware
List of Cookware Essentials: Pots and Pans
When you are building up your kitchen essentials, you will want to have the pans that make sense for you and your family. There are many extra pans and many pans that you can do with and some you can't live without. Here is a quick list for you to help.
Saucepans:
Small saucepan: perfect for cooking sauces and heating up soup or small side dishes
Medium saucepan: great for cooking pasta, rice, and other larger meals
Large saucepan: perfect for making big batches of soup or stew
Pots:
Small pot: ideal for boiling eggs, making oatmeal, or cooking small vegetables
Medium pot: perfect for larger meals like chili or fish stew and boiling water
Large pot: great for pasta dishes, big batches of soup, or even boiling lobsters
Skillets and frying pans:
Small skillet or frying pan: perfect for cooking eggs, bacon, or small vegetables
Medium skillet or fry pan: ideal for sandwiches, grilled chicken, or fish
Large skillet or fry pan: perfect for big meals like stir-fries or fajitas
Baking pans:
Cookie sheet: necessary for making cookies, of course!
Brownie pan: perfect for, you guessed it, brownies! But also great for sheet cakes and other desserts
Bundt pan: ideal for making coffee cakes, quick breads, and other yeast-free recipes
Roasting pan: perfect for cooking a whole chicken or large cuts of meat
Other essential cookware:
Stockpot: perfect for making soup, stock, or large batches of pasta sauce
Slow cooker: necessary for making slow-cooked meals like roasts, stews, and chili
Rice cooker: an essential for anyone who loves rice dishes or Asian cuisine
Steamer: great for cooking vegetables, fish, and dumplings
Pressure cooker: perfect for making quick meals like rice, beans, and soup
Double boiler: necessary for recipes that require gentle heat, like melting chocolate or making custard
Sauté pan: perfect for cooking vegetables, chicken, fish, and more over high heat
Dutch oven: a versatile pot that can be used for braising, stewing, and baking
Cast iron skillet: perfect for cooking over high heat or in the oven, and it only gets better with age!
These are just a few of the essential pots and other pans you need for a fully stocked kitchen. With these basics, you'll be able to make almost any recipe you can imagine.