If there's any kitchen essential appliance out there that represents the modern era and a new generation of home cooking, it has to be air fryers. Of course, not all air fryer appliances are made equal. So, you'll want to pay close attention to our Emeril Air Fryer 360 Reviews as we give a full breakdown of what you can expect out of this intriguing new appliance.
If there's one word I can use to describe the air fryer, it's "easy." Making delicious foods has never been so effortless. Once we've covered the features, benefits, and pitfalls of the Emeril air fryer 360, we'll give a quick comparison to one of Breville's versions and wrap things up with a FAQ section to clear the air about any concerns you may have.
Overall Emeril Air Fryer 360 Review
Editors' Choice
360° Quick Cook Technology
1500-Watt countertop oven – 40% faster than regular ovens
12 Cooking Functions: Air fry, bake, rotisserie, dehydrate, toast, reheat, roast, broil, bagel, pizza, slow cook, and warm / reheat. 930 cubic inch capacity
Includes a crisper tray, rotisserie spit, pizza rack, baking pan, drip tray, and cook book with recipes written by Emeril himself!
Trusted Emeril Lagasse Quality
All-in-all, the Emeril Lagasse power air fryer 360 is a top-quality air fryer, oven, baker, slow cooker (the list goes on!). It delivers effortless and exceptional results no matter what dish you decide to make. The best part is you get far healthier foods using this cooker instead of a standard fryer that, more often than not, is over-saturated in oils and seasoning.
For most of us, it makes sense to invest in something convenient, affordable, healthy, and safe! Don't just take my word for it, though. Check out what the 10,000+ global customers are saying about this air fryer. It has received a generous 4.5-stars on Amazon reviews.
In particular, this product has lots of versatility of use (no surprise there), the flavor of food produced, and its ease of use (again, no big surprise). So do yourself a favor and click one of the links below to see what customers are saying about the Emeril Air Fryer 360.
Description
The Emeril Air Fryer 360 is a 9-in-1 kitchen appliance that enables lots of different types of cooking. The countertop appliance works as a fryer, broiler, roaster, pizza baking pan, rotisserie, slow cooker, toaster oven, dehydrator, and more! It has five heating elements, 12 pre-set smart buttons, custom toasting, and a memory feature.
What's Included
Emeril Lagasse Power Airfryer 360 (Stainless Steel)
XL 930 Cubic Inch Capacity
12 Cooking Functions
Chef's Accessories
Air Fry Crisper Tray
Drip Pan
Baking Pan
Rotating Rotisserie Spit
Pizza Rack
Recipe Book
1500 Watts
Features
The Emeril Lagasse Power Airfryer 360 features a Quick Cook turbo heat technology that cooks food in a whirlwind of superheated hot air, wafting about those delicious, crispy flavors. Additionally, you get up to 70% fewer calories than if you use a typical deep fryer, so get ready for a healthier lifestyle!
The Emeril Air Fryer provides all the necessary equipment such as a pizza rack, baking pan, drip tray, and even a recipe book to inspire some ideas in that chef's mind of yours. It comes with a wide range of accessories to get you going in the kitchen!
You can enjoy cooking a vast range of recipes with the air fryer. This includes pizza, french fries, rotisserie chicken, roast lamb, bagels, or some excellent dessert options such as cookies and cake!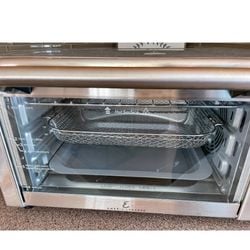 Settings
This air fryer comes with five heating elements that let you tackle just about any recipe by converting it from a regular oven to a standard air fryer or even a slow cooker. The settings come with 12 preset functions: Air Fry, Reheat, Toast, Bake, Rotisserie, Dehydrate, Roast, Broil, Bagel, Pizza, Slow Cook, and Warm.
You can also set the air fryer to remember a cooking method using the Memory Feature setting. It allows you to preset time and temperature for cooking, so you get the perfect results by your liking.
Controls
The controls are pretty simple, as the Emeril air fryer comes with a user-friendly LCD control panel. The panel lays out the fryer's 12 options for cooking. This makes it easy to navigate to the programmable functions, used for storing your personalized cooking time and temperature settings.
Then, under the screen are a few dedicated buttons and a couple of dials. These control the temperature, cooking time, and heating elements that you wish to use for your cooking ventures.
Performance
In terms of performance, the Emeril Lagasse Power Air Fryer 360 boasts an incredible reputation for producing delicious foods of all kinds. It's a versatile yet high-quality heating tool with good temperature control. Using the combination of Quick Cook Turbo Heat Technology to put you in command of your recipes, the result is a perfectly balanced multi-cooker machine.
The air fryer provides deep frying, slow cooking, and a considerable range of bake functions that outshines many other appliances in this category. As a result, the Emeril Power air fryer is the ultimate cooking unit for your kitchen counter. In particular, it has got a pro-grade dehydrator and rotisserie basket.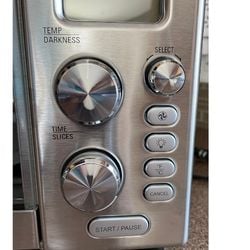 Design
Built with durable stainless steel with firm gripping legs and a nice compact size, you can fit the Emeril Power air fryer 360 just about anywhere in your kitchen. It also comes with an interior light so you can see what's going on. The door to the oven air fryer opens easily via a stainless steel handle and closes securely for the cooking to take place effectively.
Finally, the LCD screen and control panel features dials and buttons for easy use and navigation no matter what you decide to cook. There are also many cooking accessories and even a recipe book written by Chef Emeril to help you on your way!
Functionality
In terms of functionality, the Emeril Lagasse power air fryer 360 can perform a range of cooking tasks, such as toasting up to six slices of bread. You can also cook up some delicious chicken wings using the extra accessories such as the additional crisper trays. The rotisserie spit unlocks even more recipes.
The Emeril air fryer function lets you fry anything you otherwise would have done via hot oil frying. This includes nuggets, french fries, onion rings, and fish n' chips. In addition, this 1500 watt countertop oven can cook 40% faster than regular ovens. And it does it all while keeping the noise level to a minimum.
Setup
To set up your Power air fryer 360, plug in the cord to a nearby power outlet and turn it on. Of course, how you set up the additional accessories will vary depending on what you decide to cook! For pizzas and other related dishes, insert the pizza rack into the oven by opening the door and sliding it through.
For a rotisserie chicken, slide the rotating spit through your whole chicken and hang each edge up in the respective holes of the oven. There are plenty more ways to set up your Emeril air fryer, so be sure to check out the instruction booklet to get it set up. It'll tell you how to work the accessories and set the proper cooking time and temperature using the dials and buttons.
Pros
9-in-1 cooking functions allow you to tackle many recipes with a single appliance.
Adjustable temperature and cooking times will allow you to customize and preset your preferred cooking method.
Plenty of additional accessories lets you save on kitchen equipment and cook a greater variety of recipes.
Reduces up to 70% of the calories produced with regular oil-based fryers resulting in healthier meals.
Easy to use control panel and LCD screen.
A recipe book and instructions are included, helping the user set up and be inspired with cooking options.
Cons
Food may be more susceptible to burning if not careful due to the rapid heating technology used.
Maybe a little small for large families.
Emeril Air Fryer 360 vs Breville
An air fryer very similar in design and functionality is the Breville Smart Oven Air Fryer Pro. It sports a stainless steel construction as well as a digital display, dedicated control panel buttons, and two dials just like the Emeril Lagasse Power Airfryer 360. The main differences come with the power output, Breville having the upper hand with its 1800 watts compared to Emeril's 1500 watts.
Another thing to note is Breville has an extra preset called "proof," which is essential for baking bread. Lastly, Breville does have a more extended warranty period of 2-years as opposed to Emeril's 90-day warranty. As you may expect, these additional features come at a higher price. So, expect to pay a bit more for the Breville than Emeril.
Check out the Breville Air Fryer here 
FAQ
What company makes Emeril air fryer?
Emeril Lagasse is the official brand name of Emeril air fryers, a company named after professional chef and founder Emeril Lagasse.
Which Emeril AirFryer is best?
The Emeril Lagasse power air fryer 360 is likely the best that Emeril offers due to the sheer versatility that leads to so many recipe possibilities. Other Emeril air fryer options include the Elite Home 6-in-1 air fryer, the 4 Quart Digital air fryer, and the Pressure air fryer.
Where is Emeril air fryer 360 made?
Emeril air fryer 360 and other Emeril kitchen appliance products are made in China and distributed globally through many third-party websites such as Amazon's online store.
Is Emeril air fryer 360 a good brand?
Absolutely! The Emeril air fryer 360 is a product loved and trusted by many home cooks worldwide. it is also backed by the professionalism of chef Emeril Lagasse who strives for only the best quality in cooking appliances.
What is the Emeril air fryer 360 warranty?
A 90-day money-back guarantee backs the Emeril air fryer for any reason that causes customer dissatisfaction with the air fryer. Just ensure the product is in good condition and you have your receipt handy before returning your air fryer.
Emeril Lagasse air fryer 360 Review: Is it worth the money?
At such an affordable price point, it's hard to believe just how much this air fryer can do in such a compact and lightweight design. But, as the saying goes, "big things come in small packages." The air fryer comes with 12 preset cooking settings, five heating elements, and a truckload of assisting accessories to help you tackle just about any recipe.
But, in all honesty, I feel calling it an "air fryer" does not do it justice because it is so much more than that. We are talking about a product that can fry, bake, grill, slow cook, broil, roast, dehydrate, the list goes on. Bake yourself up a morning bagel for breakfast, spin up a rotisserie chicken for lunch, and whip up a slow-cooked lamb roast for dinner, all using this 9-in-1 air fryer.
The best part is you'll be doing yourself a solid and cutting back on all those nasty, fat-inducing oils. They do far more harm to your health than good. Of course, you don't want to lose any of the delicious taste of fried foods. But this time, both your tongue and tummy will be happy.
Health benefits aside, I also want to mention how easy it is to use the Emeril air fryer. It comes with enough preset cooking options to get you started on basic recipes at the push of a button. That's something you won't find with your oven. So, be sure to take full advantage of the 12 presets and five heating elements to cook all of your favorite food the healthy way and the right way.
Related: