The Vremi Food Sealer is the latest in vacuum sealing technology and easily one of the best brands on the market today! If you would like to know more about this awesome kitchen innovation, then you've come to the right place. In this Vremi Food Sealer review, I will be taking you on a journey through the wonders of food sealing and covering everything you need to know so that you can decide if you want a taste of vacuum sealing greatness!
Before we dive in, Vremi graciously provided us with their food sealer to do a full review of their food preservation system.
What's included: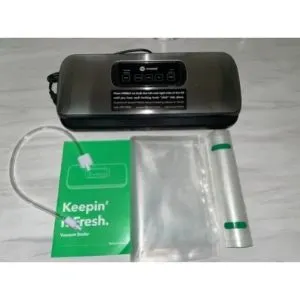 The Vremi food preservation vacuum sealer comes with the following items:
14.2 x 5.9 x 3-inches Vacuum Sealer Machine
3.5 ft. Power Cord
5 Pre-cut Bags
Bag Roll
15.7-inches Suction Tube
Features of the Vremi Food Preservation Vacuum Sealer
This vacuum sealer comes with a range of settings that enhances the vacuum sealing properties of all kinds of foods so that you always get the best results. Equipped with a food settings trigger that provides options for "dry" and "moist," this appliance caters to solid items and moist foods to optimize the sealing process.
As such, in addition to preserving foods like meat and vegetables of varying textures, you can also secure liquid food such as soups and curries simply by changing the settings using the soft-touch digital control.
Lock the aroma freshness and taste of all kinds of foods, dry or moist, solid or liquid, using the control buttons and LED indicator for a secure airtight heat seal that also works on vacuum jars.
Plan your meals with this automatic vacuum sealing machine that provides a mode for storing that locks in the taste of your food for days, allowing you to store it in the freezer as needed.
Included on this electric vacuum sealer is a range of LED indicator lights with touch digital control buttons and 7 different features to facilitate the sealing process:
Sealing Bar – The heating element that seals the bag
Locking Hooks – This allows you to latch the sealing machine on the left and right edge
Vacuum Chamber – Suction pump removes air from sealed bags
Vacuum Nozzle – Sucks air out and allows you to vacuum jars, containers, and even wine stoppers
Canister Vacuum – Activates vacuum process when canister hose is attached to the nozzle
Release Button – Unlocks and opens the lid to remove the sealed bag
Rubber Feet – Grips your kitchen countertop firmly and stays in place
Pros
Fully automatic vacuum sealer with wide sealing strip
It sucks out air and keeps moisture out
Prevents freezer burn for goods stored in the freezer
Suction hose included in the starter kit
Dry mode and wet mode settings for solids and wet food
Modern design that fits well on countertops
Includes sealable bags and roll bag
Affordable price from a well-reputable brand
Compact and light-weight with a weight of just 3.1 pounds
Positive user reviews from Amazon and related sites
1-year warranty (1)
Cons
The Free Return policy ends after 30 days
It does not include a canister jar sealer or bottle stopper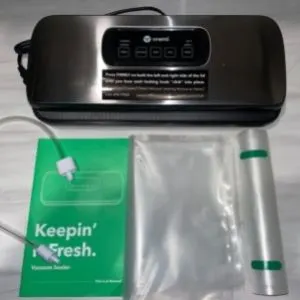 How do you use it?
To use the Vremi food preservation vacuum sealer, you simply need to align a bag with the appliance by inserting the vacuum sealer bag into the chamber, ensuring that the open end is facing towards the machine. You then close the sealer lid by pressing down on it until you hear a "click" sound, indicating that the vacuum sealer has been secured.
Next, you can choose whether to "seal" or "vac seal," depending on whether you wish to seal your food in a regular manner, for example, your sandwich for lunch, or whether you want to seal your food to lock in the flavor and cook for later, for example, a piece of raw, seasoned meat. After about 20 seconds (or 10 seconds for regular setting), you can proceed to press the release button, and voila! Your sealed food is ready to go.
Sealing jars, containers, or wine stoppers are a little different, and that's where the provided air suction hose comes in handy. Measuring in at 15.7-inches, this tube allows you to connect to a container via the nozzle, provided that your container has an air-hole provided, and essentially sucks out all the air from your container. This allows you to seal soups, sauces, and curries that are kept in jars or containers, enabling an extended shelf-life that keeps your food fresh for up to 5 times longer than traditional storage methods.
How do you clean it?
The first thing to note down is, by all means, DO NOT place this appliance in the dishwasher, as it contains electrical circuits that will most definitely be damaged.
To clean this vacuum sealer, wipe the exterior using a damp cloth or paper towel and ensure your cleaning item is not too wet, as you do not want to damage any of the electrical components.
Next, use tissue paper to clean the chamber, ensure it is not wet, and ensure the appliance is completely dry upon your subsequent use. While there are important things to avoid, cleaning your vacuum sealer is actually a straightforward procedure once understood and put into practice.
What is the best vacuum sealer for home use?
Vremi's vacuum sealer is indeed among the best food preservation systems on the market, and for a good reason. Firstly, it is an entirely automatic vacuum with a vacuum power of 100 watts, meaning it goes above and beyond to get the job done. It also has a price point that is very accessible to the public and is certainly not an exclusive item for fine-dining restaurants, though the results may make you feel that way.
Vremi's vacuum sealer has an advantage over its competitors for a couple of reasons: it makes no loud noises, and the other is that it produces consistent food seal results. Its excellent customer reviews on Amazon are also a factor, and the added bonuses included in their box sets, such as the roller bag and vacuum tube.
To top it off, this vacuum sealer is relatively light and compact, weighing in at 3.1 pounds, making it a very portable appliance that is convenient and easy to handle. In addition, this vacuum is made to be stain-resistant, maintaining a stunning look that fits nicely in your kitchen for the long run.
How long does the vacuum seal last?
The vacuum sealer encloses the bags in an essentially permanent manner to secure them until you cut them open. In terms of freshness, the vacuum sealer keeps your food lasting about 5x longer than usual, so if your sealed meat is due to go off in two days, then it may well last for a full ten days instead.
You can expect your frozen meat to last longer too once sealed, as the sealed bag prevents freezer burn from occurring, that is, the build-up of frozen particles infesting your food. This happens due to dehydration and oxidation that occurs to your food from extended periods in the freezer. Thus, when using a vacuum sealer, you no longer need to worry about that frozen meat or other frozen food that you've stored in the freezer and completely forgotten about!
Do you need a vacuum sealer for sous-vide?
Technically, you do not need a vacuum sealer for this type of cooking, despite the French name for "under vacuum." In reality, you can use a regular zip-style resealable bag to get started with under vacuum cooking, as all you need is the water bath set, heating rod, and a plastic storage bag for your food.
Nevertheless, a vacuum sealer will ensure the best results for this cooking method for an array of reasons. Not only will the vacuum sealer ensure that your food is perfectly sealed with no gaps that could be detrimental, but it also locks in the flavor of your food, and in the case of meat, it most certainly maintains its volume too.
Is a vacuum sealer worth it?
A vacuum sealer is worth it, particularly this top-of-the-range item, as it has a price point that makes it widely available and accessible to the general public. More generally speaking, a vacuum sealer can save you so much hassle, such as short shelf-lives of some products, loss of flavor when cooking, and freezer burn.
As a lesser-known mechanic, you can also use this device simply to secure your afternoon sandwich lunch safely, as this method is far more effective at maintaining freshness than those regular zip-style reusable plastic pockets.
In terms of customer reviews, this vacuum sealer has scored a convincing 4.3 stars on Amazon reviews, making it a well-rounded food vacuum that delivers solid results. This vacuum device is very much worth the price for anyone interested in experiencing the benefits of superior storage, under-vacuum cooking, extended freshness, and saying goodbye to freezer burn!
Where can I buy a Vremi Vacuum Sealer?
You can purchase the Vremi vacuum sealer from the company's website via their online store, or you may opt to use third-party websites such as Amazon.
Final Thoughts on the Vremi Vacuum Sealer
The Vremi food preservation vacuum sealer is a strong candidate for the best automatic vacuum sealer on the market today. I appreciate that it is pretty compact and easy to transport, with only 3.1 pounds of heaviness, and is also one of the "less noisy" brands out there.
With its vast array of settings, this vacuum sealer can achieve optimal results for dry and moist foods alike, ensuring a vacuum solution that delivers results. By keeping moisture out and sucking out all the air from your food container or provided bag, you can enjoy the extended freshness and locked-in taste for all kinds of foods.
While perfect for sous-vide vacuum cooking, this vacuum sealer also provides excellent storage benefits, such as the prevention of freezer burn, which is notorious for damaging frozen goods.
Backed by strongly positive reviews on Amazon and the status of a highly reputable vacuum preserver, it would be hard to make a mistake with purchasing this item. With a lifetime warranty that also comes with a 30-day free replacement guarantee, it's as easy as ever to get your hands on this vacuum device and enjoy all of its benefits.
Getting back to my final thoughts on this vacuum, I would strongly recommend this item as a worthwhile investment, most specifically for those seeking the under vacuum cooking experience. 
As someone who has had the privilege of dining on a steak cooked via under-vacuum, I can attest to the vast difference this method of cooking makes. The experience is only amplified when using a vacuum sealer, as the flavors will simply explode in your mouth and transport you to another world! (Metaphorically speaking).
Check out these other kitchen products.
Souce:
1 – https://vremi.com/products/keepin-it-fresh-vacuum-sealer-machine