Smeg Toaster Review: Are Smeg Toasters Good?
Are you in the market for a new toaster? If so, you're in the right place. This Smeg toaster review showcases a toaster like you've never seen before. Designed with an eye-catching retro look that will make your kitchen stand out, the Smeg Toaster has been dubbed "the Rolls Royce of toasters." It's a high-end appliance designed for those looking for a sleek, retro, and stylish look.
In addition, it's also ergonomic and has many features that make it unique. These are the best toasters for people who want their kitchen appliances to stand out from the crowd.
This review will break down what you need to know before buying this top-notch appliance.
Best Retro Toaster
2 extra wide slots with self-centering racks
Automatic slice pop up
Anti-slip feet
Removable stainless steel crumb tray
6 browning levels and 3 pre-set programs: reheat, defrost, bagel
History of Smeg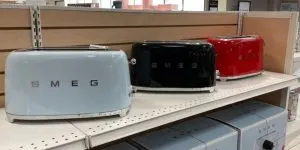 Sure, there are a lot of toasters out there. One might even say the market is flooded with them, but the Smeg products are not just your average appliance. Instead, it is an item with history and personality. The origin of the iconic design can be traced back to Italy in the 1950s with the idea of creating something that looked more like art than a kitchen appliance
Smeg is a premium Italian brand that has been around for several decades, coming out with some of the best appliances on the market. The Smeg toaster's unique design relies heavily on its Jetsons-like retro-futurism. It was founded by Vittorio Bertazzoni in Guastalla, Italy, and is dedicated to creating beautiful household appliances. Today, they have subsidiaries all over the world and offices overseas
The Smeg toaster, a wonderful bridge between the old and new, was created as an appliance for those interested in a high-end toaster with a unique look. Its fancy leverless technology offers a classy way to toast. In addition, Smeg appliances offer sleek yet subtle features that make your morning routine easy-breezy
With over 70 years of passion, they created the perfect complement for a new revolution in small appliances. Smeg doesn't just make quality products, they add their unique vision to the kitchen. They didn't picture sleek and modern with clean lines and no flair or personality. Instead, they brought their love for vintage design to the forefront and, in doing so, added beauty and charm, making them the iconic brand they are today
Feature and Design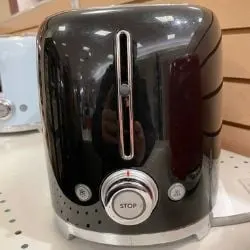 Products like the Oster Jelly Bean are no competition for Smeg products. Instead, Smeg appliances are high-end models known for their sleek look and variety of premium features. With its unique solid chrome finish, this sleek Smeg toaster is sure to do justice to your breakfast routine. 
Wish you could have frozen items that are just as tasty? With the Smeg brand, you can! The Smeg toaster offers a defrost button, so you can easily add frozen bread, bagel, or waffles and still get those nice crisp outsides. You can also toast your bagels perfectly every time with the bagel function. 
The pop-up system ensures easy removal of even the smallest crumbs of toast. In addition, the removable crumb tray makes it, so you won't have to worry about cleaning up near burning coals or hot tarts. What's more, thanks to its stunning Italian design, it looks as good in any 1950s inspired kitchen as it does when perched on your breakfast bar!
The best feature of modern technology is its leverless toasting. Beautifully designed for those who enjoy quality craftsmanship with their morning meals, this item will make an elegant addition to open shelving in any home
With a satisfying click, you can set it to a total of six browning levels, so everyone will be able to toast their food just how they want it!
Ease of Use
While the many features and retro style are great, there are no complications when it comes to using this brand. Gone are the days of dark toast and burnt bread. Instead, with a range of features designed to ensure perfect results every time, select your preferred setting, and you'll soon be enjoying your ideal toast without fuss or mess
The Smeg Toaster is perfect for breakfast with its carved bread-shaped artwork and large, user-friendly analog dial for toasting settings. And with its long power chord that rotates 360 degrees around its base, you can toast anything to perfection, making every slice perfectly spotless. Once you hear that ding, you can be sure that it's the sweet sound that your toast is ready for eating, so enjoy
It's that easy to use!
Different types of Smeg Toasters
It's not every day that you come across such a unique-looking machine. Add in an unusual mirrored panel (perfect for checking if any wild hairs need attention) it's a well-polished appliance worthy to sit in your kitchen. Smeg offers the 2-slice toaster, the 4-slice toaster, and the 4-slot toaster
Want something that will make cooking fun again? The Smeg 2-slice is an excellent choice. The sleek, modern design of the 2-slice toaster from Smeg is one more reason to love the day's first meal. It's great for small families and those who appreciate a good piece of toast. Give your toast a stylish new look with beautiful dual slots and quick setting power buttons with various browning options
The Smeg 4-slice is perfect for those who enjoy fresh bread in large quantities for that indulgent breakfast, while the 4-slot toaster is ideal for everything from English muffins to bagels, even thick slices; because the Smeg brand offers extra-wide slots
The good news is that no matter what Smeg toaster you decide on, you're sure to do anything from your kids' frozen waffles to various pre-sliced sandwich bread that never burns. You'll undoubtedly get the most out of any of your slices with this best toaster
Talk about making things easy for yourself! No more burnt fingers or cold toast, just deliciousness every day of the week
Colors of Smeg Toasters
This retro-style toaster will make sure all your mornings start off bright, whether it's in sunflower yellow or platinum silver. Match it to your kitchen décor or let it stand out as a statement piece! There are a variety of metallic and brightly colored colors you can choose from, including navy, white, red, green, pink, pastel blue, black, and chrome
You may also enjoy this great-looking toaster in a gold or rose gold hue in the new special edition collection
Pros of a Smeg Toaster 
This great toaster not only has high toasting quality, but it's also sure to please. Its build quality is small but mighty; lightweight but durable; it's everything you could ever want in a toaster. So whether you prefer lightly browned toast, English Muffins, British-style brown bread, or continental white bread, this little oven will surely satisfy your mouthwatering ambrosia. Here are a few pros:
Evenly browns
More slices
Offers power settings for bagels and adjusts for frozen items and reheating
Easy to use
Removable crumb tray
Can accommodate oversized items like bread, waffles, and bagels
Variety of color options
Quickly grab your toast once it pops up
Cons of a Smeg Toaster 
As a luxury brand with a beautiful design, a few drawbacks come from choosing the Smeg toaster. These include:
The price
1950s style is the only option available
The two-slice toaster is not great for large families
The wide slots take longer to heat small slices
Smeg Toaster Review
Amazon ratings: 4 out of 5 stars
Number of reviews: 122
This Smeg toaster is sure to please on any countertop. I have been using this toaster for about a month now, and I can honestly say that it is one of the best purchases I've made. It's got a lot of fun features and the best browning seen, offering the best toast with all the bells! The buttons are pretty intuitive too – it's easy to know what setting you want without having to guess or read the manual first
While it is on the more expensive side of things compared to other high-end models, that's really the only complaint. The pros outweigh the cons. Toast pops high enough so you can grab it easily, as well as having functions such as frozen and reheat, which are perfect for those who love toast but hate cooking!
The best bit? This lovely toaster brand accommodates all things from artisan bread to oversized slices – completing your breakfast repertoire nicely. With both a bagel setting and crumb tray removal, this handy little toasted package simply cannot get better. Add your grocery store bagels and go. I highly recommend checking out Smeg's line of products if you're looking for quality appliances with modern designs
Feel free to try out all your quality recipes!
How to clean and Maintain a Smeg Toaster
To keep your toaster clean and pristine, never use any harsh chemicals. Please make sure the plug is disconnected from the socket and has completely cooled down. Use products that DO NOT contain any abrasives or chlorine-based acids for daily cleaning. Add product onto a damp cloth and wipe the surface clean. You can use a soft towel to dry
Simply push it to unlock and pull it out to empty to clean the crumb tray. The crumb tray should be emptied after each use. Then, if necessary, you can hand wash the crumb tray, let it dry, and return it to the toaster
I love Smeg toasters because they are sleek, leverless, and remove crumbs with ease. As a result of these features, the appliance is also easy to clean up after each use. When it comes to a new appliance in my kitchen, the last thing I want is for it to take up valuable counter space. That's why I'm so excited that Smeg has been making their appliances sleeker and slimmer than ever before!
It's not just a good toaster but a valuable item that has earned its place to take up my counter space. Not only does the sleek design look amazing on your countertop, but with a variety of features and modern technology, it's an easy-to-use machine. Plus, who doesn't need an elegant appliance in their kitchen?
Smeg Toaster Review FAQ
Check the latest price  
What is so special about a Smeg toaster?
This retro 1950s Smeg toaster is a staple in the kitchen. With its settings, defrost button, crumb tray, and extra-wide slots, you get an appliance that can toast all kinds of items.
How long do SMEG toasters last?
The Smeg toasters are high-quality small appliances made to last. According to the instructions, the overall longevity depends on how well it's maintained.
Who manufactures SMEG?
Smeg is manufactured by an Italian home appliance manufacturer from Guastalla in Italy.
Is SMEG Made in China?
SMEG is manufactured in Italy, having subsidiaries worldwide, with the Smeg toaster currently being made in China.
Are more expensive toasters worth it?
It depends on your price spectrum, but compared to lower-end priced toasters, you can achieve similar results by buying a less expensive toaster.
Are Smeg toasters worth the money?
If having beautiful, 1950s style, retro chrome appliances is a must-have in your kitchen, then having a Smeg toaster is absolutely worth the price.
Related: