Welcome to the hOmelabs Smokeless Indoor Electric Grill Review, where we will be embarking on the road of knowledge towards a better understanding of this indoor electric grill. Once you understand what it means to own an indoor electric grill, you will be able to easily distinguish between the various electric grill brands and make an informed decision on whether it's something that can benefit you.
After reading this hOmelabs Smokeless Indoor Electric Grill Review, you can expect to know the brand down to the core, from its features to how to use and maintain it, how it weighs up against other electric grill brands, and finally to decide whether or not to purchase the grill for yourself!
hOmelabs was gracious enough to provide us with one of their indoor grills so that we could perform a thorough review of their smokeless indoor electric grill.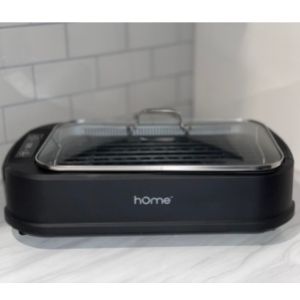 Why you need an Indoor Grill
The advantages of using an electric grill are vast and wide, and there are many reasons why you may need one! If you're tired of contending with the weather to get the green light on your house parties, then contend no further and enjoy barbecuing on a stormy night in the comfort of your warm cozy home! These indoor electric grills are designed to be smokeless, running purely on electricity without the need for burning charcoal and setting off the smoke alarm, so please don't be alarmed! (Pun intended).
Keep in mind that an indoor grill does not mean you are restricted to indoor grilling alone because these appliances can easily be used for the outdoors, too. A great choice for backyard barbecues or camping trips, or even bringing them into motels where food choices are sub-par, you can enjoy the pleasure of barbecuing your favorite foods any time, anywhere! Just make sure you have access to a power outlet, and you're good to go!
Below is a list of some of the benefits and specs you can expect from the hOmelabs smokeless grill:
Indoor grills can be used indoors as well as outdoors
They do not emit smoke as they run on electricity, not charcoal
You can host barbecues all-year-round – rain, hail, or shine
They are easy to use – simply plug it in and click the power button
Easy to clean – simply hand wash with a damp cloth
Specs:
Materials: Stainless Steel
Cooking space of 13.5 x 8.8 inches
Weight: 13.4 pounds
Watts: 1500 watts
Product dimensions: 19.5 x 11.8 x 7.7 inches
Cord Length: 1 meter
Features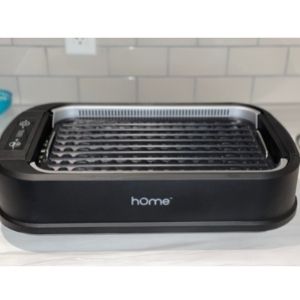 This electric grill from hOmelabs is built with stainless steel for durable construction and features a range of components that are intended to give you the best possible indoor grilling experience. As an example, there is an in-built water tray that is designed to keep fumes and odors inside the grill and away from the outside; just make sure you refill the water with each use!
Additionally, a built-in smoke extractor is included to further reduce any smoky fumes that may sneak out, so ensure the fan is running when you begin cooking. To top it off (quite literally), you get a tempered glass lid that keeps any strong smells well-contained and helps lock in the flavor of your food, making it perfect for indoor barbecues and house parties.
Other notable features are the non-stick griddle grill plates which can be used to get those toasty grill marks on your favorite barbecue dishes, steak, or any meat for that matter. You can use the griddle plate for pancakes, pizzas, eggs, or toast, as the users can apply the griddle plates for multifunctional cooking and non-stick grilling!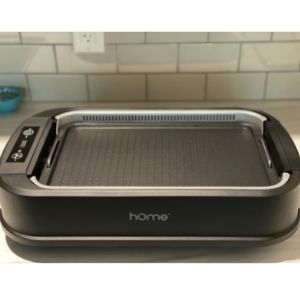 Furthermore, a heating element provides continuous heating when grilling, enabling it to cook efficiently and deliver consistent results. It also comes with overheat protection to avoid any accidents as you adjust the heating using the LED control panel provided.
The hOmelabs smokeless electric grill is essentially a flame-free multifunction grill with a 19.5 x 11.8 x 7.7-inch dimension, making it a relatively compact portable smokeless grill. The cooking space is maximized with this grill, and the spaciousness is great for grilling meats, Korean BBQ, grilled cheese sandwiches, and much more!
Pros
No smoky odor while cooking
Cook indoors and enjoy barbecues all year round
Non-stick grilling griddle plates for gridding various meat dishes, steak or fish
Adjustable LED temperature control for up to 450 degrees Fahrenheit
One meter cord compact, portable smokeless grill of only 19.5 x 11.8 x 7.7 inches of surface area
Large cooking space of 13.5 x 8.8 inches
Tempered glass lid with stainless steel
Non-stick grill grates for authentic grill marks
Cons
Not all parts are dishwasher friendly
The in-built smoke extractor may be noisy
Cleaning
Your hOmelabs smokeless indoor electric grill is fairly easy to clean, but there are a couple of things to keep in mind. First and most important of all, do not place any electrical components in the dishwasher, as this can cause permanent damage to the core functions of the grill.
With that said, you can take this grill apart and wash individual components in the dishwasher, such as the griddle grill plates, drip tray, and water tray, all of which are detachable components. For the non-dishwasher-friendly parts or the electrical components, I highly recommend using a damp cloth and maybe some light detergent and giving it a thorough wipe-down.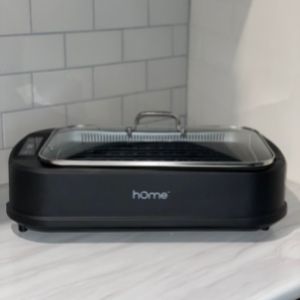 What are people saying about it?
This smokeless electric grill by hOmelabs is a highly acclaimed solution to indoor grilling and cooking and is a much-loved brand on the market. With a rating of 4.5 stars on Amazon reviews, people are highly praising this electric grill, with the most notable features being the temperature control and that it's easy to use and clean.
How does hOmelabs compare to other Smokeless Indoor Grills
hOmelabs vs. Power Smokeless Grill
Perhaps the most notable difference between these two electric grill brands is that hOmelabs is significantly lighter, weighing in at 13.4 pounds as opposed to the fairly heavier Power brand at 17.4 pounds. Both brands are backed by limited-time warranties; however, hOmelabs is significantly longer with 2 years compared to Power's 60-day warranty.
They are quite similar in every other way, both being 1500 watts and including all the fundamental components such as the smoke extractor, tempered glass lid cover, non-stick griddle grill plate allows excess fat to fall into the drip tray.
hOmelabs vs. Philips Smokeless Grill
Philips is a notch above the average smokeless grill when it comes to power output, boasting 1660 watts of power over the 1500 watt hOmelabs grill. Coupled with this, Philips electric grill uses infrared beam technology to heat the grill faster and cook food quicker than grills like hOmelabs.
hOmelabs wins when it comes to the LED adjustable temperature control, as Philips does not have this function and is set at 446 degrees F, which the company has determined as the optimum temperature for a smokeless electric grill. In terms of the other components, both grills are pretty much on equal grounds, maintaining all the essentials such as non-stick grill grates, water tray, smoke extractor, and the tempered glass lid.
hOmelabs vs. T fal Smokeless Indoor Grill
The greatest selling point of T-fal's electric grill is their stay-cool handles, which are surprisingly a rarity on most grills. The benefits of this would be immense, allowing you to move your grill from location to location without hurting yourself, which is something I feel could take house barbecues to another level.
In terms of the rest of the expected components, T-fal is very much on par with hOmelabs, with the smoke extractor, water tray, and grill plate to achieve the authentic grill on all of your favorite foods. Deciding between these two grills may be the toughest of all, but I would honestly consider the stay-cool handles of T-fal if you can see it coming in handy!
hOmelabs Smokeless Indoor Grill FAQ
Is it dishwasher safe?
For the most part, yes, the hOmelabs smokeless indoor electric grill is dishwasher-safe, but only when taken apart and done so as instructed. Ensure that only the detachable, dishwasher-friendly components are placed in the dishwasher, and use a damp hand towel or equivalent to wipe down the rest of the grill's components.
Are the grill grates removable?
Yes, the grill grates are detachable and dishwasher-friendly, making them both convenient to use and convenient to clean.
Do indoor grills really work?
Indoor grills have been proven to work really well as a barbecue grill in your home or under a roof, as they are built with many features that promote a smokeless and odorless experience. Additionally, hundreds of thousands of positive user reviews verify that electric grills achieve their intended purpose, sometimes even exceeding expectations.
Are smokeless grills safe?
When used correctly and not recklessly, smokeless electric grills can be a safe and effective way of grilling or cooking in the comfort of your home. As long as you follow the instructions for appropriate use and cleaning, you will be absolutely fine. If you want to take safety up a notch, you can consider opting for the T-fal electric grill with its stay-cool handles.
Is the hOmelabs Smokeless Indoor Grill worth it?
The hOmelabs smokeless indoor electric grill can be a very valuable asset that can change the way you barbecue for the better. This hassle-free multifunction grill lets you cook your favorite foods in the comfort of your home while delivering a delicious seared flavor, great for indoor barbecues and house parties.
This electric grill is not limited to just indoor barbecues, however, because it can easily replace other appliances in your homes such as fry pans, sandwich grillers, and toasters. In addition to searing meat and grilling fish, you can also cook eggs, pancakes, and pizzas using electric grills, so they are certainly worth every penny so long as you use them! It's on our list of Best Indoor Smokeless Grills.
Summary of the hOmelabs Smokeless Indoor Grill Review
The hOmelabs indoor electric grill is the solution you've been looking for to make indoor barbecuing, grilling, cooking, and toasting all possible! In fact, you could even replace many of your fry pans with this grill, as it achieves a level of smokelessness that could even overcome ordinary household cookware.
Built with a water tray, smoke extractor, griddle plate, and a tempered glass lid, it is the perfect appliance for tackling a barrage of cooking tasks. In particular, hOmelabs looks to make their grills more lightweight and compact than the average grill, making it one of the most portable and easy-to-use grills on the market today!
I highly recommend the hOmelabs grill for the sole reason that you can barbecue indoors, but that is selling it short because there is just so much more to it in terms of functionality and purpose. With a warranty of 2 years and backed by high Amazon ratings, there's never been a better time to get your hands on this incredibly good deal from hOmelabs!