**For our Hast Knives Review, Hast Knives provided us with a set of knives so that we could test them out and see their quality for ourselves.**
Nowadays, it seems that every knife brand is simply re-inventing the wheel. Big-name manufacturers often compete to produce the sharpest and most durable knives that can cut through anything and last a lifetime. That's great and all, but the time to innovate further is dawning upon us.
Many brands that compete over every little detail of their knives are failing to come up with something new, that is, an entirely new design that, rather than compete on such trivial features, offer a whole new feeling to your knife tasks altogether. In this Hast Knives Review, you'll come to know all about the new kid on the knife block, and yes, the name is Hast.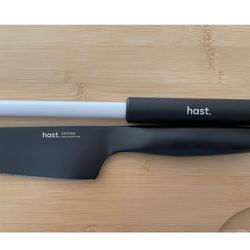 About Hast Knives
Hast Knives entered the arena with the intent to offer something unique that will disrupt the market by setting a new trend. The brand was founded on the idea of going back to basics and "rethinking kitchen knives." By keeping things in perspective and not losing sight of the end goal for their knives, Hast developed a tool that is easier to use and more appropriate for modern-day living.
With the mission to "reinvigorate cooking with inspiration and creativity," there's no doubt that Hast's knives have thus far lived up to its values through its eccentrically awesome products that are unlike traditional knives.
Knife Design
Designed for the everyday cook, Hast Knives have kept simplicity and intuitiveness in mind during the construction process. This design means their knives are light, agile, and perfectly balanced with a kind of "playful" design that makes it easy for anyone to get on board. Built with Japanese-style blades made from matrix powder steel and an extra-long handle and curved end for added ergonomics, Hast has perfected quality and comfort through their unique full-tang design that was made for the modern kitchen.
As winners of the prestigious Red Dot 2021 awards for excellence in design, the jury declared their products to have "a keen eye for detail, these kitchen knives exude an appealing aesthetic. In addition, they convince with easy handling and their lightweight."
Hast 7 Piece Knife Set Review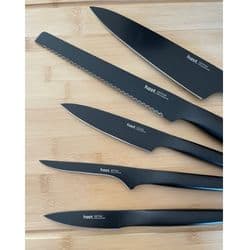 Hast's minimalist 7-piece knife set provides all the essential knives, including a chef's knife, bread knife, boning knife, and several smaller utility and paring knives. Set also comes with a ceramic honing rod and tempered glass knife block.
What's Included
8″ Chef's Knife
8″ Bread Knife
5.3″ Utility Knife
3.5″ Paring Knife
5″ Boning Knife
Ceramic Honing Rod
Tempered Glass Knife Block
Pros
Great range of essential knives, each built with ultra-thin blades that are sharp enough to cut through any task while maintaining edge retention.
High-performance, patented matrix powder steel is wildly sharp and durable.
Exceptionally lightweight design with excellent balance across all knives in the set.
Minimalist design is simple but significant, with full-tang construction and no need for riveted bolts or other intimidating features.
Honing rod and knife block included for added convenience and easy maintenance.
Cons
Does not include a santoku knife or cutting board.
The handle may be slippery for some users.
Colors available
Minimal Matte
Absolute Glossy
Bold Gold (Ti)
Matte Black (Ti)
Overall Hast 7 Piece Knife Review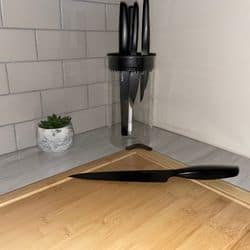 The Hast 7-piece minimalist knife set will satisfy most home cooks and may even appeal to professional chefs with its ergonomics and easy-to-use construction. Indeed, the knives in this set are built with excellence in mind, from its durable stainless steel material to its thick handles that are surprisingly lightweight and effortless to use. While it doesn't include a santoku knife, you'll find the boning knife just as handy for skinning whole fish and removing fat and tendons from your favorite proteins.
Where this set truly shines is in its versatility of knives that are made to tackle any cutting, slicing, or dicing kitchen task. Available in a range of colors, these knives will look stunning in your kitchen regardless of your interior design. Imagine starting a recipe and being hindered by hand cramps and lack of quality cutting tools; it is every cook's nightmare, especially if you're a mother of hungry kids that need to be fed. Fortunately, these super lightweight knives provide a complete game changer to how you do things in the kitchen, so even the newest cooks can put up high expectations with this fabulous set from Hast.
Hast Chef Knife Review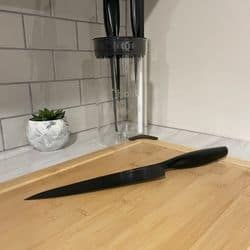 Hast's 8-inch chef's knife is designed to tackle most tasks in the kitchen and provide an all-in-one solution to your slicing and dicing needs. Made with matrix powder steel, titanium coating, and 13-degree angles for a durable and ultra-sharp finish.
Pros
The strong and durable matrix powder provides the driving force for Hast's superior performance.
The patented super steel blade is corrosion-resistant and built to last a lifetime.
Japanese style craftsmanship and 13-degree ultra thing blade meet CATRA's excellent sharpness standard.
Solid grip ultra-comfortable chef knife handle is extra long for added ergonomics and safety.
30-days money-back guarantee.
Cons
The grip may be slippery due to no textured material.
Not dishwasher safe.
Overall Hast Chef Knife Review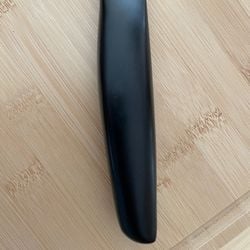 If you're after the "one size fits all" knife then you need to consider the 8″ chef's knife as your multipurpose solution to your kitchen tasks. Hast knives live up to its mission of providing fun cooking that makes you want to prep meals and create a stable future for you and your family's kitchen ventures. Unlike other knives, this Hast knife has met the standard for CATRA's sharpness and is light and fun to use, making cooking instantly satisfying upon use.
High-quality cooking tools don't need to be so intimidating or unaffordable anymore, because Hast is redesigning the way the industry should be doing things. Hast knives unlock the potential of modern cooking, and that's why this chef's knife is loved by owners of Michelin Starred restaurants across the globe, truly marking itself as a gold standard brand of knife sets.
After putting this knife through the trials it is easy to hold and cuts effortlessly through all types of meats and vegetables. If you only buy one Hast Knife, the chef knife should be it.
Hast Bread Knife Review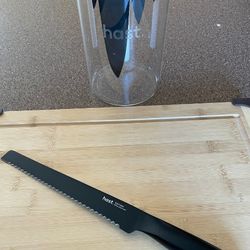 Hast's best knife for slicing bread is the 8″ serrated bread knife as seen in the 7-piece minimalist complete set, built with the iconic matrix powder steel and full-tang design.
Pros
Easily slices through loaves of bread and hard crusts using a thin blade with a serrated "shark-teeth" edge.
Made with matrix powder stainless steel.
Hast knives are guaranteed to deliver on performance with 13-degree sharpness.
Bolsterless and crevice-free.
Lightweight design and perfect balance for safe, easy, and effective cutting.
Available in a range of colors.
An extra-long handle makes it safe and easy to use.
Cons
Requires regular maintenance for best results.
Not dishwasher-friendly.
Overall Hast Bread Knife Review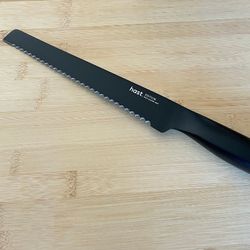 Slicing through tough bread varieties takes more than just a good knife. You need something that can quite literally sink its teeth into the tough textures without losing its sharpness. Hast takes care of this with its 8″ serrated bread knife that has also passed the edge retention test by CATRA for sharpness and quality of performance. Upon first use, it would not be surprising if you immediately noticed the ease of slicing through bread that you previously had not experienced.
A few weeks into using Hast's bread knife and you'll be thoroughly impressed with how easy it is to use thanks to the minimalist design of their kitchen knives. Even the best knives on the market today cannot compete in such a niche area of creative design and unique ergonomics. Trusted by some of the best chefs worldwide, you simply cannot go wrong with this knife for all your bread cutting needs. Just make sure you have a honing rod to compliment your purchase.
Hast Kitchen Utility Knife
For all your smaller cutting tasks, Hast offers the 5.3″ utility knife for the "in-between" kitchen tasks. This may include slicing cooked meats, smaller vegetables, and soft bread.
Pros
Made with matrix powder steel for extra durability and strength.
Perfect size at 5.3-inches long to tackle smaller tasks with ease.
The ergonomic handle is extra-long and comes with a curved end to give it a pleasing appearance that is easy on both the eye and hand.
Lightweight design makes it easy to use and the center of balance is perfect for effective cutting.
Bolsterless and crevice-free design is beautiful in looks and encourages fun, light-hearted slicing without the need for an intimidating appearance.
Cons
Sharpness may degrade over time or with excessive use.
Not safe for dishwasher use.
Overall Hast Kitchen Utility Knife Review
Having a chef's knife or bread knife is not enough for a complete arsenal, and you may find yourself using the utility knife the most out of your entire set of knives. This is because we often underestimate the amount of smaller tasks involved in cooking recipes and even simple day-to-day tasks. Whether it's chopping up those smaller vegetables or just cutting open a pack of onions, the utility knife quite literally lives up to being a source of utility in and around the kitchen.
Like the other knives mentioned, Hast's utility knife is also built with matrix powder patented stainless steel and coated in titanium, so don't underestimate it because of its size! Far from a dull knife, you'll find this knife packs a real punch in delivering seamless slicing and consistent cutting, bringing ease and reward to any cooking task you decide to embark on.
Are Hast knives good?
Hast knives are a great alternative to the likes of Shun or Cutco, as it provides an entirely new experience. Loved and trusted by home cooks and professional chefs all around the world, the odds are pretty high that you will also have a great time with Hast's range of quality knives and knife sets.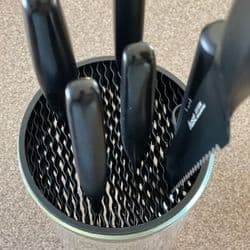 Hast Knives FAQ
Where are Hast Knives made?
Hast knives are made in China with precision manufacturing and craftsmanship.
What are Hast Knives made of?
Hast knives are made of patented matrix powder stainless steel coated in titanium.
What is Hast Knives warranty?
Hast provides its customers with a 30-day money-back guarantee from the day of purchase as part of their hassle-free return and refund policy.
What we like about Hast knives
Hast is growing rapidly and it won't be long before their knives become best-sellers across the globe, and for good reason! Unlike any knife we've tried before, Hast has a unique way of delivering ergonomics and comfort to the handle in a way that makes you feel more in control but also more safe at the same time. Indeed, it's the perfect combination to manage an otherwise dangerously sharp knife that can pierce through just about anything. Perhaps most appealing of all is the mere aesthetic of the knives which invite a sense of fun, excitement, and adventure to the cooking experience, a right that should belong to all cooks big and small.
Bottom line: I've owned a lot of knives and this is the best knife set I have ever owned. They are both sharp and a conversation piece. Definitely a worthwhile investment.