Great Jones cookware strives to empower its customers with tools and skills that will last a lifetime, encouraging power and pleasure in home cooking. This Great Jones cookware review will dive deep into what the brand is all about, focusing on some of their highest-rated and best-selling cookware sets.
By the end of the article, you should have enough knowledge of these products, and in the best-case scenario, you'll know which one you want and can make a purchase directly through our links to the most affordable retailers on the web!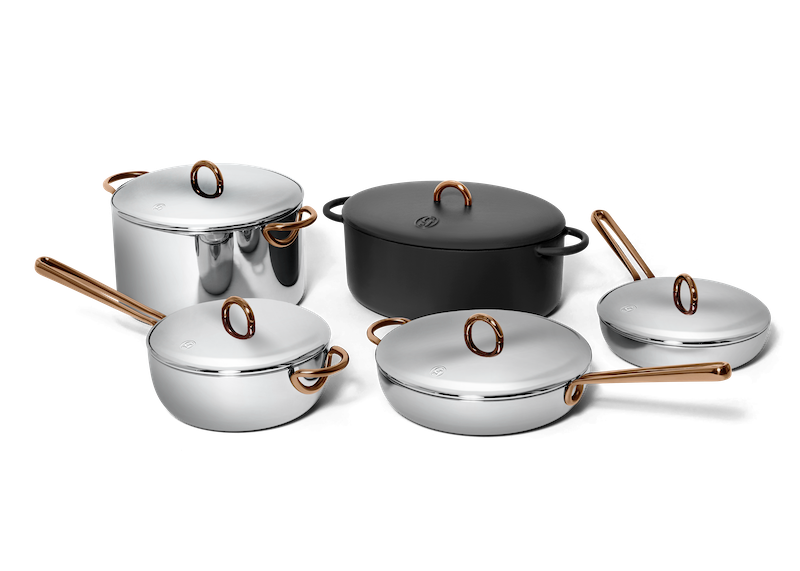 The family-style set by Great Jones cookware features a five-piece collection of pots and pans made of stainless steel and cast iron. In addition, the set includes a variety of frying pans, sauté pans, and a Dutch oven to help you tackle a wide range of cooking tasks and recipes by providing you with the essentials.
What's Included
The Dutchess
Big Deal
Deep Cut
Saucy
Small Fry
1x Big Lid
1x Small Lid
Pros
Great variety of pans and pots to help you cook most types of dishes.
The stainless steel exterior provides effective heat distribution and spreads evenly across the cookware.
Non-stick pans create quick food release for better cooking results and a more straightforward cleanup process.
Large, loopy handles make handling the saucepan and Dutch oven pot easier.
Huge variety of color options to appeal to any design preference.
Cons
Handles do not stay cool under high temperatures.
Small fry pan requires seasoning before cooking.
Overall Family Style Set Review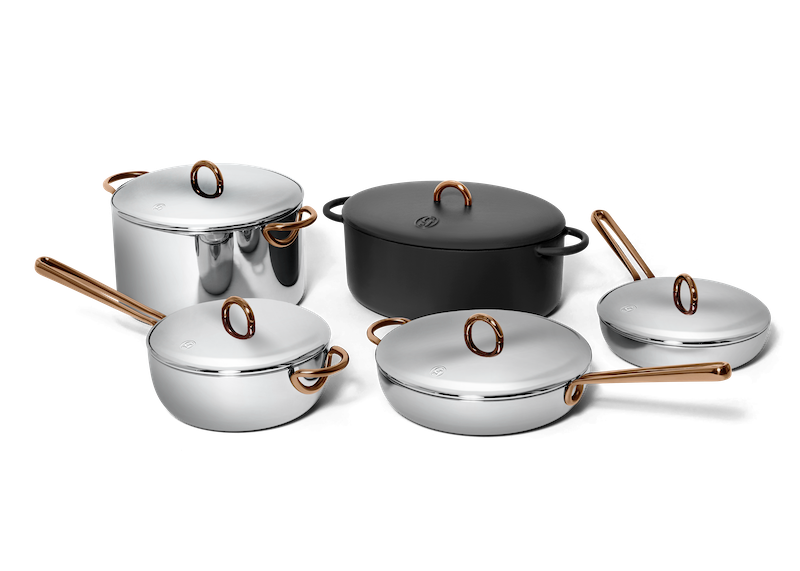 At first glance, you immediately feel a sense of joy by the mere aesthetics and color designs of the Great Jones Family Style cookware set. Coming in with a solid variety of pots and pans, this cookware set offers something different with every item.
There's the small frying pan with a toxic-free ceramic coated cooking surface to the big Dutchess that uses an enameled cast iron design. This set has something for everyone, which is why it's been coined as the "family" style set.
One of the fantastic things about this set is its compatibility with induction stovetops, a perk that applies to all five cookware items in the bundle. In addition, each of these pans and pots is oven safe for up to 500 degrees F, so you won't have to worry about structural damage to your cookware when cooking at high temperatures.
Finally, you'll find the cleanup duty to be an absolute breeze with these dishwasher-friendly items. They are just as easy when hand washing, thanks to the non-stick surfaces that let the food scraps slide right off!
Thus, it comes as no surprise that the Family Style Set by Great Jones cookware is rated a strong 4.5-stars by over 100 real users. So, grab yours today using the link above and feel the difference that has made many homeowners love cooking!
Part of the Family Style Set and available as a single item too, the Dutchess is a 6.75-quart Dutch oven with an enameled cast iron construction resistant to rust and corrosion. This pot is oven safe for up to 500 degrees Fahrenheit and is compatible with all stovetop types, including induction.
What's Included
The Dutchess (6.75-quart Dutch oven)
Pros
Rust and scratch-resistant properties via enameled cast iron construction.
Looped handles increase ergonomics and make handling the pot easier.
Oven safe for up to 500 degrees F makes it durable for the long run while enabling baking capabilities for oven use.
The dishwasher-safe design makes the cleaning process more manageable.
Available in a multitude of colors and at affordable prices.
Cons
Handles may heat up at high cooking temperatures.
The cooking surface may require seasoning to prevent food from sticking.
Overall The Dutchess Review
In many ways, the Dutchess performs just as beautifully as it looks.
It welcomes all types of cooktops, including induction and withstanding high heat levels up to 500 degrees Fahrenheit. In addition, they make the surface with porcelain enameled cast iron materials which specialize in providing a scratch-resistant surface that is also devoid of rusting and corrosion.
For that reason, this pot is exceptional for cooking saucy dishes such as soups and curries, as it will retain no damage from carrying liquids for long periods. In addition, the Dutchess is built for ovens as much as stoves, so you can bake up your favorite sourdough breads or put in a roast chicken for the family to enjoy (1).
Great Jones co-founder Sierra Tishgart commented on this pot, praising the non-stick properties enabled through the oval shape design of the Dutchess, which sports a gentle curve from the bottom across to the sides.
It is no surprise that a resounding 4.6-star rating backs this beautiful Dutch oven on the Great Jones review page by 200 customers. It validates its quality performance in delivering customer satisfaction to home cooks worldwide.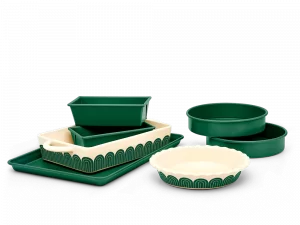 The Fully Baked set encompasses a range of bakeware of mixed materials they design to make cakes, cookies, pies, loaves, and more. Complete with seven pieces, this set also comes with a generous helping of baking sheet equipment to help you get started immediately.
What's Included
Holy Sheet
2x Breadwinner
2x Patty Cake
Hot Dish
Sweetie Pie
Pros
A specialized bakeware set is optimal for recipes such as cakes, breads, and other oven-based dishes.
Includes baking sheets to give you a headstart on baking right away while also protecting your cookware from any food or oil stains.
Non-stick and non-toxic surfaces allow baked goods to pop out and make cleaning easier.
Compatible with all stovetops, including induction, and is dishwasher safe.
Available in stylish broccoli green or blueberry blue color choices.
Cons
Most items do not come with helper handles.
Oven mitts are required to remove finished recipes from oven.
Overall Fully Baked Review
Ideal for cake lovers and bread enthusiasts everywhere, the Fully Baked cookware set by Great Jones cookware gives you everything required for all your wildest baking needs. Perfect for banana bread and biscuit cobblers, this bakeware set is open to all recipe suggestions and will deliver optimal results with its oven-safe build that handles 500 degrees Fahrenheit.
The non-stick surface and included baking sheets make these items the perfect baking beast for all your bread and dessert needs.
The best part is that they make all products in this set with chemical-free materials devoid of PFOAs and PTFEs. This means you are doing a solid for your and your family's health while encouraging sustainability for the environment and community.
In addition, you need not worry about the possibility of metallic tastes in your food, as often occurs with stainless steel cookware. Backed by a 4.4-star rating from 44 global reviews and a 60-day free returns policy. So you can enjoy all the peace of mind when you purchase your Fully Baked set and focus more on baking delicious recipes right away!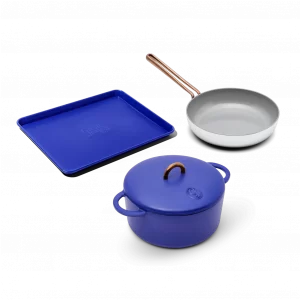 The Starting Lineup is a 3-piece collection consisting of a small fry pan, a small Dutch oven, and a small baking tray. Although this set is ideal for individuals cooking for one or two people, this set comes with non-stick and non-toxic materials for easy and safe use and seamless cleanup.
What's Included
Dutch Baby
Small Fry
Little Sheet
Pros
Small size makes for affordable cookware and is suitable for individuals and couples.
Non-stick coating provides quick food release that eliminates burn marks and removes the need for seasoning, resulting in healthier cooking.
Non-toxic design means no metallic tastes in your food and no harmful chemicals getting inside your body.
Cookware is oven safe for up to 500 degrees F and is compatible with all stove types, including induction cooktops.
Allows you to cook recipes for all meals of the day; breakfast, lunch, dinner, and desserts.
Cons
Not suitable for large families.
No sauté pan or saucepan included in set.
Overall The Starting Lineup Review
It may not enable every recipe under the sun, but the Starting Lineup set is perfect for cooking a huge variety of dishes that encompasses all meals of the day. Recommended for breakfast frittatas, tomato soup, and chocolate-chip cookies, you've sorted your breakfast, lunch, dinner, and desserts with the Starting Lineup set (2)!
These small but high-performing pieces are perfect for individuals and couples, and the affordable price tag makes it all the more reason to purchase this set if you fall into one of these categories.
Priding itself on its non-stick surface and chemical-free materials, the Starting Lineup encourages fast food release, so your food never sticks to the pan's surface. Not only that, but cleaning up is also effortless as your scraps slide right off the cookware, and you also have the option of washing via dishwasher for those lazy Sunday afternoons.
Backed by a 4.5-star rating review on the Great Jones cookware website by over 130 customers and available with free returns for 60 days and free shipping, there has never been a better time to buy the Great Jones Starting Lineup cookware set!
The Cast-Iron Family set by Great Jones cookware features a 3-piece collection including The Dutchess, Dutch Baby, and King Sear. They make each item with durable cast iron materials, and the skillet has a non-stick cooking surface. The Dutchess and Dutch Baby pots are dishwasher friendly, while the King Sear must be hand washed as it is not dishwasher-safe.
What's Included
The Dutchess
Dutch Baby
King Sear
Pros
High-quality cookware with all the essentials for searing, braising and boiling.
The non-stick surface of the skillet makes for excellent food release properties, which makes the cooking and handwashing process much easier and effortless.
The cast iron retains heat for long periods and distributes heat evenly.
Compatible with all stovetops, including induction.
Various pot sizes are perfect for preparing a casserole dish for any number of people.
Cons
King Sear skillet is not dishwasher safe.
Non-stick coating may wear off over time.
Overall The Cast-Iron Family Review
Known for its amazing heat distribution properties, cast iron is a fantastic choice of material for cooking food efficiently and effectively. It spreads heat exceptionally well and ensures your food is cooking from the inside and out.
The Cast Iron Family set features two Dutch ovens of varying sizes and a non-stick skillet for the perfect cookware combination. It'll have you making delicious soups and curries to searing thick juicy steaks all year round.
Compatible with all stovetops, including induction, this set doesn't discriminate between customers and does a fantastic job no matter what kind of stove you use.
The Cast Iron Family set is perfect for a range of recipes, with the brand recommending dishes such as beef bourguignon, skillet pizza, and Dorie Greenspan's roast chicken for these pots and pans.
Oven safe for up to 500 degrees F, these cookware pieces are just as easy to use as they are to clean. The Dutch ovens allow you to clean via dishwasher, and the skillet incorporates a smooth non-stick surface that frees you from the torments of back-breaking scrubbing to get stains off.
Backed by a rating of 4.6-stars on the Great Jones cookware brand's review page and coming in with free shipping and free returns for the first 60 days of purchase, you can put hesitation in the back seat when you decide to buy the Cast Iron Family cookware set!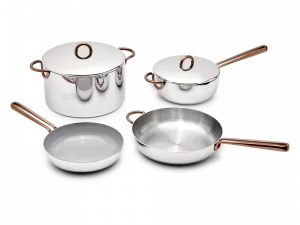 The Precious Metals set is a 4-piece collection featuring a stockpot, saucepan, sauté pan, and frying pan. Each of these items is made of fully clad stainless steel and is compatible with all stove tops, including induction.
What's Included
Big Deal
Deep Cut
Saucy
Small Fry
1x Big Lid
1x Small Lid
Pros
Highly durable stainless steel cookware is built to last for long-term cooking.
Great variety of cookware with varying sizes to enable a wide range of recipe options.
They make the small fry pan with a toxic-free ceramic cooking surface that promotes healthier eating and environmental sustainability.
The lids are interchangeable to save storage space, and the textured surface can hide stains quite well.
Pour spout included with a saucepan to make pouring liquids easier.
Cons
Small fry pan is not suitable for high heat.
Saute and saucepans require seasoning before cooking.
Overall Precious Metals Review
Built for durability and performance, this fully clad stainless steel set features a variety of strong and sturdy pots and pans with riveted steel handles that are ergonomic and stylish in design.
Modern cookware has never been more accessible with the Precious Metals set, which incorporates oven-friendly, induction-compatible cookware that rivals the premium quality of high-end brands such as All-Clad.
In addition, the small pan in this set comes with a toxic-free ceramic cooking surface that is non-stick for fast food release and easy clean-up duty.
With this set, you can create various recipes from braised chicken to caramel sauce and even Great Jones' recommended JJ Johnson's recipe for poached shrimp!
A cookware brand that cares, Great Jones makes the entire cooking process effortless with this Precious Metals set. It cooks exceptional food with its highly conductive materials and makes cleaning a cinch with dishwasher and easy hand washing options.
With a rating of 4.5-stars by over 130 real users of the set, the consensus is overwhelmingly positive for these stainless steel pots and pans. I would recommend it for families of any size.
As its name suggests, the Fry Family is a set of two frying pans of varying sizes, featuring the Small Fry and the Large Fry. Other than their size, both pans are identical in their ceramic PTFE/PFOA-free materials and non-stick coating.
What's Included
Pros
Non-stick coating provides brilliant food release properties to eliminate unwanted burn marks with your food.
Ceramic-coated material is free of harmful toxins such as PTFEs and PFOAs.
Stainless steel construction provides a durable core that conducts heat and distributes it exceptionally well.
Oven safe for up to 500 degrees Fahrenheit.
Dishwasher-safe.
Cons
Metal utensils may scratch the ceramic surface.
Only available in one color.
Overall The Fry Family Review
These two frying pans are indeed a couple made in heaven. They offer the perfect variety of sizes, so you always have something to cook with no matter how many people are dining on any night. Great Jones has been demystifying home cooking for a long time now, and these pans are testimony to the quality results they can achieve.
Stainless steel conducts heat exceptionally well, ceramic retains that heat perfectly, and the handle stays cool throughout the process.
Perfect for cooking soft-scrambled eggs, fried tofu, or Nik Sharma's lamb and potatoes recipe as Great Jones recommends. There are many recipe choices to choose from with this incredible cooking arsenal. Keep heat to a minimum as these pans heat up insanely fast, and you might even save on gas and electricity bills in the process!
Coming in strong with a 4.4-star rating on the Great Jones website, over 200 customers love the Fry Family set, and we are sure you will, too, so grab yours today using our links to the best offers now!
Great Jones FAQ
Is Great Jones cookware made in China?
They make Great Jones cookware in various countries with manufacturers spanning the U.S and China regions.
What are Great Jones pans made of?
Great Jones cookware features products made from various materials and craftsmanship practices. Their pots and pans are available in stainless steel, ceramic, and cast-iron, offering unique benefits from non-stick properties to enhanced heating performance and long-lasting durability.
Is Great Jones non-stick?
They make products such as Great Jones' Small Fry and Large Fry pans with a non-stick ceramic cooking surface that provides exceptional food release properties for easy clean-up and improved food results.
Where is Great Jones made?
Great Jones cookware is made in regions across the U.S, Hong Kong, and China and is distributed globally in most countries and states worldwide.
Is Great Jones a good brand?
Validated for quality through high customer ratings and positive feedback, Great Jones is a high-quality brand of cookware that backs its users with warranties and free shipping for purchases over $100.
High quality and affordable cookware are what the brand strives toward for its customers, and many have attested to the great results experienced in the kitchen by using Great Jones cookware products.
What is Great Jones Cookware warranty?
Great Jones provides a 60-day free returns warranty for any reason and a lifetime limited warranty for any defects experienced by the user related to factory defects such as manufacturing or lacking quality of materials.
Is Great Jones cookware dishwasher safe?
Most Great Jones' cookware is dishwasher safe, though some ceramic-based frying pans are strictly incompatible with dishwashing. Regardless, Great Jones recommends washing all of its products by hand, which promotes longevity and reduces the possibility of rust, corrosion, and chipping or cracking.
Sources
(1) – https://online.ucpress.edu/gastronomica/article-abstract/3/3/76/93471/Sourdough-Culture
(2) – https://www.ais.gov.au/nutrition/recipes/breakfast_frittata