I used to have a love-hate relationship when it comes to waffles. On the one hand, I love them and could eat them every day. On the other hand, I hated cleaning the waffle maker afterward. We've owned four different waffle makers, and this Cuisinart vertical waffle maker review will show you why it is truly the best waffle maker on the market today. 
✅ This is the best waffle maker we've ever owned. Best of all, it comes at a price that won't break the bank.
Click here to buy this waffle maker 
About the Cuisinart Vertical Waffle Maker
When you first see the Cuisinart WAF-V100 Vertical Belgian Waffle Maker, it looks like it could be a gimmick.
I mean, come on, a vertical waffle maker? How's that supposed to work? It's already messy enough when I use my flat waffle maker (A.K.A. standard waffle maker) to make my Sunday Belgian waffles.
Pouring batter into an upright waffle maker will make twice the mess, won't it?
It turns out I couldn't be more wrong.
It makes the perfect waffle every time, and cleaning up is easy. Yes, actually easy.
Features of the Cuisinart Vertical Waffle Maker
Cuisinart has thought of everything when it comes to this waffle maker. Let's dive into the features.
Measuring cup design
The measuring cup lets you have the exact right amount of waffle batter to pour into the maker. It even has this neat part of it that lets it sit on the edge of the bowl, so it's not falling into the batter.
Non-stick grill plates
It has non-stick baking plates that make removing the waffle once it's cooked a breeze. Simply grab a fork or a spatula, and it comes out looking like something out of an IHOP commercial.
Click here to buy this waffle maker 
Wide mouth pour slot
This is another nice feature and is the reason for the easy clean-up. Rather than pour the batter over the iron,  you pour it in the top, and it fills up properly on its own. There is no need to try and balance out the batter. It just happens automatically. 
Heat settings
The dial has five different types of heat settings, so you can cook your Belgian waffle the way you like it. I like mine to be a dark, well-done waffle, but no one else does in the family, so it's a nice feature.
It avoids you having to guess the timing when making your waffles and is a feature that is so intuitive that I almost forgot to mention it.
There's also an indicator light on it that turns once the waffle irons have heated up. The light also turns green once it is ready, so you know it's done.
Latch lock
The housing has a latch that you open and locks while making your waffles. Guaranteeing that you won't have any leaks out of the side that you normally have with other waffle makers. 
The stainless steel housing gives it a nice finish. It looks great on countertops, and the vertical design allows it to be stored easier on a shelf in your pantry or on your counter. Because it stands upright, it doesn't take up as much space as a normal traditional waffle maker would.
Click here to buy this waffle maker 
Pros of a Vertical Waffle Maker
Makes the perfect waffle every time.
Can control heat settings.
Fast cooking time.
Measuring cup for the perfect amount of batter every time.
Easy to clean up.
Takes up less storage space.
Cons of a Vertical Waffle Maker
More expensive than lesser waffle makers
I can only make one waffle at a time. So friends will have to wait while you make them, but they cook fast.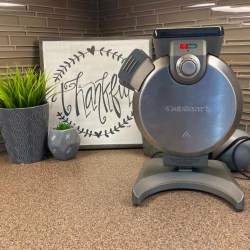 Click here to buy this waffle maker 
How do you use a Cuisinart vertical waffle maker?
Ok, time to get cooking. Here is what you need to do
First, turn on the Cuisinart WAF-V100 Vertical Belgian Waffle Maker and set it to the temperature you want; we usually start at 3. You will have a few minutes to make your bowl of batter. We have a favorite batter recipe (hint: use a teaspoon of vanilla (or two)).
While you mix the batter, get out the measuring cup that comes with it. Fill it up to the level with your best batter recipe. Leave it to sit on the bowl.
Pour the batter into the top spout of the maker. Once you use up all the batter in your measuring cup, you're set!
It takes a couple of minutes to make a waffle, which is the perfect cooking time to get out your whipping cream and cut up some fruit.
Click here to buy this waffle maker 
Cleaning the waffle maker
Now onto the worst part about having waffles, the cleanup. I mentioned earlier that we did not make waffles very often because our old waffle maker was a pain to clean up. Even if you got the waffle amount right, it always leaked out the sides, and whether there were removable plates or not, you still had to wipe down the entire casing of the machine. Then you would need a toothpick to clean out the small lines in the casing of the machine because the batter inevitably ended up in there for some reason.
Cleaning the Vertical Waffle Maker is Easy
With the Cuisinart vertical waffle maker, it's completely different. Because of the wide-open mouth slot for pouring your buttermilk waffle recipe into, you may get one or two drips on the side. But that's a matter of you having a steady hand or not after the first time of using it. It's pretty easy to go drip-free.
The non-stick baking plates inside of the unit are easy to clean as well. Open it up, and they are easy to wipe out once the iron has dried. You can use a damp cloth to wipe up any drippings on the stainless steel outside casing and on the inside grids.
Cuisinart Vertical Waffle Maker FAQ
Are the plates removable?
No, unlike other waffle makers, the plates are not removable. This isn't that big of a deal since the removable plate feature is more for clean-up, and because cleaning is easy with this machine, it's not needed.
Where can I buy the Cuisinart WAF-V100?
You can buy it here on Amazon. They usually have the best price. It does go on sale from time to time. If it's under $60, it's worth grabbing.
Does it make a square or round waffles?
It makes round waffles. 
Are vertical waffle makers better?
Yes. There is no need to spread the batter around or worry about balancing out the mixture.
Click here to buy this waffle maker 
How much batter do you put in a Cuisinart vertical waffle maker?
It comes with its own measuring cup. But if you have lost it, you will need roughly half a cup of batter to fill up the machine.
How do you clean a Cuisinart vertical waffle maker?
You can use a damp cloth to wipe out the plates and the outside to clean it up.
What is the best waffle maker for home use?
After trying several waffle makers, this Cuisinart upright waffle maker is hands down the best one.
Why do waffle makers need to flip?
While this waffle maker doesn't need to flip, others do so that they can release from the baking plates more easily.
What's the difference between a waffle and a Belgian waffle?
Belgian waffles are thicker than a traditional waffle. This is because the waffle iron on a Belgian waffle maker has deeper grids than a conventional waffle maker.
Should I oil my Cuisinart waffle maker?
No, there is no need. Your waffle batter will have oil in it. That combined, and this is a non-stick waffle maker.
How long do I cook waffles in a waffle maker?
Once the small appliance has heated up, it will take anywhere between 3-5 minutes to cook your waffle, depending on how you like your waffles.
Click here to buy this waffle maker 
Is the Cuisinart WAF-V100 Vertical Waffle Maker worth it?
At the beginning, I mentioned we love our waffles. I also mentioned that we've been through several waffle makers; they were all nightmares.  Making waffles was a once or twice a year thing just because of the pain of cleaning the waffle maker afterward.
The Cuisinart vertical waffle maker has changed all of that. We love our vertical Belgian waffle maker and use it regularly. Cuisinart has thought out the waffle-making process and removed the issues that most people have. Come up with a convenient and clever design with this vertical style of waffle maker.
Final thoughts on the Cuisinart WAF-V100 review: The best waffle maker out there.
I never set out to buy several waffle makers. But that's just the way it goes sometimes. I was pretty much done with waffle makers and making Belgian waffles at home until I found this one. Now because it is so easy to use, making waffles is a breeze, and clean up is just as easy.
If you've been holding off on a waffle maker or hate the one you have, this one is definitely worth it, as it showed by the over four-star review on Amazon with over 2000 ratings; you can see the reviews here. This is one Cuisinart item that is worth buying. 
Click here to buy this waffle maker 
Check out our other Cuisinart reviews: