Blendtec Designer 650 Blender Review
Do you ever wish you could live that dream lifestyle like those health bloggers on Instagram? You know, those ones we see posting about how extraordinary and joyful their lives are. Well, investing in a good blender is a good start! You can start with anything from healthy fruit smoothies to delicious dips, spicy salsas, savory soups, and even perfected pancake batter. After that, you'll discover so much more in the world of blending through this Blendtec Designer 650 Blender Review.
Reading through this article will be your first step towards that fabulous health blogger lifestyle. It will also be your practical guide to understanding how blenders work. You'll also learn about the cleaning and maintenance required.
On top of that, what you can expect from this particular model. You won't find many Blendtec Designer 650 reviews that go as deep as we do to cover all the benefits, pitfalls, and frequently asked questions surrounding this blender (side note it's one of the many items on our Home Essentials Checklist). I expect you lovely readers to get yourself on board with the Blendtec blender if all goes well. Or, at least leave with the knowledge of what is out there in the world of blenders. 
What is Blendtec Designer 650?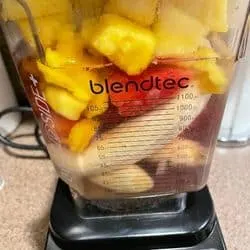 Built with the user's best interests in mind, the Blendtec Designer 650 Blender is a multi-purpose kitchen appliance. It offers a wide range of recipe possibilities. Also, it is designed to do more than just blend smoothies, which, by the way, it does exceptionally well. It also makes excellent dipping foods such as hummus and salsa simply by using the pulse function provided on the touch screen interface of the blender.
The Blendtec Designer Series is a reputable line of blender products that is the number one choice of many global blending professionals. Such companies include Bahamas Buck's, Dunkin Donuts, and Cinnabon, to name a few. The sheer multi-task capabilities of the Blendtec blender give it the flexibility to be used for outlets that prioritize crunchy frappes such as Baskin Robbins. It also works with those franchises focusing on crafting chunky smoothies, such as Jamba Juice.
What's Included:
Blendtec Designer 650 Blender.
LED Touchscreen Control Panel.
Precision Pulse Button.
Commercial-Grade Motor.
Blunt Blade.
Preprogrammed Cycles.
Speed Slider.
Modern Molded Plastic Finish.
Features
Control Panel Speed Settings and Programs
Perhaps the most powerful feature and main selling point of the Blendtec designer 650 is the adjustable blending speed settings and pre-programmed functionalities. The Blendtec shows the duration and time remaining for every blending cycle.
It is built with seven varying blending options. This allows you to track its progress and make adjustments accordingly easily. As such, you can observe the time remaining as a means of multi-tasking or tending to other needs as your blender is in the works!
In addition to the customizable blending options, you can also adjust the blending speed of your cycle using the eight different options available. This allows you to speed up or slow down the blending cycle as it's happening for a more refined and tailored finish. With this, you can tackle more complex recipe concepts.
For example, a soup recipe that requires fast rotational speed to grind up the vegetables may need to finish with a slower rotational speed during the heating process. A slower speed is also good for the final stages of cooking to keep the liquids as thick and aromatic as possible.
Special Features
One of Blendtec's particular functionalities is its ability to heat up its contents if you so desire. Using blade friction heat mechanisms, the Blendtec Designer works as your one-stop shop for turning raw vegetables into a delicious hot soup with the push of a button. In six minutes or less, you can whip up a warm meal or beverage such as hearty hot soups or deluxe hot chocolates.
Other notable features include electrical ratings, coming in at 1560 Watts and 120 Volts for a relatively powerful machine. It can generate enough power to cut through the thickest vegetables and nut butter products out there. Complete with a 35-inch cord, you can plug this model into a nearby power socket without concern for overextending. Plus, it won't cause unwanted hazards in the kitchen.
Compact, detachable, and lightweight, this blender is seamlessly easy to store in tight storage spaces and allows you to save on space in various aspects. When in use, you can easily fit this blender in between your other kitchen counter space appliances. You can effortlessly feed your cord in and around to the nearby outlet without resistance. Also, this lightweight blender is only about 13 pounds that can easily travel across the country stored in your luggage!
Noise
The Blendtec Designer features noise reduction intended to provide a more silent blend cycle that doesn't irritate your ears like so many other blenders out there. On the downside, unlike other Blendtec blenders available, the Blendtec Designer 650 does not feature sound baffling or stealth sound closure. That means you should expect to hear some degree of noise during the blending process. For the best noise cancellation options, you may want to check out Blendtec's Professional 800.
Container
They make the container with durable acrylic material using a patented design that is easily recognizable as a Blendtec Designer series product. It is complete with a BPA-free WildSide+ blender jar, a renowned manufacturing brand durable and stylish jars and containers. They also top the container with a lid that is securely closed to prevent spills and blending accidents. It's suitable for high-pressure blending, although this may shake the blender.
With a blending capacity of 36 oz and an overall capacity of 90 oz for plenty of room to mix, you can enjoy blending beverages for 4-6 people. This makes it suitable for families or groups of friends. The WildSide jar has imprinted measurements to help you accurately measure your contents. In addition, the container's handle is quite ergonomic, making it easy to pour your contents into a cup or bowl upon completion of the cycle.
Motor power
The design of the motor is quite innovative, and Blendtec ensures that it produces minimal blending noise and the power of commercial-grade blenders. In addition, the motor is coupled with internal muffling mechanisms to reduce the rotational noise of the engine as much as possible. Even so, it still delivers strong blend results.
While the Designer 650 is not the best for noise cancellation in Blendtec's product line, it does a superb job reducing the sound generated by the motor and blades. This is despite the absence of a stealth sound enclosure mechanism like their 800 model.
This model is also built to tackle more than just beverage blending tasks. It also leverages its superior motor power to take on more grueling tasks that full-on food processors embrace. Whether that's a single cup of a fruit smoothie or small batches of soups and salsas. The Designer 650 can do just about anything with a powerful motor coupled with a patented jar and vertical ridges for a superior blend.
Touchscreen Interface
One of the best features of the Blendtec Designer 650 is the aesthetic touchscreen interface that is gorgeous in design and provides more functionality than you would think possible for a blender.
Seamlessly easy to use and complete with an LED digital display, you can enjoy up to six programmable presets that provide a world of blending and mixing opportunities. These let you enjoy those delicious cafe-quality beverages anytime and within the comfort of your home.
Whether you are blending up thick almond butter or delicate fruits and milk, the touchscreen interface provides an option for all situations. There is no limit to what this blender can accomplish with rotational speeds that can slice through the thickest nut butter textures. You may well replace your food processor with this all-in-one multi-purpose beast of a machine.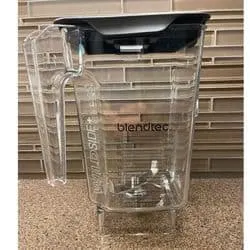 Pros:
The sleek LED touchscreen interface is easy to clean and easy to use.
BPA-free twister jar of 36 oz allows for non-toxic, safe blending.
WildSide jar is a trusted brand with quality guaranteed for durability and performance.
Blends frozen ingredients using a high-speed powerful motor and pulse controls.
The heating mechanism allows you to blend and cook your food.
Can make crushed ice by blending ice cubes.
Frozen fruits can blend together for a delicious batch of chunky smoothies, whole juice, or protein shakes.
Fourside jar makes it easy to insert bulky ingredients.
Spacious enough to blend effectively even with excess solids inside.
A 1-year warranty backs all Blendtec machines for guaranteed customer satisfaction.
Cons:
Noise cancellation is not as optimized as other Blendtec blender products.
Warranty is not as long as other models in the range.
Related: Blender vs. Mixer: What's the Difference
Overall Blendtec Designer 650 Blender Review
The Blendtec Designer 650 is a high-end blender built with the flexibility, functionality, and blending prowess of some of the most powerful blenders on offer today. A powerful motor with high-speed functionality and heating functions for cooking hot soups makes the Blendtec 650 one of the best blenders in town.
Easily blend tough ingredients such as frozen fruit and peanut butter to create delicious mixed drinks or small batches of whole juice for the entire family to enjoy.
Take full ownership of your new blender with a touchscreen LED digital display panel that provides you with manual control over the blending pattern of this high-speed blender. Built with variable speed control and a WildSide jar for durability and easy measurements, this may be the last blender you ever need to purchase. Molded with durable plastic for a modern finish, the Designer 650 will last you a lifetime of use if treated kindly.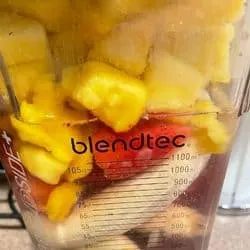 The Blendtec Designer 650 is rated an impressive 4.6-stars on Amazon from 165 global customer reviews, making it a highly regarded product on the market that delivers results. Praised for its ease of cleaning, blending power, and sheerness of design, this blender is known for its transparent WildSide jar that makes it easy to track your recipe results.
From healthy dishes such as hot soup to more delightful frozen treats such as fruity ice crush drinks, you'll be amazed at the quality of results with Blendtec. Need more convincing? Check out what customers on Amazon are saying using the link below!
https://www.amazon.com/dp/B07R7QHP98#customerReviews 
Warranty and customer service
Blendtec's Designer 650 model is backed by a 1-year warranty of limited support to account for factory or manufacturing defects with your machine related to its crafting or quality of the material. This ensures the blender delivers everything as per the product description.
In addition, it allows you to have your blender replaced for the first year of purchase should you face any dissatisfaction with the item. See the Blendtec website for more details regarding warranty policies, procedures, and customer service perks.
Use and cleaning
How to clean a Blendtec Blender
While Blendtec Designer 650 is designed to be dishwasher safe, there is a far safer way of cleaning your product. The following steps are a brief guide to cleaning the interior of your Designer 650: (Not to be taken as a detailed guide):
Simply add a little soap into the twister jar and add water until the maximum measurement level of 36 ounces.
Turn the blender on and allow the interior to clean itself for about a minute.
Empty the contents into a sink and refill again with just warm water.
Turn the blender on once more for a final rinse to ensure no soapy particles remain.
Leave out to dry as needed.
It is also important to clean the exterior of your Blendtec to ensure the most pleasant experience when in use. Use a damp cloth and a spray detergent of your choice to wipe down the glass jar and lid until you can perfectly see through to its contents. Ensure that the main control panel strictly does NOT go into the dishwasher as this can cause severe damage that is irreparable and not covered by warranty.
Apply the same cleaning procedure on the control panel and surrounding plastics to finish the cleaning process. You will find that cleaning the Blendtec blender is easy as the control panel and WildSide jar are both made of smooth textures.
These also provide an effective waste release that easily slides off the machine. By the end of your cleaning procedure, you'll find the blender gives off a nice shine that reflects like a mirror, both on the control panel and the accompanying jar.
Blendtec 650 Blender FAQ
Are Blendtec jar, lid and blades dishwasher safe?
You can use your preferred dishwasher to clean the Blendtec Designer 650's twister jar, blades, and lid. However, for easier, safer, and more effective results, use the self-cleaning mechanism of the blender by adding soap and water into the jar and starting a blending cycle. Additionally, I'd recommend using a damp cloth and some light detergents to wipe down the machine's exterior for a safer clean than using a dishwasher.
Which Blendtec model is best?
Depending on your budget and needs, the Blendtec Designer 650 may be the best blender option for you. It provides all the basic needs and some more advanced features that resemble a smart product. However, for a more silent blending experience, I would recommend the Blendtec Professional 800 blender. It has a stealth sound enclosure and superior sound baffling mechanisms.
Are Blendtec blenders worth the money?
Absolutely! Blendtec blenders are worth every penny for enthusiasts of blended recipes such as hot soup, frappes, smoothies, dips, and more! With such a wide range of blenders available, there is an abundance of differently designed and priced products for you to choose your new blender from!
How long should Blendtec last?
The warranty for the Designer 650 is only 1-year of limited support. However, they back up other blender products by up to 8-years of warranty for a better deal on customer service. Regardless of the warranty information, they design their blenders to last a lifetime. As long as it is treated with proper care as per product guidelines.
Is Blendtec a good brand?
As a trusted and reputable brand among the world of blenders, Amazon's review section rates Blendtec's products very highly. Built with solid blending power, sheerness in design, and multi-functional capabilities, the Designer 650 is a powerful blender. It delivers results that you will be satisfied with in the long run.
Is Vitamix quieter than Blendtec?
Vitamix may be quieter than Blendtec's blender based on the inclusions of sound baffling and noise cancellation mechanisms. For example, most Vitamix models are quieter than Blendtec's standard Designer 650 model. However, it is on par with Blendtec's Professional 800 blender with its superior sound baffling and stealth sound enclosure properties.
Overall, Vitamix is slightly quieter than Blendtec's considering an average of their range of products weighed up against one another.
Is Blendtec made in China?
No, Blendtec's blenders are manufactured in the United States in Utah and are sold all over the country and globally. Through Amazon or other third-party links, as well as the company's main website, you can browse through all of Blendtec's products. Here, you can see what sales or deals are on offer, and then have your blender delivered to your door.
Which is quieter, Blendtec or Vitamix?
Both machines have their ranges of quiet blenders and noise cancellation mechanics. So, it is perhaps best to compare their best models against one another for a final deduction. In this case, both Vitamix and Blendtec's best noise-canceling models come with an enclosed stealth sound catcher. It encapsulates the blender in a realm of silence closed off from the outside world.
At their best, Vitamix tends to be slightly quieter than Blendtec's blenders. But, again, this may work as a pro or a con based on your blending noise-level preference.
Do I need a food processor if I have a Blendtec?
Generally speaking, Blendtec's blenders can handle all kinds of ingredients, from frozen goods to thick nut butters. However, a food processor is designed specifically for blending more challenging ingredients. Blendtec's machines can tackle both the grueling tasks of a food processor and the more finessed tasks of salsa dip making. Thus, it provides a comprehensive solution for your blending needs.
Which is quieter, Vitamix or Blendtec?
All of Vitamix and Blendtec's range of blenders reduce the noise produced from the motor and blending cycle as much as possible. However, some models outperform others in this aspect. As a general consensus, Vitamix is known to have a slight edge in its noise cancellation properties. If you are serious about noise cancellation, I would recommend either brand's stealth sound enclosed blenders.
They are the models that deliver the best results within this area of concern. However, the difference between the two brands will go unnoticed by the vast majority of people.